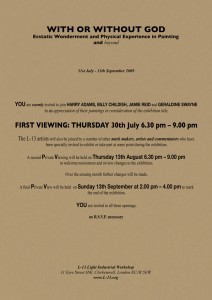 WITH OR WITHOUT GOD Ecstatic Wonderment and Physical Experience in Painting and beyond
An exhibition (of sorts) in development at the
L-13 Light Industrial Workshop and Private Ladies and Gentlemen's Club for Art, Leisure and the Disruptive Betterment of Culture
Starts: THURSDAY 30th July at 6.30 pm Ends: SUNDAY 13th September at 4.00pm
"As we live, we are transmitters of life. And when we fail to transmit life, life fails to flow through us" – D. H. Lawrence
With or Without God….. is the first of a series of working exhibitions to be held at the L-13 Light Industrial Workshop.
It will start with a private view and exhibition of paintings by HARRY ADAMS, BILLY CHILDISH, JAMIE REID and GERALDINE SWAYNE, all of whom share a common concern and understanding of the modes and the merits of painting in pursuit of liberation through the expression of the private and universal self. Notwithstanding an understanding of their cultural & art historical context, and sometimes in conflict with it, these artists use elemental mark and image making as a direct and unabashed visual language; a cipher for communicating their earthly and spiritual engagements in "an era of mediated emotion and alienation".*
Simultaneously, a selection of other artists and commentators who may or may not share similar concerns, will be asked to submit artwork and responses in any media for presentation at L-13 throughout the duration of the exhibition.
Favour will be bestowed upon human warmth, even – or especially – when in conflict.
Both confrontational friction and friendly collaboration will be encouraged.
Detached assessment will be welcomed, though frowned upon.
L-13 will act as mediator and propagandist of this process whilst documenting all contributions and revealing them on the L-13 website.
A second private viewing will be held on 13th August 6.30 – 9.00 pm to review the changes to the exhibition and welcome all the newcomers.
Over the ensuing month further artworks and responses will be solicited and creative acts will be encouraged. The exhibition will continually evolve and change throughout this period, depending on the nature and volume of responses.
There may be other activities and events during this period – to be announced as they arise.
A final private view will be held on the last day Sunday 13th September 2.00 pm – 4.00 pm.
A permanent on-line archive will then be created and a printed catalogue will be published by the L-13 Press in time for Christmas.
*Stephanie Moran – on Howard Dyke negotiating expression. Published in Turps Banana 2009
Categories
Tags