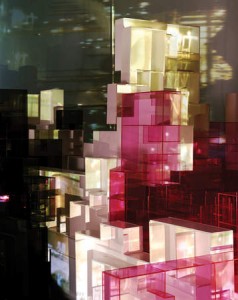 Won Ju Lim Schliemann's Troy (detail) 2001
On View July 19 – October 4, 2009
Since the mid-1990s, sculpture has developed as a particularly vital and inventive area of artistic practice in Los Angeles. This will be the first public presentation of a selection from the extraordinary gift by Dean Valentine and Amy Adelson to the Hammer. The Valentine-Adelson Collection comprises 50 sculptures by 29 Los Angeles artists, made from 1995 to the present. This collection includes many of the key works by this new generation of artists and captures a significant moment in L.A. art-making that stands out for the abundance of handmade sculpture and the return of the consideration of the tangible object. This exhibition is curated by Douglas Fogle, Chief Curator and Deputy Director of Exhibitions and Public Programs at the Hammer and Ali Subotnick, curator.
Artists included in the exhibition:
Edgar Arceneaux, Frank Benson, Jonathan Pylypchuk (aka Rudy Bust), Xavier Cha, Liz Craft, Sam Durant, Chris Finley, Hannah Greely, Katie Grinnan, Evan Holloway, Matt Johnson, Martin Kersels, Lisa Lapinski, Won Ju Lim, Nathan Mabry, Jason Meadows, Pentti Monkkonen, Ruby Neri, Ry Rocklen, Sterling Ruby, Paul Sietsema, and Eric Wesley.HAMMER MUSEUM
Categories
Tags