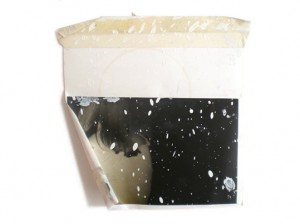 1 When did you start to make art?
Is it wrong that I see this question as a challenge?
2 How did you evolve into a professional artist?
Agonisingly
3 What drove you to make art as a professional vocation?
Being overwhelmingly self obsessed helps. The feeling that it's the only thing worth doing helps too.
4 Explain your inspiration?
Mmmm how vague can I be? I think I can condense my inspiration as – the human condition as experienced by me. Fittingly, the human condition as experienced by me is cut through with vagueness and uncertainty.
5 In what way does your inspiration transform into ideas?
Inspiration coalesces into idea as it is bought into view with grubby reality

6 From ideas to production of art – how? And why?
How: I fluctuate between agonising over one piece to bashing out multiple pieces. The aim always to maintain the chaos, embrace the confusion.
Why: because I have the arrogance to think that no one else is doing what I'm doing in the way I'd like it done.

7 Could your ideas be portrayed in any other medium? If so which?
What my art is – is in part a result of what I don't want it to be; so the short answer is no.
8 Which artists would you most like to blatantly rip off?
Artists I admire: Juliao Sarmento, Uwe Wittwer, Kees Goudzwaard, Sigmar Polke and Hiroshi Sugimoto spring to mind today
9 Why is your art made?
Because they're better seen than described

10 What does being an artists mean to you?
Everything

11 Are you happy with your reasons for making art? i.e. Are there any trade off's that make life hard?
The trade-off is that I have no money; but would I be loaded if I wasn't an artist? Nope – I like to think most artists don't prioritise money
12 When does your art become successful?
When I'm happy with it.
13 What is art?
Anything can be art. The big question is – is it good?
14 How do you start the process of making work?
It starts with a scratch that can't be itched

15 Who prices your work? And how is the price decided upon?
Depends on location, gallery, the piece and how great the desire to sell it is

16 What is your next; move, project, show etc?
First up HackneyWicked Art Festival 31st July – 2nd August. Thereafter several unconfirmed projects
17 What are the pros and cons of the art market?
The art market is the last thing on my mind!

18 Which pieces would you like to be remembered for?
The body of work rather than particular pieces

19 Any routine in making your artwork? If so what?
Prep prep prep at home so studio time is pure frenzied construction. Otherwise my life would be frittered away sitting in front of my work eating biscuits – musing and delaying the inevitable
20 What has been the biggest break in your career?
No big break just lots of small incremental steps that give the illusion of progression

21 Who has been the biggest influence on you?
Friends and contemporaries – James McMeakin, Paul Cole, Wayne Clough

22 How many artworks have you given away and to whom?
Family. Swaps with artist friends. In October there will be a piece in The Art Alliance auction at The MusicRoom in aid of Cancer support

www.karlengland.com
Categories
Tags