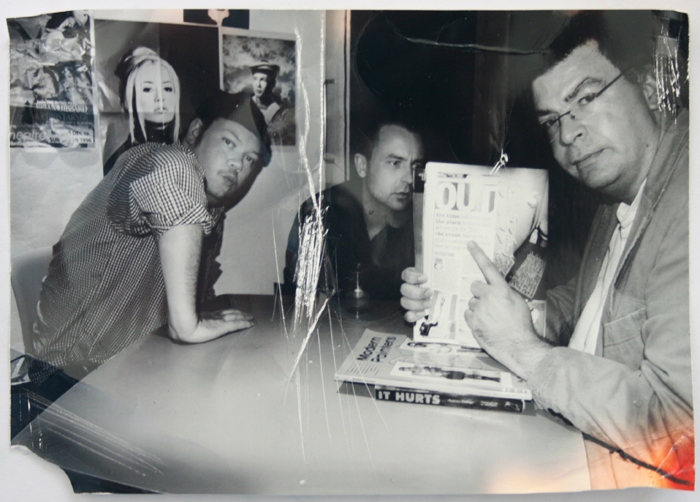 L to R: Harry Pye, Barry Thompson, Russell Herron at the ICA circa 1990's (photo: Julian Wakeling)
THIS WAS NOW – THE RUSSELL HERRON COLLECTION PRIVATE VIEW TUESDAY 7 JULY 6:30 – 9:30PM
Following the recent death of London artist Russell Herron, Sartorial Contemporary Art presents This Was Now : The Russell Herron Collection, a selection of works from the artist's private collection.
The exhibition is curated by Harry Pye, and presents a selection of works from some of the 300 pieces which were in Herron's possession, the majority of the works purchased from emerging artists over the last 12 years.
The selection has been curated around the themes of history, location and identity, reflecting the concerns which informed much of Herron's own work over the last few years, and includes painting, sculpture and photography.
Pye says, "I knew Herron for exactly a decade. He and I would talk a lot about ideas and changing trends. We were never close friends but there was always a mutual respect. He was to new art what John Peel was to new music. He bought work from many students who (in some cases) blossomed into art stars. He never bought any work from me but he went to pretty much every show I curated – and I curated a lot of them. I felt honoured when I was asked to organise his collection for this exhibition. "
Artists presented in THIS WAS NOW: THE RUSSELL HERRON COLLECTION
Sarah Baker, Charlotte Bracegirdle, Maria Soledad Checa, John Clayman, Julie Cockburn, Katie Cuddon, Oona Culley, Stuart Cumberland, Beverley Daniels, Jeremy Deller, Steve Double, Lee Edwards, Karin Eklund, Stewart Gough, Lucy Harrison, Mark Harrison, Graham Hudson, Tim Knowles, Hugh Mendes, Mie Mørkeberg, Chloe Mortimer, Humphrey Ocean, Hadrian Pigott, Cian Quayle, Brian Reed, Giorgio Sadotti, Dallas Seitz, David Shrigley, Melanie Stidolph, Barry Thompson, John Tiney, Bedwyr Williams.
READ an interview with Russell Here (FADwebsite)
Categories
Tags