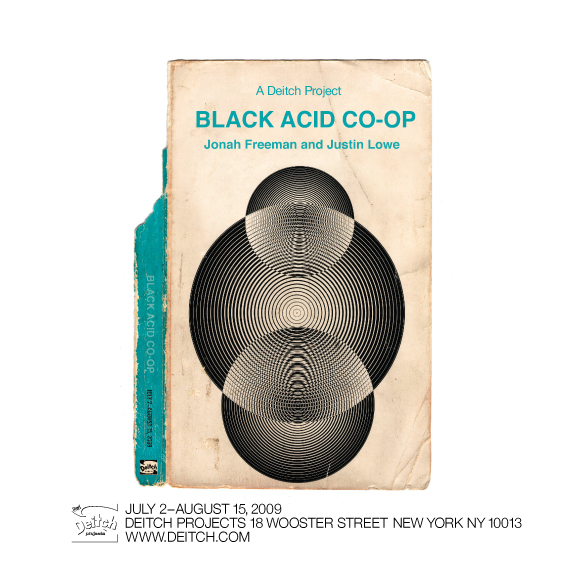 18 WOOSTER STREET
Deitch Projects is pleased to present Black Acid Co-op, the third collaborative project of Justin Lowe and Jonah Freeman. Their first installation Hello Meth Lab In The Sun (with Alexandre Singh), commissioned by Ballroom Marfa, consisted of a labyrinthine assemblage of rooms, hallways, closets and observation platforms. A variation entitled Hello Meth Lab With A View then traveled to The Station Miami, curated by Shamim Momin and Nate Lowman and produced by Eleanor Cayre, where it was installed in a duplex apartment. Their new piece continues the themes of previous versions specifically that of alchemy in a modern context and community, ritual and psychosis.
Black Acid Co-Op is the moniker for a counter-culture enclave embedded in the metropolis. In this incarnation, the artists shift the focus from the production of illegal drugs to sites of sub-cultural groups and how they are situated in the larger urban environment. The installation will expand on the notions relating to the connection between counter-culture and industrial society resulting in a spatial collage that extends itself into a vast architectural setting
Like the dioramas of the Museum of Natural History or the period rooms of The Metropolitan Museum of Art, Black Acid Co-op creates theatrical depictions of several specific social/historical environments: the clandestine drug lab, the drop-out commune, the Chinatown bazaar, the museums of cultural preservation, the university library, the pirate radio station and several interstitial industrial sites such as hallways and waiting rooms. The installation amalgamates these spaces into a labyrinthine sequence of interiors that blur their distinctions of use and condition.
The collection of these seemingly disparate scenes will unfold as if it were a cinematic montage, the threshold from room to room acting as a veritable cut that brings unlikely architectural combinations. This articulation of the layers of community in an urban situation is compounded by the residue of their various rituals and, in many cases, resulting psychosis. The fire from drug chemistry gone wrong, the dirty dishes in the dropout commune or the university library that has become a center for the study of "tears in reality."
Despite the strong contrast of scenes, the entire installation will feel as if it is a unified system of spaces, interconnected and functioning together. Ducts, wires and tubes traverse rooms creating a semblance of an organism: architecture as body, electricity as capillaries, and volumes as organs. And the intended use of many of the sites will feel transformed or hybridized: factories have become homes, kitchens are used as drug labs, the radical chic living room is frozen in a museum, the high-rise is carved into a makeshift maze to evade the law.
The title Black Acid Co-op is a composite term for several different references that include revolutionary political groups, social collectives based upon drug consumption, centers for paranormal research, marginal religious cults and the simple idea of community "as an association of persons united voluntarily to meet their common economic, social, and cultural needs." – Wikipedia
Jonah Freeman was born in 1975 in Santa Fe, NM and lives and works in New York City. He has exhibited widely since the late 1990s throughout the United States and internationally with photographs, films and installations that explore the phantasmagoria of the constructed world. Recent solo exhibitions include In The Kaleidoscope Room, Mitterrand + Sanz, Zurich (2009); This Shit Was Bound To Happen (with Michael Phelan), Mitterrand + Sanz, Zurich (2008); Hello Meth Lab In The Sun (with Justin Lowe and Alexandre Singh), Ballroom Marfa, (2008); The Long Goodbye (with Michael Phelan), John Connelly Presents, New York (2007); The Franklin Abraham, Galerie Edward Mitterand, Geneva, Switzerland, Andrew Kreps Gallery, New York (2005, 2004); and In the Public Realm: Sixteen Scenarios, Public Art Fund, Brooklyn Public Library, Brooklyn, NY (2002). His work has also been represented in the recent group shows: Paper Exhibition, Artists Space, NYC (2009); The Station, Miami, FL. (2008); The Future As Disruption, The Kitchen, NYC (2008); Le Centre pour l'Image Contemporaine, Saint Gervais, Geneva, Switzerland; Grow Your Own, Palais de Tokyo, Paris (2007); Busan Biennale 2006, Buan, South Korea; Intouchable (l' Idea transparence), Centre National d'Art Contemporain – Villa Arson, Nice, France (2006); Day Labor, PS1/MOMA, New York, and Vanishing Point, The Wexner Center for the Arts, Wexner, OH (2005).
Justin Lowe was born in 1976 in Dayton, OH and lives and works in New York City. He has been exhibiting since 2000, creating installation "environments" like gallery-lounges, cluttered house interiors and – for his 2006 solo show at Oliver Kamm/5BE Gallery, New York – an intricately stocked bodega and Mister Softee truck. Lowe is also known for his collages produced in collaboration with Jonah Freeman. Select solo exhibitions include: Freedom Time is Here Little Kittens, Galerie Fredric Giroux, Paris, France; Helter Swelter, Oliver Kamm/5BE Gallery, New York, NY (2006); Collecting Pictures in the Brain Hotel, Sculpture Center, Long Island City, NY (2005); Dwellings, Brooklyn Public library, Brooklyn, NY; Waterfall, The Wrong Gallery, New York; and Passage, P.S. 1 Special Project Room, Long Island City, NY (2004). Selected group exhibitions include: Slow Burn, Galerie Edward Mitterand, Geneva, Switzerland; Bricks in the Hood, Oliver Kamm/5BE Gallery, New York; Studio Visit, Exit Art, New York (2006); The Pantagruel Syndrome, Museum of Contemporary Art in the Castello di Rivoli, Turin, Italy; Greater New York 2005, P.S. 1 Contemporary Art Center, Long Island City, NY (2005); Household Psychedelics, Fia Backstrom Projects, Brooklyn, NY (2004); and The Melvins, Anton Kern Gallery, New York, NY (2003).
About Mark Westall