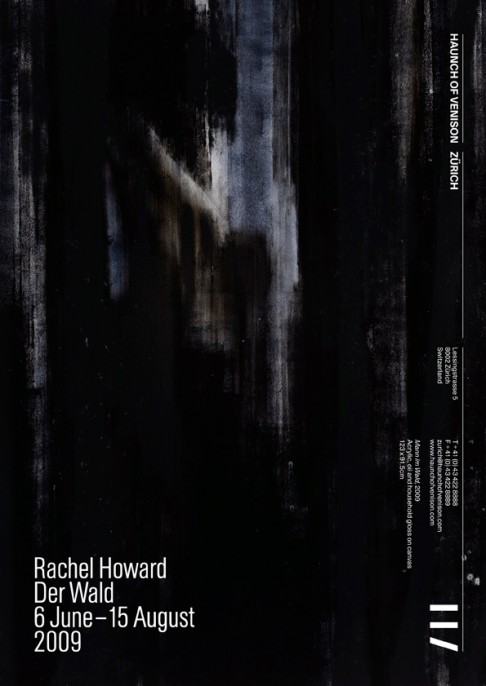 For her first solo exhibition in Switzerland, British artist Rachel Howard presents a new body of paintings which explore the furthest reaches of human experience. Entitled 'Der Wald', the German word for the forest, the exhibition evokes a shadowy world in which horrifying acts go unchallenged.
With their distressed surfaces these paintings represent a new development in Howard's work. They also extend her ongoing investigation into the way in which the human body registers physical and emotional violence. Their departure point is archival photographs which record the bodies of civilians who have been led into the forest and subjected to unknowable brutalities. Howard's treatment of this historically controversial subject matter involves semi-abstracting the physical form of the figures while making their torture manifest in the picture's agitated paintwork and roughened surface, creating
correspondences between subject and medium.
She says: '"Der Wald" and "Mann im Wald" are woodland scenes suggesting acts of hideous cruelty; men contorted by the weight of their own bodies into positions of excruciating pain, hands chained behind their head, a pose – known banally as the 'stress position' – that is still used today. In some of these new paintings
I've used paint as a way of tarring the canvas, using black to stain and anchor the image but then letting shards of fluorescent pink, yellow or orange show through.'
In these works Howard deliberately sustains an uneasy tension between traditional associations of the German forest with national pride, enlightenment and romanticism (as in the paintings of Caspar David Friedrich or Ernst Ludwig Kirchner), and the nameless abominations that have taken place in the dark heart of the forest, particularly in times of conflict. Like light glimpsed through the trees, the bright colours that are
refracted through the blackened surface of 'Mann im Wald' harbour the possibility of hope. Similarly, the small red still lifes of flowers punctuate the larger, more disturbing scenes, offering isolated moments of redemption.
Haunch of venison
About Mark Westall