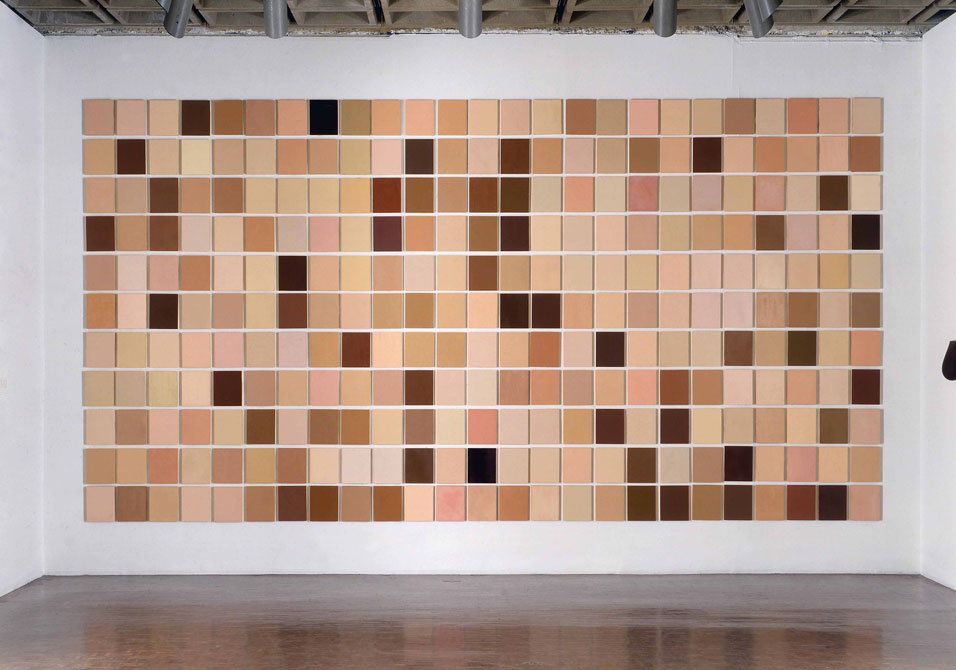 Byron Kim, Synecdoche 1991 © Courtesy of Max Protetch Gallery.
At a time of unprecedented interest in the role of colour in graphic design, fashion and interior design, Tate Liverpool will be presenting Colour Chart: Reinventing Colour, 1950 to Today. The exhibition looks at the shifting moment in twentieth-century art, when a group of artists began to perceive colour as 'readymade' rather than as scientific or expressive. Taking the commercial colour chart as its point of departure, the exhibition emphasises a radical transformation in the post-War Western art that is characterised by the departure from such notions as originality, uniqueness and authenticity.
Colour Chart celebrates a paradox: the beauty that occurs when contemporary artists assign colour decisions to chance, readymade source, or arbitrary system. Midway through the twentieth century, long-held convictions regarding the spiritual truth or scientific validity of particular colours gave way to an excitement about colour as a mass-produced and standardised commercial product. The Romantic quest for personal expression instead became Andy Warhol's "I want to be a machine"; the artistry of mixing pigments was eclipsed by Frank Stella's "straight out of the can; it can't get better than that."
Colour Chart is the first major exhibition devoted to this pivotal transformation and offers an alternative survey of mid to late twentieth-century art, emphasising the significance of colour as an indicator of shifting conceptions around art, commodity and creativity. It will also explore ideas of systems and structure, and offer a renewed perspective on the existing aesthetic debates on geometric abstraction, colour-field painting and pop art.
The exhibition has been organised by The Museum of Modern Art, New York and includes major works by more than forty artists, including Ellsworth Kelly, Andy Warhol, Gerhard Richter, Frank Stella, Yves Klein, Richard Serra, John Baldessari, Dan Flavin, Damien Hirst, David Batchelor, Jim Lambie, Angela Bulloch and Cory Arcangel.
Colour Chart: Reinventing Colour, 1950 to Today was curated by Ann Temkin, Curator of Painting and Sculpture at The Museum of Modern Art, New York. At Tate Liverpool the exhibition is organised by Christoph Grunenberg, Director, and Sook-Kyung Lee, Exhibitions and Displays Curator.
Categories
Tags