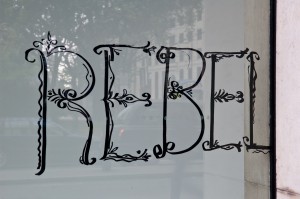 1 When did you start to make art?
I started to study art in 1971 when was 10 years old. I had my first solo show in 1983 while a student. I started doing some interesting things in 1988. Since 1998 I do them on international scale.
2 How did you evolve into a professional artist?
Who knows? When you pass from a closed society (communism) to open society the terms artist and the term professional mean different things.
3 What drove you to make art as a professional vocation?
I was good at drawing since I was kid. It took me 12 years of soviet style art study and about 10 of art doing exhibition to re-discover that. Now I do what I know best to do. I draw-I happy.
4 Explain your inspiration?
Can't. It just came on daily , from ordinary or from extraordinary things.
5 In what way does your inspiration transform into ideas?
I am strongly interested to achieve a conceptual level in my drawing regardless of their cartoonish/grafitty look. When I achieve that (quite often) there is no longer a casual drawing but an idea.
6 From Ideas to production of art – how? And why?
I use any opportunity, wall, window, floor, biennial, museum, art institution, gallery as a platform to discuss and analyse ideas. I transform architecture into public spaces.
7 Could your ideas be portrayed in any other medium? If so which?
I don't think so.
8 Which artists would you most like to blatantly rip off?
None.
9 Why is your art made?
Because I am the only one who can do it
10 What does being an artists mean to you?
Being.
11 Are you happy with your reasons for making art? i.e Are there any trade offs that make life hard?
Yes I am happy. I survive during dictatorship and I make a living during free market. There are numerous things for hard life but they differ from New York to Tirana, Santiago de Chile to Sharjah or Berlin.

12 When does your art become successful?
After 20 years of doing it.

13 What is art?
For me is a way to be in the world. I go trough it while drawing it.
14 How do you start the process of making work?
I never stop it.
15 Who prices your work? And how is the price decided upon?
Me, the market, collectors, gallerists, biennials, big museums. Everybody contribute the label. But I am the key factor.
16 What is your next; move, project,show etc?
Draw-Undraw-Redraw part of Che fare? (What is to be done?) performance series at Museum of Contemporary Art/Castello di Rivoli Torino.
17 What are the pros and cons of the art market?
This is a delicate question now in the full swing of confidence, trusts and credits…Art Market should not be a goal and art have to have a price.
18 Which pieces would you like to be remembered for?
My god, I am alive and running well. Ask me this in 30 years time.
19 Any routine in making your artwork? If so what?
If you are able to keep up a routine at a high level you did it. For me (this kind of) routine is essential. I travel wall to wall doing first a standard gig. Than the jazz can start.
20 What has been the biggest break in your career?
When in 1993, as a performance, I tattoo the name of my country on my shoulder and in 2003 when also as a performance, I erase it with laser.
Than of course it was the Manifesta in 1998, Venice biennial in 1999 and MoMA in 2007.
21 Who has been the biggest influence on you?
My wife, the artist Lia Perjovschi
22 How many artworks have you given away and to whom?
I constantly give away my drawings because after the show, biennial, project they are to be paint over, erased, washed.
Dan can be seen at Bloomberg Space
until May 23rd part of the COMMA series
www.perjovschi.ro
Categories
Tags