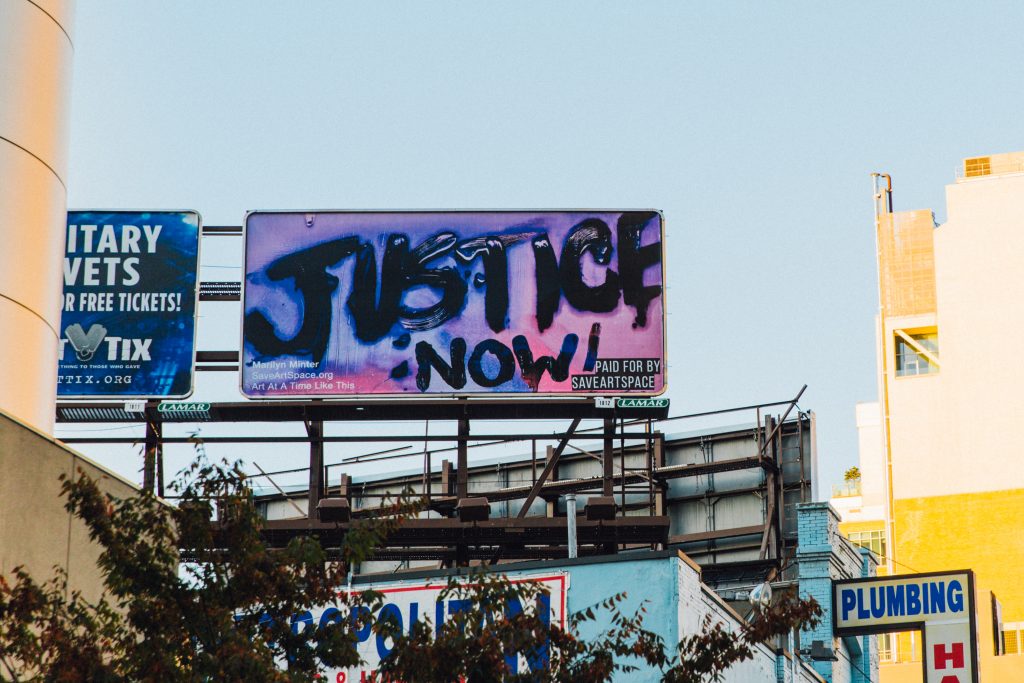 Ministry of Truth: 1984/2020 is an outdoor art exhibition featuring 20 artists on 20 billboards throughout the five boroughs of NYC which is now open for public viewing. Developed as an opportunity for artists to voice their views on the current state of US politics leading up to the election, this is the rst exhibition in physical sites by the successful online art space — Art at a Time Like This — conceived in collaboration with Save Art Space. From Marilyn Minter's vibrant announcement of 'Justice Now' to Dread Scott's searing critique of white fragility, Ministry of Truth is a true re ection of our fears, frustrations and truth at this harrowing time.
Ministry of Truth: 1984/2020 is a reference to George Orwell's dystopian novel in which a Ministry of Truth announces "WAR IS PEACE, FREEDOM IS SLAVERY and IGNORANCE IS STRENGTH," an image horrifyingly relevant in 2020. Inspired by this scenario, 1200 artists submitted an outpouring of ideas, ranging from bleak outlooks on democracy to concerns about deportations, police brutality and the divisiveness in political rhetoric today.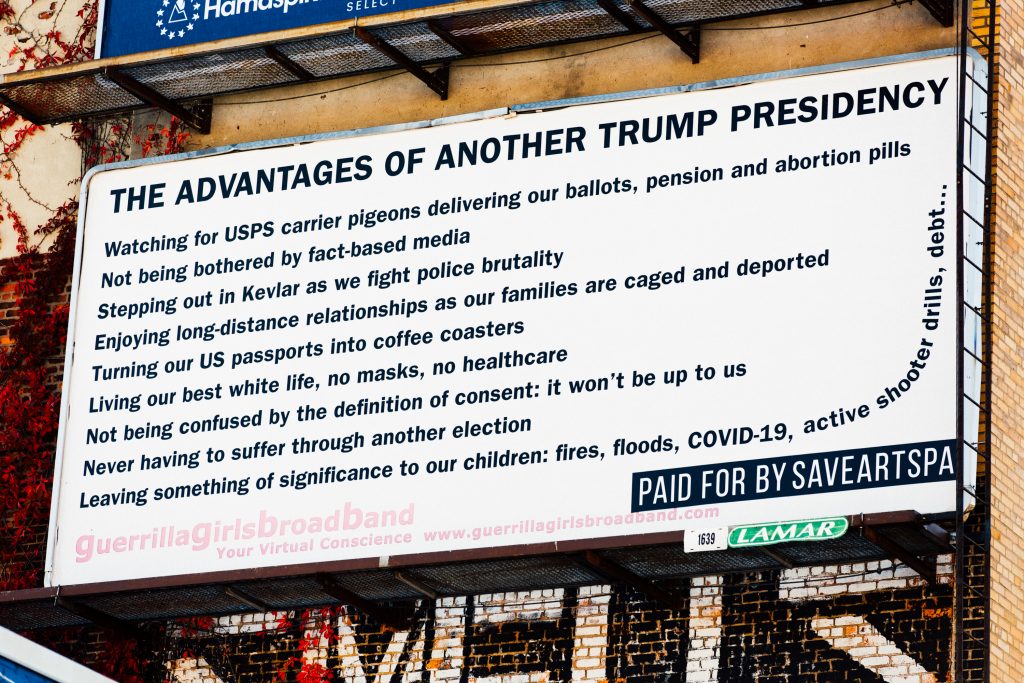 Shirin Neshat, Dread Scott, Abigail de Ville, Marilyn Minter, Dan Perjovschi, Aaron Gilbert, Deborah Kass, Sue Coe and Guerilla Girls BroadBand, were invited by Barbara Pollack and Anne Verhallen to participate. Eleven other artists were found through an open call, including Lola Flash, Angela Portillo, Akinbo Akinnouye, Rachel Hsu, Ruj Greigam, Mel Chin, Holly Martz, Terry Berkowitz, V.L. Cox, Helina Metaferia and Ileana Hernandez. They were chosen by Jerome LaMaar (trustee of Bronx Museum of the Arts), Carmen Hermo (Associate Curator, Elizabeth A. Sackler Center for Feminist Art at the Brooklyn Museum), Sophia Marisa Lucas (Assistant Curator, Queens Museum), and Larry Ossei-Mensah (co-founder of Artnoir).
This group of 20 artists reflect the diversity of NYC, ranging from graduate students and self-taught artists to those who are world-famous and renowned.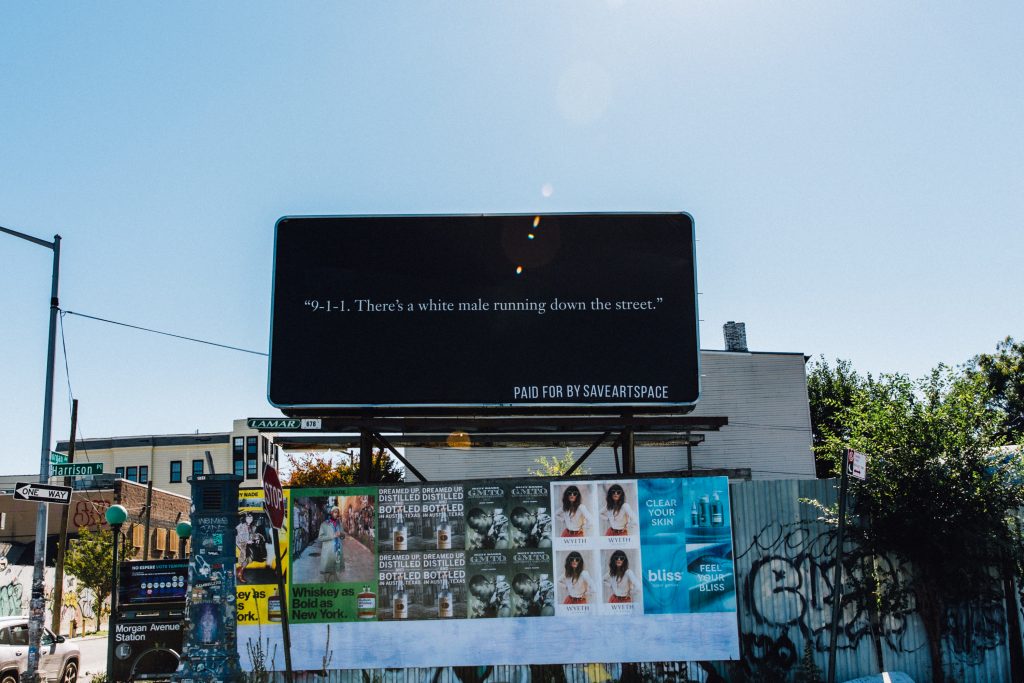 The billboards are present in all five boroughs from Webster Avenue in the Bronx to Richmond Terrace in Staten Island. A digital map of the billboards and the images and address- es of the works on view can be found HERE. We encourage viewers to take a self-guided tour to all the artworks. Think of it as a museum show with no limited admission, no timed entries, no special appointments. Just art, free to all.
We have to thank our sponsors: V. Hansmann, Jane Lombard Gallery, PPOW Gallery, Gal- erie St. Etienne, Guerrilla Girls Broad Band and Publicide Inc. Dozens of others made small donations to our Go Fund Me, helping us raise more than $10,000 towards this project. Hyperallergic is our media sponsor.
A map of the billboards sited around the five boroughs of NYC is available here artatatimelikethis.com/ministry-of-truth-1984/2020
Art at a Time Like This Inc., founded in March 2020, believes in the importance of conversation for solution and growth and believes artists and creatives play an important role in this process. ATLT is a non-profit platform whose goal to make art available to all, is now taking art out of the walls of institutions and make it easily accessible, expanding in the public space as a natural progression for the initiative.
Save Art Space was founded in 2015, in Brooklyn, NY, SaveArtSpace is a non-pro t organi- zation that works to create an urban gallery experience, launching exhibitions that address intersectional themes and foster a progressive message of social change. By placing culture over commercialism, SaveArtSpace aims to empower artists from all walks of life and inspire a new generation of young creatives and activists.
Categories
Tags