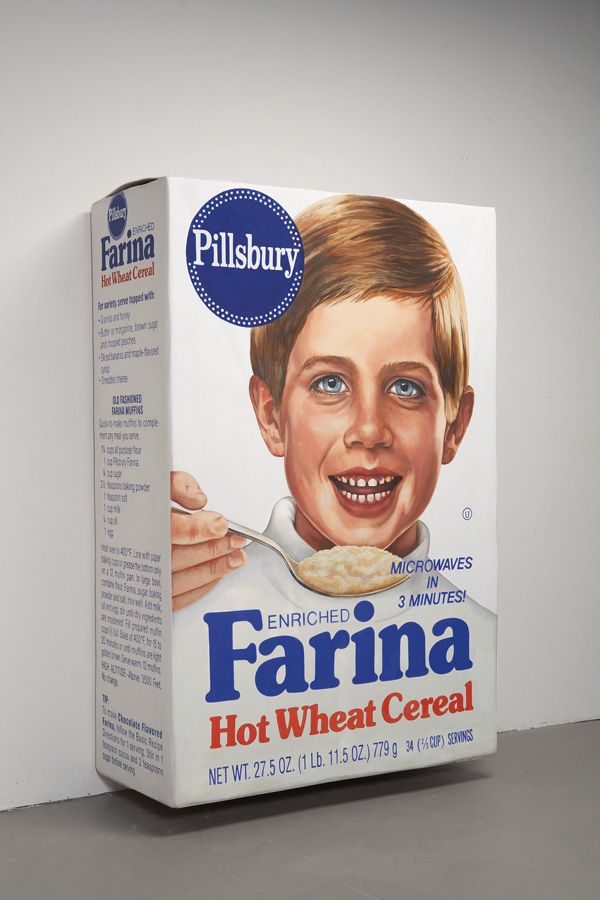 MAJOR WORKS BY ROBERT GOBER, PHILIP GUSTON, JOHN BALDESSARI, ED RUSCHA, DONALD JUDD AND DAN FLAVIN TO BE OFFERED Phillips de Pury & Company announces today the highlights of its forthcoming Contemporary Art Part I sale to be held in New York on May 14 at the company's Chelsea galleries.
The total pre-sale value of the Part I Contemporary Art sale is $12.2 – 17M.
Headlining this spring's New York sale is Robert Gober's Untitled sculpture from 1993-4 representing a 6'8" high Farina cereal box. Hand-painted in acrylic and meticulously constructed using wood and vinyl, this work is exemplary of the artist's ability to render domestic products and details, such as a sink or a stick of butter, and enlist the viewer to take a look at it anew. With the play in scale a nod to Surrealism, this work can at first appear as a benign, joyous presence. The image of the happy blond-haired boy exudes innocence and the product itself connotes warmth and wholesomeness. However, the enormous proportions of the piece lionize the symbols and call them into question, gently pointing to the fragility of youth and our mortality.
Robert Gober, known for sculpture and drawings that both bemuse, unsettle and intrigue, has established himself as one of the most compelling artists of our age and this work stands out as a unique and highly personal piece while dealing with the most central themes of his lifetime of work.
Robert Gobber Untitled, 1993-4 will be offered with a pre-sale estimate between $2,500,000-3,500,000.
Other highlights of the sale include major works by pre-eminent artists of the late 20th Century and represent the breadth of work from the Abstract Expressionist, Minimalist and Post-Minimalist eras through to the return to figurative painting.
A late-career canvas by Philip Guston, Anxiety, 1975 will be offered with a pre-sale estimate between $1,000,000 – 1,500,000. In the last decade of his life, Philip Guston created the most celebrated works of his long career in a courageous shift towards representational imagery. Anxiety, 1975, focuses on simple and personal motifs of the telephone and the egg sandwich with the deft paint-handling and seductive marks so key to Philips Guston's work.
A large oil on linen by Cecily Brown, Suddenly Last Summer, 1999 will be offered with an estimate between $600,000-800,000. Suddenly Last Summer is an impressive work by the artist who continues to mediate between gestural abstraction and narrative, figurative painting, creating compositions pulsing with color and corpulence.
Ed Ruscha's Portland to Memphis, 2000 is estimated between $500,000-700,000 and depicts a minimalist, futuristic map denoting the American cities names: Memphis, Cheyenne and Portland. Beyond this clean and graphic composition, signature to the artist's oeuvre, Portland to Memphis recalls the romantic American ideal of the open road while at the same time hushing the sense of possibility extolled by the Beat generation.
Donald Judd's Untitled 88-27, 1988 is estimated between $500,000-700,000; Dan Flavin's Untitled ("Monument" for V. Tatlin) 22, 1964 is estimated between $400,000 – 600,000; John Baldessari's, Person with Pillow: Desire/Lust/Fate, 1991 will be offered with an estimate between $300,000 – 400,000.
Sherrie Levine's Buddha, 1996, is estimated between $150,000-200,000 and is an homage to Marcel Duchamp's most famous readymade, Fountain, the porcelain urinal he entered in an exhibition in 1917. One of the most seminal works in the 20th century, Fountain is a predecessor of Levine's oeuvre of appropriating existing artwork. Buddha furthers the connotations of appropriation in that the luscious shining surface deliberately accentuates the sensual qualities that Duchamp denied in his own work and presents unabashedly the notion of visual beauty which serves as a feminist inroad to the male canon of art history.
Additional highlights include works by James Rosenquist, John Chamberlain, Anish Kapoor, Rudolf Stingel, Mark Grotjahn and Banks Violette.
Contemporary Art Sales
Auction Contemporary Art Part I, May 14, 7 pm; Contemporary Art Part II, May 15, 10 am
Viewing Contemporary Art Part I and II, May 5 – 14, 10 am – 6 pm
Categories
Tags