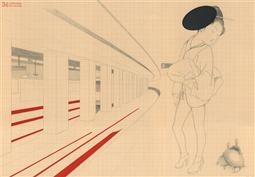 www.glowlab.comGlowlab Announces
Between the Lines in Minowa, a solo exhibition by Spanish artist Roberto Mollá featuring a dozen new works on grid-paper and a large-scale wall-drawing.
Mollá's captivating new body of work samples from a variety of cultures to depict a strange and beautiful "floating" world reminiscent of the ukiyo-e genre of Japanese paintings and prints. The subject of these traditional scenes was city life, specifically activities from the entertainment district of Minowa. In Mollá's modern day ukiyo-e, sinewy koi fish mingle with reclining geisha courtesans and manga characters within labyrinths of folding screens, simultaneously inviting and obscuring the viewer's gaze.
Grounding Mollá's lyrical compositions is a hard-edged, gridded field that undermines our assumptions of space and flattens it out. The artist draws exclusively on graph paper – a formal nod to artists of the 1960's and 70's whose work incorporated the grid and revolved around its freedom and limitations. Manuel Barbadillo and Julio Le Parc, Joseph Albers and El Lissitzky, Agnes Martin and Sol Lewitt, are all artists who explored the implications of space and composition through formally rigid work. Mollá's use of flat, geometric patterning, along with the grid, references his historical predecessors in a sophisticated appeal that combines with his lithe silhouettes to create a rich language that is entirely his own. In this way, Molla finds his place in a long and rich contemporary tradition of artists working with non-perspectival space and the tensions of the surface of their chosen medium.
A focal point of the exhibition is a group of emakimono (picture scrolls) with Japanese koi fish swimming between electric wires. The pieces, created in Mollá's signature palette of sand, crimson, sumi ink and graphite, are inspired by the prints of Hiroshige, the Japanese artist best known for his delicate renderings of fish and sea life, and the kites that populate the skies of Japan in the spring.
Shepard Fairey, street artist and creator of the Andre-the-Giant "Obey" icon, adeptly summed this up on his blog in a recent post. He wrote of Molla's work that "The tension between all these elements is fascinating. At a glance they are graphically powerful, but then they also have this meticulous subtlety which is just beautiful."
Roberto Mollá (b. 1966, Valencia, Spain) first exhibited his work in 1994 in Tokyo. His work has since been presented in Japan in nine group exhibitions and seven solo exhibitions in galleries including Kobo Chika Gallery and Tozai Bunka Center. He has received grants from both the Japanese and Spanish governments which have allowed him to spend time creating work in Japan.
Mollá has participated in group exhibitions in the US organized by Glowlab (New York), POST Gallery and Roberts & Tilton Gallery (Los Angeles) and Geoffrey Young Gallery (Massachusetts). In Spain, he has participated in numerous group and solo exhibitions including Gallery Nuble (Santander), the Universidad Politécnica (Valencia), Club Diario Levante (Valencia), Sala Naranja (Valencia), Galería Moriarty (Madrid), Galería Sala de eStar (Seville), Galería Bacelos (Vigo), Galería Cánem (Castellón), Galería Muelle27 (Madrid) and Galería Tercer Espacio (Madrid) and he has participated in art fairs such as Foro Sur, Arte Santander and the Lisbon Art Fair. His work has been exhibited at Observatori 2005–Valencia Science Museum, Oviedo Biennale and in the travel-ing show Pieza a Pieza organised by the Instituto Cervantes. Mollá's work is included in private and public collections including the DKV (Deutsche Krankenversi-cherung AG) Collection (Germany), Club Diario Levante (Valencia), the Embassy of Spain in Tokyo, Jiménez-Arellano Foundation (Valladolid), AG Rosen Collection (Massachusetts), UNED (Madrid), Marunuma Founda-tion (Asaka) and the Miró Foundation (Palma de Mallorca).
About Mark Westall