Magenta Plains is pleased to present Persistence of Vision, an exhibition of new photography and sculpture by artist Jennifer Bolande. Comprised of two bodies of work on two floors of the gallery, it is both a distillation and expansion of an artistic vocabulary of recombinant elements built over the past thirty-plus years. Impermanence, obsolescence, and the fleeting nature of things are always at play in her work. Persistence of Vision attempts to acknowledge the limitations and possibilities of form, the human effort to navigate and to shift our perceptions of the mundane into meaning.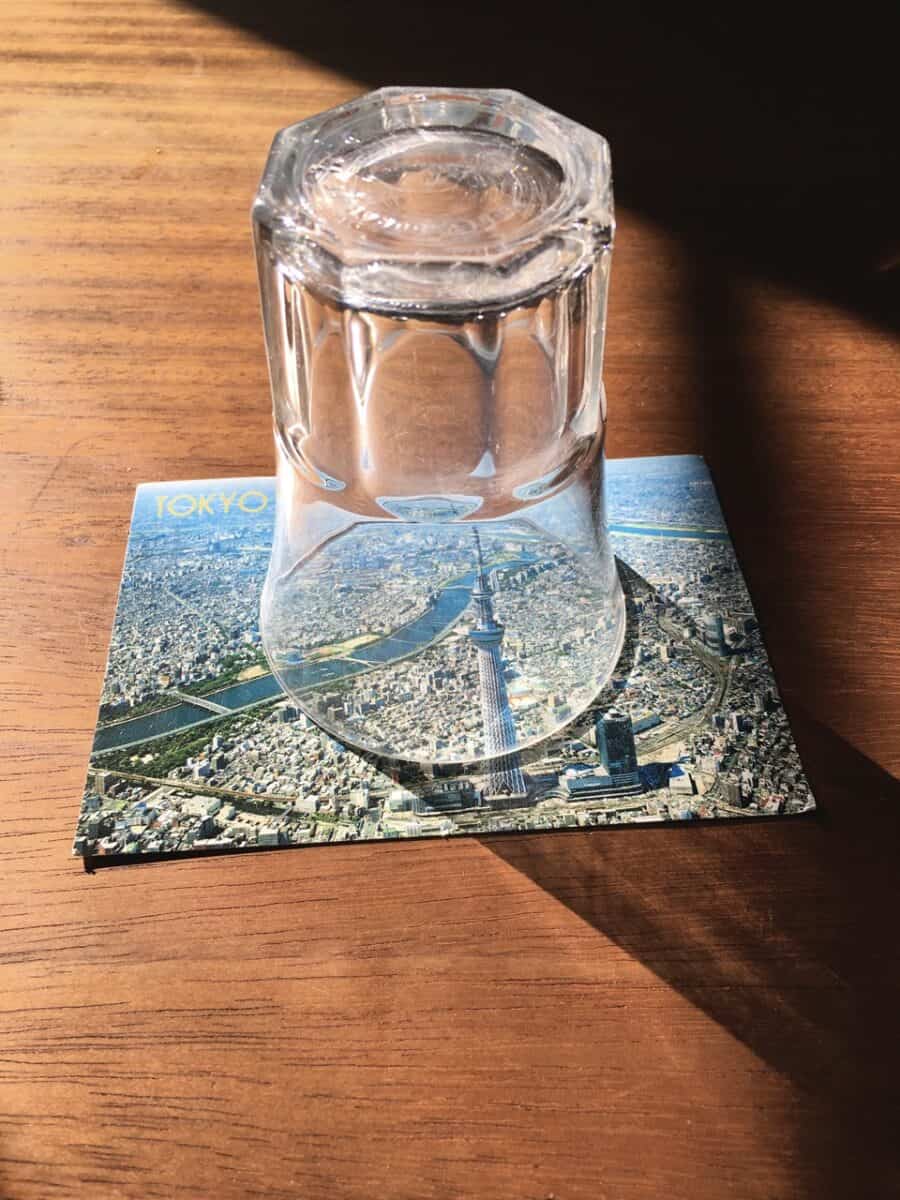 On the first level of the gallery are 28 observational photographs that have never been exhibited. The cinema term 'persistence of vision' refers to the perceptual effect of a succession of still images producing a moving image. The installation echoes that effect with a measured cadence of uniformly sized photographs. The intense concentration of Bolande's vision and her unsparing eye for detail is quite apparent in this group of photographs. Primarily still lives, both happened upon and composed, we see the colors, objects and forms that have drawn her attention and have appeared in her work across media over the years. More deliberate than a casual snapshot, in these photographs there is often a kind of disorientation or indeterminacy as to subject, a confusion of foreground and background, of reflection or scale.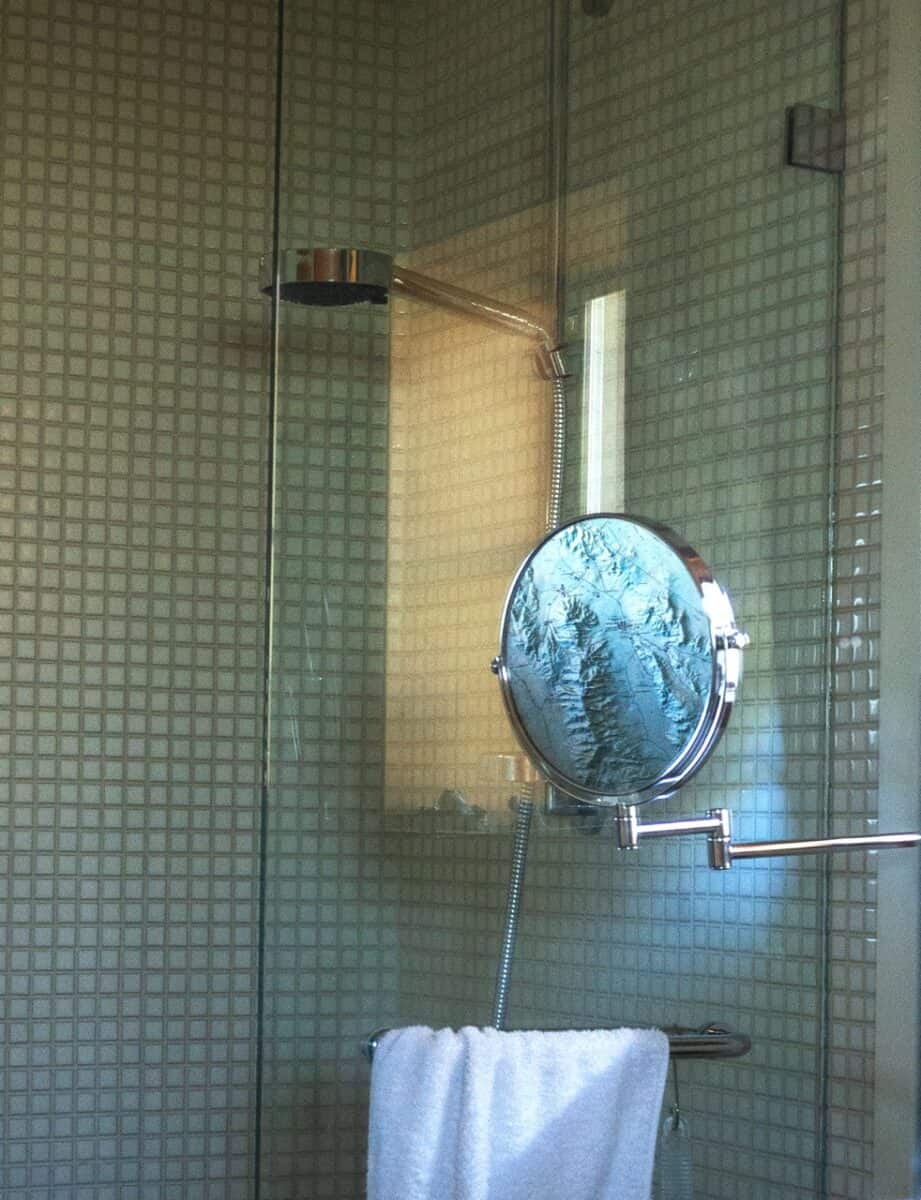 At the center of the room, a sculpture titled Circling Around appears at first like it might be a museological display of the industrial analog past. A freely spinning blue steering wheel is mounted atop a pedestal of identical color; its ergonomic form designed to receive the digits of a human hand. The piece tempts engagement and mirrors the viewer's and the artist's circuitous trajectory. On the second floor is an installation of new interrelated sculpture and photographs in which the same color blue predominates. Viewers are immersed in a field of tall blue pedestals crowned by handmade plaster sculptures, titled Drifts. Part geologic, part architectonic, the sculptures conjure massive yet ephemeral forms. On the walls a group of larger-than-life-size portraits of crumpled paper, the Monolith photographs have a sensuous geologic solidity and speak to the profusion and disposability of images and objects. If the Monolith photographs are studies in the fluid boundaries of material, the Drifts solidify that fluidity into craggy monuments. Forms at once delicate, elegiac, and disquieting, the two bodies of work in conversation with one another expand and enliven each other.
Jennifer Bolande: Persistence of Vision, May 4th–June 17th, 2023, Level One and Level Two, Magenta Plains
About the artist
Jennifer Bolande (b. 1957, Cleveland, OH) emerged as an artist in the late 1970s working initially in dance, choreography and drawing. In the early 1980s, influenced by Pop, Conceptualism, Arte Povera, and the 'Pictures' artists, she began working with found material from the urban and media landscape which she remixed and invested with idiosyncratic narratives. Exhibiting in New York at Nature Morte Gallery, Metro Pictures, Artists Space and The Kitchen, Bolande was noted early on for her works exploring the materiality of photographs. She uses various media including photography, film, sculpture and installation to explore affinities and relationships and to convey embodied experience.
Solo exhibitions of her work have appeared at institutions and galleries around the world including Kunstraum, Munich, DE; MoMA PS1, New York, NY; Kunsthalle Palazzo, Liestal, CH; Margo Leavin, Los Angeles, CA; Galerie Sophia Ungers, Cologne, DE; Urbi & Orbi, Paris, FR; and Nordanstad Skarstedt, Stockholm, SE, among others. In 2010, a thirty-year retrospective of Bolande's work was presented by INOVA in Milwaukee, WI which also travelled to the Institute of Contemporary Art, Philadelphia, PA and the Luckman Gallery at California State University, Los Angeles, CA. Her site-specific project, Visible Distance/Second Sight, was featured in the inaugural Desert X 2017 in
Coachella Valley, CA. Bolande was recently included in museum exhibitions such as Pictures and After, MAMCO, Geneva; Drawing Down the Moon, Hammer Museum, Los Angeles, CA; Readymades Are For Everyone, Swiss Institute, New York, NY; Brand New: Art and Commodity in
the 1980s, Hirshhorn Museum, Washington, DC; Mixed Use Manhattan, Museo Nacional Centro de Arte Reina Sofia, Madrid, ES; Don't Look Back; The 1990s at MOCA, Geffen Contemporary at MOCA, Los Angeles, CA; and This Will Have Been, Art Love and Politics in the 1980's, Museum of Contemporary Art, Chicago, IL, which travelled to Walker Art Center, Minneapolis, MN, and ICA, Boston, MA. Living Inside the Grid, New Museum of Contemporary Art, New York, NY; and The Photogenic, Institute of Contemporary Art, Philadelphia, PA. Bolande has been awarded fellowships from John Simon Guggenheim Foundation, New York Foundation for the Arts, Tesuque Foundation, Elizabeth Firestone Graham Foundation, and Andy Warhol Foundation. She is professor emerita of New Genres in the Department of Art at UCLA. Bolande lives and works in Joshua Tree, CA.
Categories
Tags