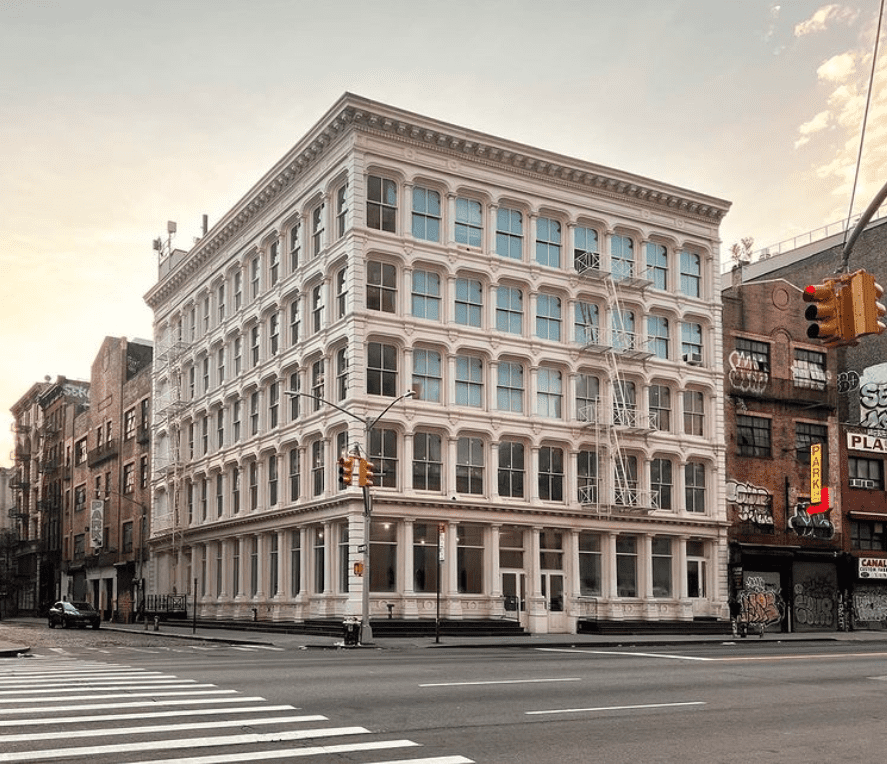 Opening September 29th, 2022, Canal Projects is a new nonprofit visual arts organization dedicated to supporting innovative international artists at pivotal moments in their careers. Spanning two floors and 5,800 square feet of exhibition space at 351 Canal Street, the nonprofit will exhibit artists through long-term collaboration with an emphasis on newly-commissioned works and site-specific iterations of underexposed projects. Its inaugural exhibition will present two large-scale video installations by Thai artist Korakrit Arunanondchai and American artist and filmmaker Alex Gvojic.
Canal Projects is committed to commissioning and exhibiting three local and international artists yearly, supplemented with an array of public programming. Alongside exhibitions, the organization will host performances, readings, and screenings as well as a library programmed by a rotating series of artists and collectives.

Summer Guthery is the inaugural Artistic Director of Canal Projects. Prior to joining Canal Projects, Guthery was the Executive Director and co-founder of the nonprofit gallery JOAN in Los Angeles, California, a not-for-profit exhibition space focusing on emerging and underrepresented artists. She also worked as the Curator of Performance and Public Programming at LAXART in Los Angeles and as an Assistant Curator of Performa Biennial in 2013 & 2011. Guthery has written for publications including Frieze, Artforum, ArtReview, and Art in America, and holds an M.A. from the Center for Curatorial Studies at Bard College. Her appointment comes with a commitment to access, diversity, and community-oriented programming.
"I am honored by the opportunity to return to New York and join Canal Projects at its founding, and to shape its place in the cultural fabric of the city.

Our team has been thinking deeply about how to act as a home for new voices and
alternative narratives, amplifying them through an advanced level of curatorial support and production beyond what is currently available."

Summer Guthery Artistic Director of Canal Projects.
Canal Projects will launch its programming with an exhibition by Bangkok and New York-based artist Korakrit Arunanondchai (b. 1986). The exhibition will feature Arunanondchai's two most recent videos: Songs for Dying and Songs for Living (2021). The latter was created in collaboration with artist and director Alex Gvojic. His first New York show in over eight years, Arunanondchai's large installation and multimedia works continue his interest in atmospheric storytelling. The two pieces explore spirituality, animism, and the ghost as a metaphor for suppressed and overlooked histories.

In addition to exhibiting new works, Canal Projects will also feature a rotating series of residencies with artists, writers, and organizations in the basement library. The first residency features Shanzhai Lyric, a poetic research unit whose fictional office Canal Street Research Association (CSRA) explores the social and cultural history of Canal Street through counterfeit objects and practices as a broader expression for deconstructing ideas of ownership and authenticity.

Canal Projects' future exhibitions in 2023 include a broad selection of historical works and contemporary projects by key figures like the Korean avant-garde artist Seung-Taek Lee, whose radical experimentations influenced the direction of modern art in East Asia since the 1960s. Later in 2023, Canal Projects will feature artist Amie Siegel (b. 1974), whose layered, precise moving image works probe the systemic undercurrents of value, ownership, labor, and class. Afterwards, Canal Projects will present a newly commissioned installation by Candice Lin (b. 1979) whose works investigate the legacies of colonialism, racism, and the international trade and production of goods. Finally, Elaine Cameron-Weir (b.1985), whose
sculptural work borrows materials from the fields of science, medicine and military to new combined forms that compress the past, present, and a seemingly dystopian future, will be presented at the space. Canal Projects developed its visual identity with Portland-based designer Scott Ponik. For the building's renovations, the organization entrusted New York-based architecture and design firm Worrell Yeung to upgrade and transform the landmark ca.1900 cast iron building.
Guthery explains,
"This stunning cast iron building could not be better located at the border of art historically important Soho and the burgeoning Tribeca art neighborhoods. The renovation by Max Worrell and Jejon Yeung
provides multiple flexible gallery spaces that can be tailored to each artist's needs."
About Canal Projects
Canal Projects is a nonprofit contemporary art institution dedicated to supporting forward-thinking local and international artists at pivotal moments in their careers. Through production, exhibition, research, and interpretation of the work, Canal Projects intends to foster artistic practices that challenge and reflect on the current moment. canalprojects.org @canalprojectsny

About YS Kim Foundation
Canal Projects is an initiative of the YS Kim Foundation, a New York-based 501(c)(3) organization that provides general support grants and implements innovative programs to help underrepresented and emerging artists and their communities thrive. YS Kim Foundation envisions a world where people and communities grow and flourish with culture, creativity, opportunities, and connection. Its mission is to support, mobilize, and open new pathways of success for artists, children, young leaders, communities, and organizations. It does this by starting new initiatives and providing grants and scholarships
to organizations and students. yskim.org


Categories
Tags