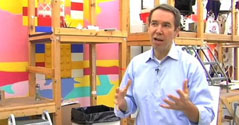 The Tate galleries have made hundreds of video and audio downloads available for free on iTunes.
More than 400 files are now on iTunes U – a section of the online store which features educational content.
Projects include a series of films that use social networking site Twitter to bring the audience's questions directly to artists like David Hockney.
There are also recent interviews with contemporary artists including Jeff Koons and Louise Bourgeois.
Clips of Turner Prize-winning artist Martin Creed and his band performing at the Tate Modern are featured alongside debates about his work.
Audio recordings of leading academics, teaching resources and multimedia guides for the latest Tate exhibitions will also be made available.
More here: LINK
Via (BBC)
Categories
Tags