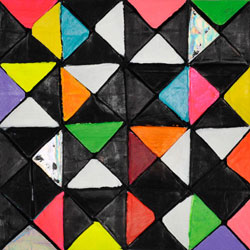 For the inaugural 'Little Piece of Mind' project, Marque has briefed and commissioned Julie Floersch – one of the world's leading exponents of quilting – to create a contemporary quilt. In the spirit of collaboration, Marque has asked those that they admire and respect in the international creative communities to contribute 'a little piece of mind' i.e. the swatch materials with which Floersch has executed her design.
Contributors to the quilt include:
Kate Moss, Pringle, Stella McCartney, CP Company, Jo Wood, Sophia Kokosolaki, Paul Smith, Vivienne Westwood, Marc Jacobs, Richard Nicoll, Rupert Sanderson, PPQ, Cath Kidston, Paul Davis, Luella Bartley, Rankin, Orla Kiely, Daisy & Poppy de Villeneuve, Giles Deacon, Bill Amberg, Kathy Chan, Howie B, Boudicca, Kinder, Nell Bell Design, Liberty, Top Shop, Urban Outfitters, Nicole Farhi, Damien Poulain, Tom Dixon, Swarovski, Timothy Everest, 404 Design, Christian Bradley West, Jonathan Ellery, Squint, Gavin Turk, Alison Jackson, Jean Paul Gaultier, Jose Manuel Hortelano, Airside, Troika, Marcel Zykind, Hussein Chalayan, Stephen Jones, Eley Kishimoto, Alice Temperley, Silberfischer, Oliver Spencer, Frauke Stegmann, Elton & Jacobsen, Begg, Caroline Broadhead, Sibylle Stoekli, Squint, Rachel Speed, Slow and Steady Wins the Race, Janine Trott, Fred Butler Style, amongst others.
The quilt will be exhibited first in London at the Londonewcastle Project Space and then in New York and Glasgow. These exhibitions will culminate in the quilt being auctioned with the proceeds donated equally between Shelter in London and Glasgow and The Bowery Mission in New York City, both of whom are committed to confronting and preventing homelessness.
Londonewcastle are proud to be hosting this event Private Launch Evening on Tuesday 7th April from 6pm – 9pm.
The Londonewcastle Project Space
28 Redchurch Street
London
E2 7DP
Categories
Tags