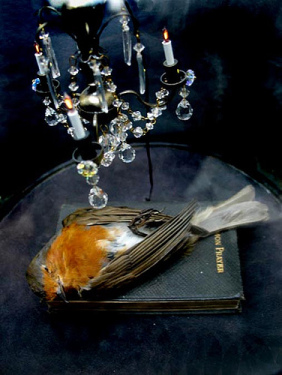 Removal men have accidentally binned an £8,000 'work of art' belonging to the singer Courtney Love, after mistaking it for junk.
The dead bird in a matchbox had been standing on a 6ft plinth in the corner of Ms Love's bedroom.
Although the pedestal was packed ready for shipping to the new house, the chicklet normally seen lying under a mini chandelier – was left on a sideboard.
Love, 44, the widow of Nirvana singer Kurt Cobain, is reported to be furious at the loss of the untitled piece of artwork by British artist Polly Morgan.
Polly Morgan, 29, is a trained taxidermist and has made her name fashioning art out of dead animals that have met accidental or unpreventable death.
Her works sell for up to £50,000 and several pieces are owned by Kate Moss, Damien Hirst and Charles Saatchi.
About Mark Westall