Tabish Khan the @LondonArtCritic picks his top 5 exhibitions to see closing soon. Each one comes with a concise review to help you decide whether it's for you.
Jukhee Kwon: Liberated @ October Gallery
What to do with discarded books? Jukhee Kwon re-purposes them into artworks where the pages spill out of the covers like a waterfall or turn into flying paper cranes that sail out of the covers. It's as if the contents of the books are coming into life in fantastical exhibition. Until 22 April.
Open! Channel! Flow! and False Flags @ Royal Society of Sculptors
Snakes appear stuffed inside concrete blocks or with their scales on sculpture as if they're signalling flags in the works of Polly Morgan. Alongside these are ceramic masks made by Leena Similu as both deal with ideas of mimicry and camouflage. It's accompanied by Morgan's first public commission outside, before the serpentine sculpture moves to its permanent home at the Olympic Park. Until 29 April.
Ravelle Pillay: Idyll @ Chisenhale Gallery
These beautiful landscape paintings with their ghostly figures appear dream-like. However, they also reflect on the artist's own heritage of being descended from Indian indentured labourers in South Africa, and the wider horrific history of colonialism. Until 23 April.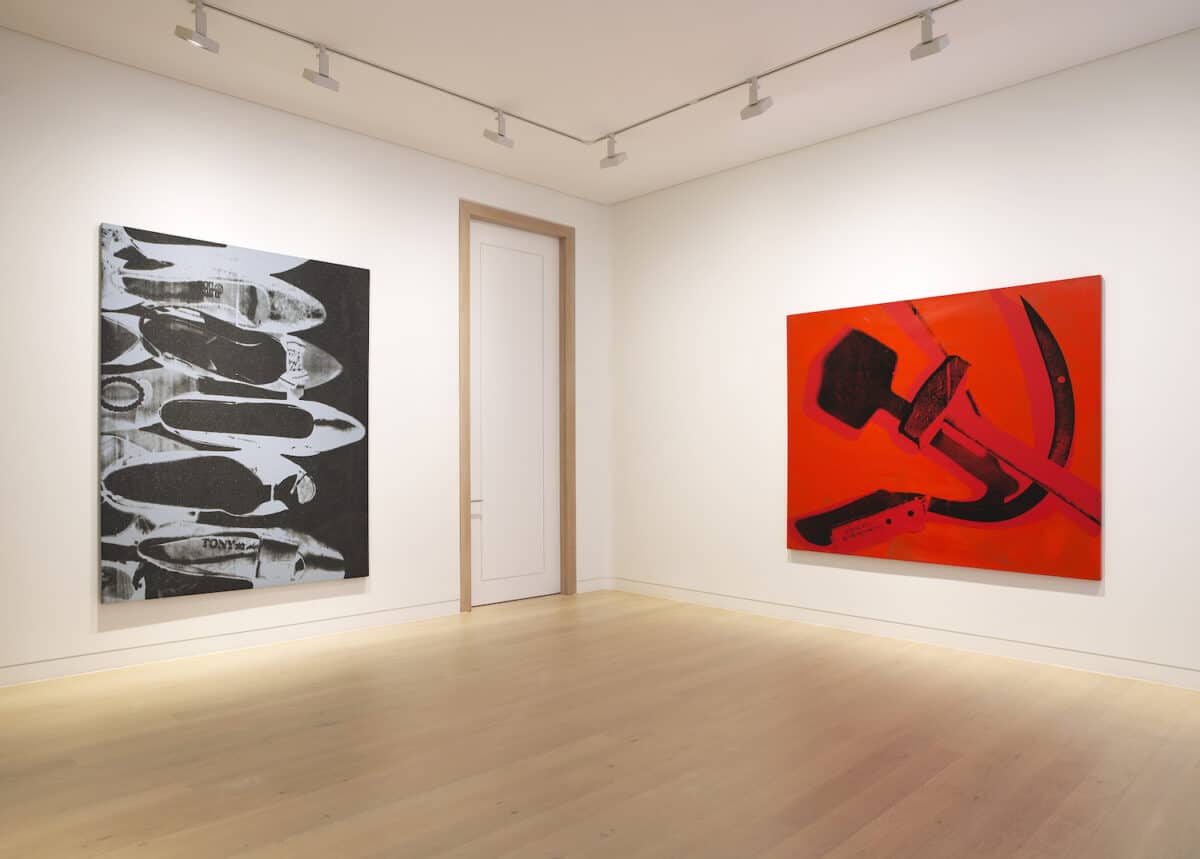 Andy Warhol @ Skarstedt
This selection of Warhol's works is a diverse selection that includes his almost kitschy diamond dust shoes to his oxidation painting where he urinated on copper to discolour it. Most powerful for me is his bright red hammer and sickle with bought objects and logos prominent – using the products of capitalism to create the symbol of communism. Until 22 April.
Whorled by Jitish Kallat @ Somerset House
The latest Somerset House courtyard installation draws from motorway signage and takes it well beyond so there's the distance to St Ives next to other countries or even the distance to another galaxy. We can circle through the installation that's playful but also references places under threat due to rising sea levels, which is fitting given Somerset House is next to the Thames and used to back right on to it. Until 23 April.
All images copyright artist and courtesy gallery. Jukhee Kwon photo: © Jonathan Greet. Whorled photo: copyright David Parry/PA Media.
Categories
Tags