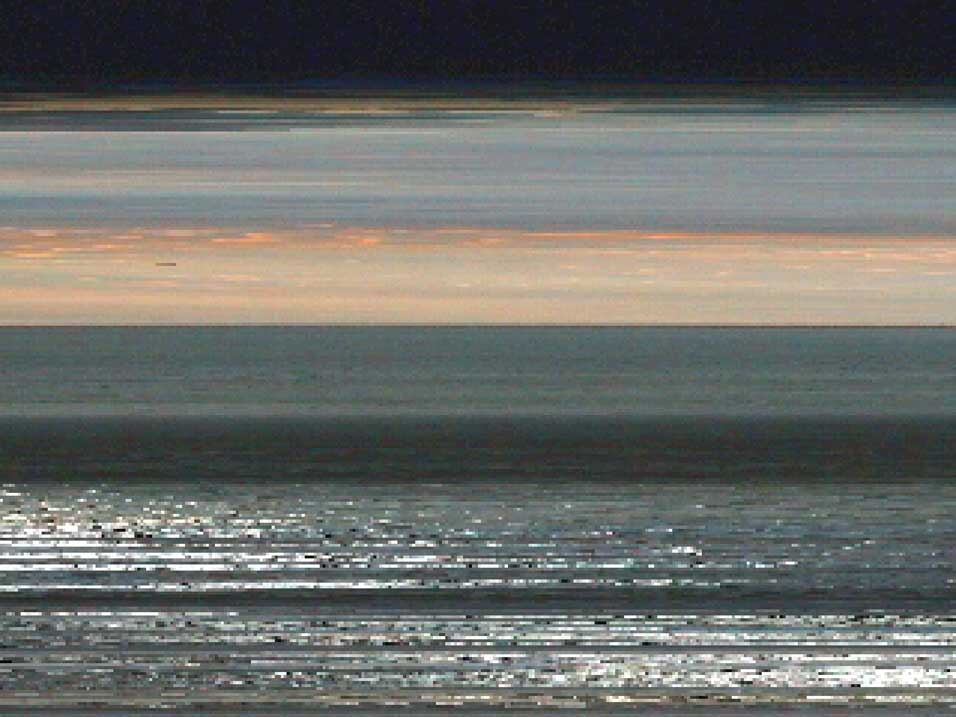 A new body of work by British artist Susan Collins combining digital technologies with the classical traditions of English landscape painting, Seascape presents an extraordinary visual exploration into the natural cycles of tide, time and light.
Seascape consists of a series of gradually unfolding digital seascapes created using imagery captured in real time by webcams installed at five key coastal vantage points on the South Coast between Margate and Portsmouth. Sited at each location for up to a year before the start of the show, the webcams record the endless fluctuations in the light that are a characteristic feature of the English coastline, and which have attracted painters for generations.
The exhibition will include a series of real-time projections – each showing an image constructed from digital material drawn from the five webcams. Continually collecting this data – from top to bottom and left to right in horizontal bands – these images are constantly generated and renewed pixel by pixel. A series of digital prints from this bank of material will also be presented as part of the exhibition, whilst a project website will feature the vast digital archive of webcam imagery amassed over the period of 12 months.
Poised, like the sea itself, between unchanging stillness and continuous movement, counterpointing the ongoing motion of the pixel with the endless vigil of the lens staring out to sea, these projections will mark the limits of the visible throughout the day, presenting the viewer with a series of infinitely evolving seascapes.
Seascape is commissioned by the De La Warr Pavilion and Film and Video Umbrella and is supported by Arts Council England and AHRC. An exhibition catalogue will be published by Film and Video Umbrella presenting extensive material from the Seascape archive, alongside essays by Sean Cubitt and Nick Alfrey.
Susan Collins is one of the UK's leading artists working with digital media. Working across public, gallery and online spaces, her current practice employs transmission, networking and time as primary materials, which often explore the role of illusion or belief in their construction and interpretation. Seascape is a work developed from the success of previous projects including Fenlandia. She has produced numerous online works including the bafta nominated Tate netart commission Tate in Space, and her work has been exhibited internationally, with recent group shows in Germany, Denmark, Holland, Bulgaria, USA, Canada and Australia. Collins is Reader in Fine Art, Head of Undergraduate Fine Art Media and is Head of the Slade Centre for Electronic Media at the Slade School of Fine Art, University College London. www.susancollins.net
Categories
Tags