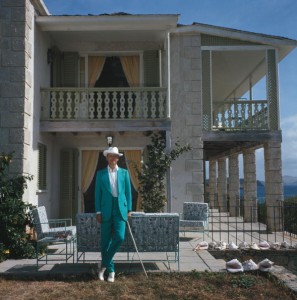 New Photographic Exhibition at Getty Images Gallery Showcases Iconic Images of a World Class photographer Slim Aarons, one of the world's most famous and revered photographers of the twentieth century, will have some of his most iconic work showcased at the Getty Images Gallery in London, from 13th April to 30th May.
Slim Aarons started working as a photographer in World War Two for Yank Magazine – the official publication that was distributed to the armed forces. Slim photographed the troops and action at close range. It was at this time that he met renowned photographers Robert Capa and Henri Cartier Bresson. Aarons had witnessed enough of the horrors of war to make up his mind to be a very different kind of photographer and he traded the hard life for the high life, devoting the next 50 years to documenting the lifestyles of the rich and famous, through his amazing access to the inner circle and eventually becoming a part of it. He worked as a freelancer for many major publications such as LIFE and Town & Country magazine, travelling to the world's most desirable destinations.
Now, for the first time, the Getty Images Gallery has gathered together not only the famous iconic colour images that have made Slim Aarons a household name, but also some of his earlier, previously unseen black and white studies of 1950's high society.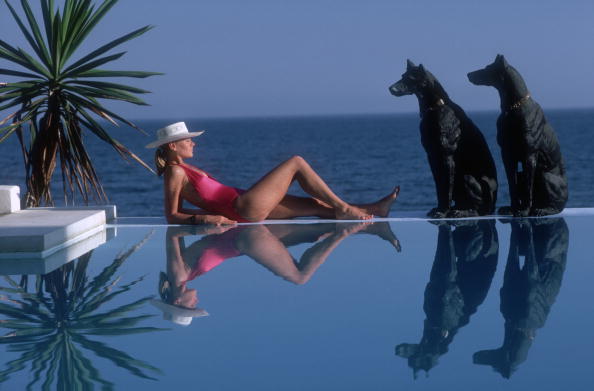 "This is the first time we have featured Slim Aarons' work, which offers an early glimpse into America and Europe's high society. Showcasing Slim Aarons' stunning pictures will enable photography lovers and collectors alike to experience this unique content, that has been embraced by some of the world's top interior decorators and collectors alike, thanks to Aarons' use of natural light and vibrant colours that come through in so much of his photography'" commented Louise Garczewska, Director, Getty Images Gallery.
Aarons, one of the remarkable photographers of our time, is revealed in this exhibition as a keen observer of the lives of the rich and famous. He covered subjects that had not been shot before and had a unique style resulting in an intimate and incomparable record of one man's unique adventures during the last half of the 20th Century.
Gallery opening: Mon – Fri: 10.00-18.30, Sat: 12.00-18.00
Getty Images Gallery,46 Eastcastle Street London W1W 8DX
www.gettyimagesgallery.com
Categories
Tags