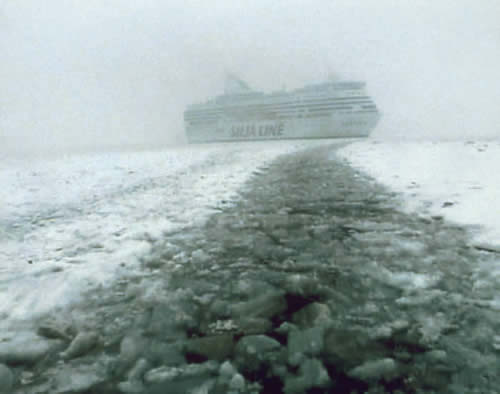 Mariele Neudecker's piece of work (Winterreise, 2003) is a collaboration with Opera North where Schubert's song cycle 'WINTERREISE' (A WINTER'S JOURNEY) has been used as a basis for a film-project using locations along the 60th parallel north. It is a compilation of 24 short films that exists both as a live performance version and in this context as a gallery version (duration 90'50"). It has been performed live at venues such as the Shaw Room, National Gallery, Dublin; Baltic, Newcastle and the Linbury Studio, Royal Opera House, London.
The gallery version was, most recently, included in INTIMACY, at the Australian Centre for Contemporary Art, Melbourne.
Commissioned by the Contemporary Art Society Special Collection Scheme on behalf of Leeds City Art Gallery with Funds from the Arts Council Lottery, 2003 In conjunction with Opera North
Artprojx Matinees are programmed, presented and selected by David Gryn | Artprojx.
Mariele Neudecker was born in 1965 in Düsseldorf and lives and works in the UK since 1985. She graduated at Goldsmiths' College, London, in 1990 and attained an MA in Sculpture at Chelsea College of Art and Design in 1992. Her work has been exhibited internationally at venues such as the Neue Nationalgalerie, Berlin; Tate Britain, London; the Museum of Contemporary Art Kiasma, Helsinki and The Aldrich Contemporary Art Museum, Ridgefield, USA. Since April 2008, her latest large-scale installation is permanently exhibited at the Towada Art Center, Japan. Neudecker's work is present in numerous established public and private collections in Europe, America and Asia.
For further information visit www.bthumm.de or www.marieleneudecker.co.uk :www.artprojx.com
Categories
Tags