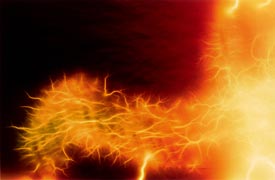 – Gallery transformed into an 'eye' through which to see the city –
– London and Cambodia linked through cross-continental collaboration –
Liminal: A Question of Position is a new exhibition curated by Iniva and
Liminal: A Question of Position is a new exhibition curated by Iniva and supported by the Department of Applied Social Sciences at London Metropolitan University that will transform Rivington Place, London into a contemporary urban playground. Examples include a memory game which will challenge even the sharpest minds, time and space defying technologies allowing people in London and Cambodia to simultaneously walk in each others footsteps, and a proximity detecting installation turning the gallery into an 'eye' through which to view the city
For six weeks over 20 artists will come together to investigate what it means to live in a city – the urban hub where culture, society and beliefs collide. They will use digital media to explore our contemporary urban experience and question the way in which we position ourselves within the city- both physically and culturally.
Highlights include:
Che-Guevara John & Phillippe Chollet
Frictions of Distance
A cross-continental collaborative work, links the people of London with the people of Phnom Penh in Cambodia to explore the issues of hybridity and telepresence! As visitors walk through the two spaces, sensors track their footsteps. These are then simultaneously projected onto the floor of Rivington Place and the French Cultural Centre in Cambodia – visitors can literally walk in each other's footsteps.
Rob Rainbow & Patrick Rhoden
Total Station
An interactive artwork that both gallery visitors and passers by can enjoy. Eye-catching images of London's urban landscape are seen through the vast, street-facing window of the gallery. Proximity detectors will sense movement inside and outside the gallery and change the imagery accordingly. Total Station will transform Rivington Place into an optical instrument through which we will see the wider city surrounding it.
Alexander Wendt, Elaine Thomazi-Freitas and Luke Hastilow
Wall Ball
A playful interactive wall installation, which explores the themes of identity and position. Visitors are invited to throw a ball against one of the many screens that make up a giant composite face and through a combination of skill and memory – can change each panel to complete the picture. Somewhere in between a rubix cube and Dr Kawashima's Brain Training, the dynamics of the game incorporate the quest for cultural identity and position.
Roshini Kempadoo
Ghosting
A multimedia artwork exploring the contemporary multicultural experience in both Britain and the Caribbean. The viewer is invited to interact with a combination of spoken word and animated visuals in order to create a fictional landscape. Ghosting reflects on the interconnection of the Caribbean's community, its worldwide origins and its roots in slavery, indentureship and migration.
Disinformation and Usurp
London Underground
An installation that is inspired by the London Underground – no Oyster Card necessary! London Underground uses audio landscape recordings taken from electric rails on rapid transport systems and presents them as electronic music, and as a visible record of the relationship between objects in the urban environment and their electromagnetic 'signatures.' The title London Underground refers to both the transport network and to the cultural and social phenomenon.
Oliver Ruellet
Ferro Scape
An experimental video and animation that focuses upon urban travel, architecture in motion and displacement. Depicting a train journey through an industrial landscape and its associated soundtrack, it investigates ideas around the space-time of travel. Ferro Scape revisits the late 19thC medium of moving panoramas and updates them using digital moving-image production tools, CGI and 3D vector graphics.
The INIvators (a group of young people who develop ideas and activities with Iniva) are working with artists Chris Lane and Larry Achiampong to examine the politics of a contributory digital culture in dialogue with the city, Iniva, the Rivington Place building and Liminal. A digital canvas will be continually created by the INIvators, the public and six students from London Metropolitan University using data feeds from the artworks in the exhibition. They will be working in a Learning Lab on the 1st floor of Rivington Place.
A full programme of special events, talks and workshops will run alongside the exhibition. For further information please check the Iniva website www.iniva.org.
www.rivingtonplace.org
Categories
Tags