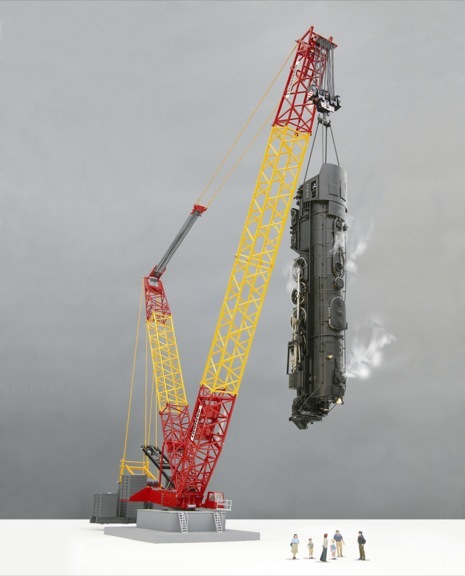 Jeff Koons is working on the largest and most ambitious project of his career: a towering sculpture consisting of a life-size motorised replica of a locomotive dangling from a crane. The Los Angeles County Museum of Art (Lacma) is funding the awesome work that will rise above the entrance plaza like a memorial to the Industrial Age technology that fuelled America's westward expansion. The project, in development for two years, is about to move into the fabrication stage. The price tag? "We're talking about a $25m work," said the artist.
The projected cost would make Train the most expensive artwork ever commissioned by a museum, surpassing Richard Serra's $20m sculptural array, The matter of time, 2005, in the Guggenheim BilbaoLacma has already spent about $1.75m of $2m pledged by trustee Wallis Annenberg for preliminary studies.
The artist envisions hanging a full-scale 70-foot-long steel-and-aluminium replica of a 1943 Baldwin 2900 steam locomotive from a 160-foot-tall Liebherr LR 1750 lattice-boom crane. The train's wheels will spin, its funnel belch smoke and the whistle blow at appointed times.
Scanning began late last month at the New Mexico Steam Locomotive and Railroad Historical Society—the Albuquerque museum that owns the original train serving as the model.
When will the landmark be completed? A date will not be set until manufacturer begins,Jeff Koons anticipates it will take about four years.
via (The Art Newspaper)
Categories
Tags