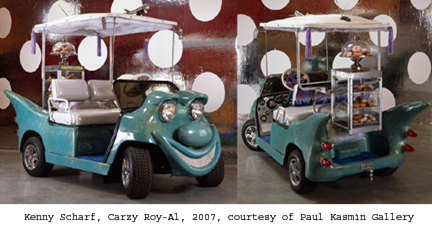 243 international galleries are gearing up for the 11th edition of the newly expanded Armory Show, and their exhibits will range from contemporary works exclusively made for the fair to museum-quality historical presentations. A new series of Special Projects will also punctuate the public areas.
The newly-introduced Special Projects feature a selection of large-scale works and site specific installations transcending the boundaries of individual booths. The projects include a five-paneled 50-foot long spray paint mural painted onsite outside of Pier 94 by Kenny Scharf. Scharf's Carzy Roy-Al, his customized, glittering, smiling golf-cart, will also be driven between the piers by a spaceman who will occasionally serve donuts. Kris Martin will present a piece entitled Thank You in Pier 94's lobby that visitors may miss if they don't look closely. The VIP Lounge in Pier 94 will feature a monumental piece by Richard Dupont featuring 180 cast polyurethane figures, and the exterior will be adorned with an installation by El Anatsui. Pier 92 will welcome visitors with Louise Nevelson's nine-foot tall Celebration, and its lounges will feature Doug + Mike Starn's dynamic Amaterasu and George Rickey's 13-foot tall Open Trapezoids Excentric One Up One Down Variation V.
Many galleries are devoting their stands to single artist installations. In the contemporary section on Pier 94, Ronald Feldman Fine Arts is presenting The Volksboutique Armory Apothecary, where visitors will have the opportunity to describe their maladies to artist Christine Hill, who will prescribe remedies for a small fee. Galerie Laurent Godin will debut Plane Landing in Paris, a new series by Aleksandra Mir, featuring photographs of a helium balloon in the shape and size of a passenger jet plane "landing" in various historic landmarks in Paris. Other notable solo exhibitions include Dasha Shishkin at Zach Feuer, Sarah Braman at Museum 52, James White at Max Wigram, Maria Finn at The Apartment, John Neff at Western Exhibitions, Gyan Panchal at Galerie Frank Elbaz, Matthias Weischer at EIGEN + ART, Hans Josephsohn at Hauser & Wirth and Anton Henning at Galerie Bob Van Orsouw and Stephen Antonakos at Kalfayan Gallery.
The Armory Show – Modern on Pier 92 will see a number of historical exhibitions. Among them, Galerie Lahumière is presenting Paris 1950-1960 – The Roots, featuring works from groups dedicated to abstract art, Art Concret and Constructivism. Bruce Silverstein is featuring MONUMENT, a tribute to the legendary writer, critic and artist John Coplans featuring seven rare, over-sized, original prints made by the artist. Amy Wolf and Marianne Manley are sharing a booth and will be showing a selection of work by women artists, including Tina Modotti, Ruth Asawa,Louise Bourgeois, Alice Neel, Louise Nevelson, Lee Bontecou, Kiki Smith, Mona Hatoum and Eva Hesse. Forum Gallery is presenting a historical group show of American Social Realist Art,
an artistic movement that created a bridge between the high modernist artistic ideals of Europe and the struggle brought on by the Great Depression and the political upheavals of the 1920s and 30s.The Julie Saul Gallery will mount a show of color photographs made during and around the 1970s, "when color was new," including Helen Levitt, William Eggleston, Joel Meyerowitz, Boyd Webb, John Pfahl, Luigi Ghirri, Jan Groover and David Hockney. Armand Bartos Fine Art presents 1968-69: 40 Years Later, featuring a moment in history in which Abstract Expressionism, Color Field and Nouveau Realism shared the stage with Pop as Minimalism, land art and conceptual art began to gather attention.
Categories
Tags