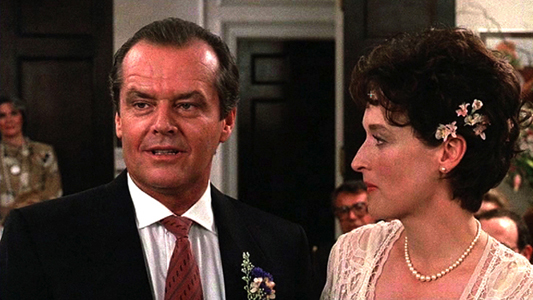 Yvon Lambert New York is pleased to announce an exhibition of new work by Candice Breitz. The exhibition
features two seven-channel installations: Him (1968-2008) montages together a conversation between 23 Jack Nicholsons extracted from films made over a period of 40 years, while Her (1978 – 2008) places 28 Meryl Streeps – drawn out of 30 years' worth of films – into dialogue with one another.
The exhibition will open with a reception for the artist on February 19th from 6 to 8pm and will be on view from February 19th through March 21st 2009.
Candice Breitz (b. 1972) is considered one of the most important contemporary video artists working today. Breitz's video installations question the relationship of mainstream media to a global culture. Picking up where her earlier installations Mother + Father left off, Him + Her use existing footage from Hollywood films to compose dense psychological vignettes through careful editing. Him and Her, while displayed in separate rooms, are identical in structure and mirror each other formally.
Each installation suspends seven 50? plasma displays on a minimal steel structure. Across the displays, numerous manifestations of the same actor (either Nicholson or Streep) jostle with one another for prominence, collectively suggesting, in their sameness and difference, strong metaphors for the schizophrenic internal dialogue that takes place within the mind of a single individual.
In engaging a series of disparate voices from the same mind, Breitz creates a kaleidoscopic, insightful and witty set of interactions between the multiple Jacks and many Meryls, interactions that draw to the surface a series of Hollywood-perpetuated clichés about psychology and gender.
The self-worth of the female characters in Her is largely inflected through their relationship to the men in their lives, while the male characters in Him somewhat more narcissistically struggle with issues of self-definition, sanity and sexual performance. Breitz's engagement of two iconic actors to play her leads allows a broader reflection on performance and subjectivity.
At the same time, the works prompt us to view celebrity as an ingredient that has become increasingly central to contemporary identity formation. Breitz has said that Nicholson and Streep are not the true subjects of Him + Her: her focus lies instead on "the unconscious of mainstream cinema, the values and
layers of meaning that slowly start to make themselves legible when the big plots are stripped away."
Breitz's work has been exhibited extensively in Europe and the United States and is in the public collections of The Solomon R. Guggenheim Museum in New York; the Castello di Rivoli in Italy; and the Louisiana Museum of Modern Art in Denmark to name a few. Her work is also included in private collections such as Thyssen-Bornemisza Art Contemporary, the Sammlung Goetz and the Pinchuk Collection.
Categories
Tags