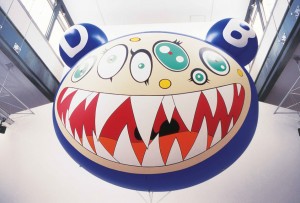 Takashi Murakami, DOB's March, 1995. Vinyl chloride and helium 92 1/2 x 120 x 71 inches (235 x 304.8 x 180.3 cm diameter) Fluid Editions and Archives ©1995 Takashi Murakami/Kaikai Kiki Co., Ltd. All Rights Reserved.
From February 17 through May 31 2009, the Guggenheim Museum Bilbao will present the most important retrospective to date of the work of the Japanese artist Takashi Murakami (b. Tokyo, 1962), one of the most celebrated contemporary artists to have emerged from Asia in the last century.
Sponsored by Fundación Jesús Serra and Seguros Bilbao, and organized by The Museum of Contemporary Art, Los Angeles (MOCA), this exhibition, which takes up the entire third floor of the museum, offers us a fresh new vision of this Japanese artist's groundbreaking project.
With a complete selection of over 90 works in different media such as painting, industrial design, animation and fashion, the exhibition, curated by MOCA Chief Curator Paul Schimmel, reveals this artist's personal universe: from his early works in the 1990s, in which he explored his own identity, to his large-scale sculptures created after 2000, veritable icons of this artist, and ending with his gallery of manufactured objects, his animation projects, his connection to the world of fashion, and his compelling works of recent years.
The relationship with anime (animation) and manga (comics) is central to the aesthetic conception of the artist, who made his debut in the early 1990s. Both genres are, in his own words, "representative of modern everyday life in Japan" and stem from the otaku subculture (a word used to refer to the young and reclusive, obsessed fans of such genres as anime and manga). His work is also influenced by pop culture and by certain European and American artistic movements. Consequently, Murakami's praxis brilliantly blends the bright palette of pop, the flatness of traditional Japanese art and certain elements of the Surrealist movement, where dreams played a fundamental role in the creative process.
"Throughout his career, Murakami has made his personal and artistic legacy an amalgamation of Japanese, European and American traditions that he has been able to combine in order to develop a unique aesthetic, which has generated a proliferation of distinctive images and icons ," states curator Paul Schimmel.
Scope of the exhibition
In a space of 2,000 square meters on the museum's third floor, sculpture, painting, fashion, animation and merchandising intermingle to sketch an outline of Murakami's career laid out in a chronological overview, his work takes on a new dimension in the context of the sinuous and luminous spaces of Gehry's building.
The exhibition begins in the so-called classical galleries with a series of paintings created between 1991 and 2000 that reflect Murakami's attempt to explore his own identity through meticulous research into his own brand. At the same time, he used his iconic images to engage in true selfportraiture, a practice that he began in the year 2000 and continues to this day.
Murakami's early interest in branding is evidenced in Signboard TAKASHI (1992-2007), an artwork in which the artist appropriated the TAMIYA company logo—Japan's leading producer of plastic model kits—and created a signboard with his name above the company slogan: "First in quality around the world." Murakami adopted this phrase to make an ambitious statement with which he aimed to demonstrate his optimism and confidence in the face of the uneasy atmosphere that reigned in post-war Japan during the throes of a severe economic crisis.
The evolution of Murakami's avatar
In 1993, in an effort to brand his own identity, Murakami created an alter ego that he named Mr. DOB, a character that blends elements of American pop with aspects of contemporary Japanese culture like anime and manga inspired by Sonic, the Sega mascot, and Doraemon, the popular Japanese comic character. This avatar originated from a shortened version of the dada-like phrase,"Dobojite dobojite" (Why? Why?) taken from the comic book Inakappe Taisho and from "oshamanbe", a word with several meanings which Japanese comedian Toru Yuri used as his signature word.
As Murakami's career evolved, so did Mr. DOB. In less than a decade, he went from an appealing DNA strand (ZuZaZaZaZaZa, 1994) to a balloon-like form with innocent eyes and a jovial smile (DOB's March, 1995), and ultimately transformed into a creature with ferocious teeth and unsettling eyes in The Castle of Tin Tin (1998). After 2000, he became a gigantic monster with saliva and unknown substances oozing from his mouth, an allegory of society's unending desire for consumption: Tan Tan Bo Puking—a.k.a. Gero Tan (2002).
In addition to his paintings, the exhibition at the Guggenheim Museum Bilbao also features his most acclaimed and controversial sculptural figures of the early years such as Miss Ko2 (1997), a thin waitress aspiring to be a pop singer, or the sculptural duo formed by Hiropon (1997), a young, largebreasted Japanese girl, and My Lonesome Cowboy (1998), a naked pubescent male—two aesthetic references to over-sexualized icons.
One particularly prominent piece is the spectacular Second Mission Project Ko2 (1999-2007), a three-piece sculpture that shows Miss Ko2 as a member of Japan's self-defense force who confronts emergency situations by transforming into a fighter plane.
Murakami's work navigates between Japanese and American subcultures, as evidenced in his invention of the term POKU, an amalgamation of pop art and otaku. In his large-scale triptych created in 1998 and entitled PO + KU Surrealism Mr. DOB, his typical "ultra-flat" monochromatic background is broken up by animated images of enormous eyes and shark-like teeth haphazardly swirling about. This work is installed alongside one of his major sculptures, DOB in the Strange Forest (1999).
The contrast of opposites
Since 2000, Murakami's self-portraits (Mr. DOB, Inochi, Mr. Pointy, Tan Tan Bo and Oval) and his creations have continued to reflect his personal and professional evolution. Double meanings and the contrast of opposites are recurrent in the work of this Japanese artist: good and evil, sweetness and perversion, humor and social denunciation. His work often contains pleasant, brightly colored images that reveal dark, complex readings, like the multicolored mushrooms that appear in many of his creations which have been interpreted variously as a reference to the atomic bombs dropped on Hiroshima and Nagasaki, male genitalia, or drug induced hallucinations.
Other examples are the sympathetic characters Kaikai and Kiki. Their names are taken from the Japanese term, "kaikaikiki." This term encompasses the concept of "strange, yet captivating" and was used by critics in the sixteenth century to describe the work of painter, Kano Eitoku. Just as Kano Eitoku's work embodies elements of gutsiness and energy, as well as a keen sensitivity, Kaikai and Kiki personify diametrically opposite complex dispositions.
Between 2003 and 2005, Murakami created Mr. Pointy and the Four Guardians, based on the four Buddhist protective deities: Tamon-kun (north), Jikkokkun (east), Zoucho-kun (south) and Koumokkun (west). At the center, guarded by these four figures, is Tongari-kun (Mr. Pointy), an enormous sculpture over seven meters tall that dominates gallery 304 with dozens of human arms and a giant head with a distinctive horn that resembles an antenna reaching toward space. Emblematic of Buddha (and also of the artist himself), Mr. Pointy sits upright upon a giant frog which rests on lotus petals. The Japanese word for frog, "kaeru," carries the same pronunciation as the word for return."
Murakami also portrays himself as Inochi (2004), an adolescent boy with an oval shaped head – adapted from Steven Spielberg's legendary E.T. – slender shoulders, waif-thin legs and outstretched arms with open palms. In Bilbao, he appears photographed in various vignettes of his life.
The exhibition also includes some of the artist's most recent and relevant works such as Oval Buddha Silver (2008), a sculpture of great beauty and harmony made of silver and considered by Murakami as one of his own "gods of art." The piece is a meditative Buddha posed atop a lotus leaf and was created by Murakami in response to Naoki Takizawa, the then creative director for the fashion mogul Issey Miyake, who encouraged him to create a character inspired by Humpty Dumpty and Hyakume, a Japanese manga character that the artist read about as a child.
Alongside the tripartite Second Mission Project Ko2 sci-fi fantasy figures, the show will display abstract paintings that combine a new lexicon of techniques ranging from graffiti, Op art, and special effects that entertain the eye's movement along the surface. Complicating the boundary between visceral and virtual realms of perception, this technical strategy is part of the artist's larger interest in the power of fantasy and deception rooted in special effects technologies and in integrating this genre into his own practice.
The exhibition also offers a screening room in which visitors can watch episode 1: Planting the Seeds and episode 2: The Secret of Kaikai of the animated movie Kaikai & Kiki . The film depicts these mischievous characters' mission to investigate an underground power source in a world controlled by artificial intelligence. The room also features the music video of the single Good Morning that Murakami created in 2007 for the rapper Kanye West.
Finally, ©MURAKAMI is topped off by quadrangular glass shelving placed at the exit of the titanium elevators on which around 500 pieces of merchandise are displayed. Murakami develops these items via the corporation Kaikai Kiki Co., Ltd., which also produces his own work, represents young artists, organizes the GEISAI art fair in Tokyo and Miami, and undertakes collaborative projects.
The exhibition also includes the artist's collaborative work with Marc Jacobs, Louis Vuitton's artistic director, which began in 2003, with some of the pieces designed by the artist for the brand. For the artist, this natural integration of consumer items on display also celebrates the aspects that fuse, reunite, and then recombine the concept of the readymade."
Takashi Murakami was born in Tokyo, Japan, in 1962, and he currently lives and works in both Tokyo and Long Island City, New York. He belongs to a generation of artists whose pictorial language brings together motifs linked to popular culture and the formal qualities of traditional Japanese art, such as flatness, pattern and lavish ornamentation.
He studied at the Tokyo National University of Fine Arts & Music, where he received a degree in Nihonga (traditional Japanese painting). In 1990 he made his debut in contemporary art under the guidance of his friend and colleague, the artist Masato Nakamura. In 1993 he created his self-portrait Mr. DOB and began to make a name for himself in Japan and around the world thanks to his unique synthesis of traditional Japanese art, the contemporary trends of his homeland like anime and manga and American culture, especially Pop Art. The blend of pop culture and self branding in his artwork often draws comparisons to Andy Warhol, often leading the media to describe him as "the Japanese Andy Warhol".
Takashi Murakami coined the artistic style of "Superflat" in his own writings; at the same time, the term is often used to refer to his own artwork.While its concept is characterized by its twodimensionality, it also blurs the boundary between high art and low art and provides a critical perspective on the structure of art itself.
In 1996 he created the Hiropon Factory in Tokyo, a fusion of Japan's traditional workshops and its modern corporations. Two years later he opened a new branch of the factory in Brooklyn, New York. From that moment on, he began to curate exhibitions and participate in various projects and individual exhibitions in America, and in 1999 he published "Hello, You Are Alive: Tokyo Pop Manifesto," his first declaration of ideas on a uniquely Japanese approach to contemporary art.
In the year 2000, Murakami curated an exhibition entitled Superflat at the Parco Gallery in Tokyo, which later enjoyed great success at the Museum of Contemporary Art (MOCA) of Los Angeles. The exhibition aimed to place manga and anime as an important part of Japan's artistic and cultural heritage. In 2001, LA MOCA featured his work in the exhibition Public Offerings , and the corporation Kaikai Kiki Co. Ltd. opened its doors in Tokyo and New York, absorbing his previously created Hiropon Factory.
In 2002, the exhibition Takashi Murakami: Kaikai Kiki was shown at the Fondation Cartier pour l'art contemporain in Paris and at the Serpentine Gallery in London. A year later he installed Reversed Double Helix , his largest public sculpture at the Rockefeller Center in New York and began his collaboration with the French firm Louis Vuitton.
In 2005, Murakami completed his "Superflat trilogy" show with the presentation of Little Boy at Japan Society in New York. Over the course of 2008 and 2009, the artist has been honored with a major retrospective shown at the Los Angeles Museum of Contemporary Art (MOCA), the Brooklyn Museum in New York, the Museum für Moderne Kunst in Frankfurt and the Guggenheim Museum Bilbao, where it will be on display until the month of May.
Murakami's work can be found in institutions such as the 21st Century Museum of Contemporary Art, Kanazawa, the Museum of Fine Arts, Boston, the Museum of Modern Art, New York, the San Francisco Museum of Modern Art, the Queensland Art Gallery and the Walker Art Center. All hold examples of Murakami's work, which he continues to combine with his work as a designer, curator, patron, art critic and other facets of his practice.
Categories
Tags