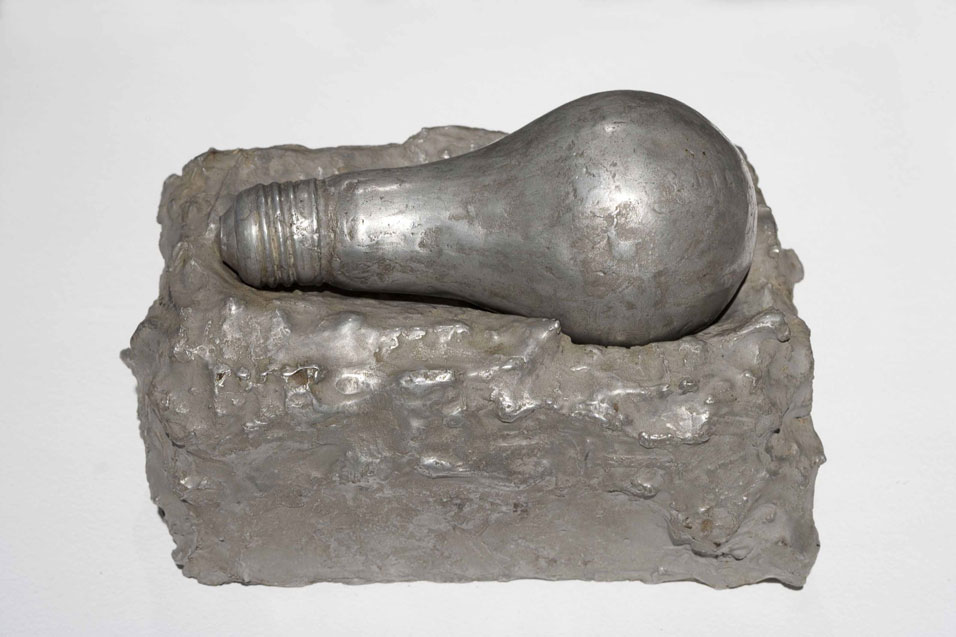 The Museum of Contemporary Art San Diego presents Jasper Johns: Light Bulb, on view January 18 through May 10, 2009. A traveling exhibition organized by the Museum of Contemporary Art San Diego, Jasper Johns: Light Bulb focuses on Johns's first sculpture, Light Bulb I (1958), a recent gift to MCASD. The exhibition will bring together for the first time Johns' light bulb sculptures and related drawings and prints, including several drawings and modified prints from the artist's collection that have never before been exhibited.
Jasper Johns' sculptural output informs understanding of his two-dimensional work, just as his prints, drawings, and paintings illuminate his sculpture. A life-size cast of a commonplace object, Light Bulb I is a rephrasing of Marcel Duchamp's ready-mades. Created in the year of Johns's first solo exhibition in New York at the fledgling Leo Castelli Gallery, the light bulb image became a recurring motif, appearing in various media throughout Johns's career.
The smooth, industrial form of the bulb is juxtaposed with the hand-manipulated base in which it is nestled, creating a bridge between the gestural expression of Abstract Expressionism and the cool depictions of Pop Art. The underlying subject matter in Johns's art is not the object represented, but the investigation of how we perceive, label, and categorize objects.
Through the accompanying two-dimensional works, Jasper Johns: Light Bulb demonstrates the artist's interest and incomparable skill in embracing artistic process. He often made counterpart prints to his paintings and sculptures, viewing printmaking as a medium that encouraged experimentation through the ease with which it allowed for repeat endeavors. The selection of works in this focused exhibition demonstrates the significance of the relationship between the two-dimensional and three-dimensional in Johns's work, and the importance of the light bulb as an image he explored for over 20 years.
Over more than a half-century, Jasper Johns (b. 1930) has created a body of rich and complex work, and he is still creating artworks today. His rigorous attention to the themes of popular imagery and abstraction has set the standards for American art. Constantly challenging the technical possibilities of printmaking, painting, and sculpture, Johns laid the groundwork for a wide range of experimental artists, and today, he remains at the forefront of American art, with work represented in nearly every major museum collection.
In the late 1950s, Johns emerged as a force on the American art scene. His richly worked paintings of maps, flags, and targets helped shift the artistic community away from Abstract Expressionism and toward a new emphasis on the concrete, setting the stage for both Pop Art and Minimalism.
Born and raised in South Carolina, Johns grew up wanting to be an artist. He studied briefly at the University of South Carolina before moving to New York in the early 1950s. In New York, he met a number of other artists including John Cage, Merce Cunningham, and Robert Rauschenberg. Strongly influenced by Marcel Duchamp, Johns became very interested in his ready-mades, a series of found objects presented as finished works of art. This irreverence for fixed attitudes toward what could be considered "art" was a major influence and his innovations in screen printing, lithography, and etching have revolutionized the field.
Categories
Tags