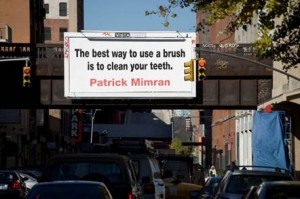 Patrick Mimran, the installation artist best known for his work on the "Billboard Project", will exhibit his most recent project, "Temple Steps" at Art Basel Miami Beach 2008. The ongoing exhibit will be open on Monday, December 1st through Sunday, December 7th, at 120 Northeast 27 Street, Bay 100 in Miami (across the street from Gary Nader Gallery). The VIP opening reception will occur on Tuesday, December 2 from 8pm to 11pm. "Temple Steps" is a series of visually stunning 8' x 6' photographs taken in Tokyo that were captured by Mimran from 2006 through 2008.

Mimran's inspiration for "Temple Steps" was driven by a quest of finding a soul within a usual object, in this case, escalators. However the subject may appear at first glance, Mimran treats it as pretext for the creation of a supplementary image. Mimran's interpretation of the escalator is the idea of a channel from one state of mind to another; like a passage from the past to the future, like life to death, sadness to happiness, hate to love- a mental black hole.
"Through these pictures I try to attract the viewer into a vacuum, which in turn can be mental or sexual. In this case, the escalator is there to serve the goal in attracting the observer to a specific focal point, and drive him to a change of visual and mental states," Mimran explains. "He knows what he's looking at, but discovers something different. He realizes then what he's looked at is not the same object anymore, it has become strange and unknown."
Mimran's quest in capturing these spectacular photos was without the assistance of a crew. He walked through Tokyo with a tripod and his Hasslebad or Canon camera, and spontaneously took photos of the escalators that inspired him. He often had to return to the same spot many times in order to find the subject without people, very early in the morning or late at night. It is important to note that no major changes or added effects in the photographs were made with Photoshop besides slight adjustments in colors, hues, contrast or saturation.
About Patrick Mimran
Patrick Mimran is a photographer, painter, sculptor, video artist, arranger of numerical imagery, and a composer of music (he has worked with film director Peter Greenaway). His disruptive interventions in the public sphere under the auspices of the Billboard Project, a series of short statements that have appeared on billboards for the past ten years, have garnered him international attention, from New York to Tokyo to Miami (a review in the New York Times and exhibitions at the 2007 Lyon Biennial and the recent architecture biennial in Venice).
Mimran's work is traversed by obsessions that are strikingly contemporary and produced in diverse media, from images to words to sounds; his work confounds art and life, and joins truth to simulacrum, the sensible to the intelligible, normality to sublimity. Above all, whichever genre he chooses, he makes of art an apparatus charged with transmitting, in equal doses, lucidity and enchantment. www.patrickmimran.com
About Hamburg Kennedy Photographs
Hamburg Kennedy Photographs is a private art advisory service with over 30 years of expertise in the Contemporary & Photographic Arts of the 20th & 21st centuries. Maintaining a broad inventory of vintage photography and contemporary works of art with particular emphasis in the Post War Period, we foster long term relationships with select clients & corporations. We offer a highly individualized approach to advising both the novice and seasoned collector on buying blue chip and emerging painting, sculpture, works on paper and photography. Our strong relationships with a vast network of domestic and international artists, dealers and auction houses allow us access to highly sought after works of art. We operate our business like a private art salon, and work out of an historic 19th Century brownstone in New York's Gramercy Park area. www.hkphotographs.com
Categories
Tags