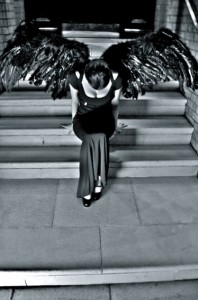 1. When did you start to make art?
I have always been creative from a really young age, either painting, writing, drawing, dancing, acting…but I seem to have found the most appropriate medium to create/express myself with paint-, with which I felt truly comfortable with in my teens, when I did about 15 works for my baccalaureat. I destroyed them all when I passed.
2 How did you evolve into a professional artist?
it is a constant struggle at the moment. I was always very keen to make a living from it and it is still something I have to fight for.
The more you get yourself out there and known, the more chances you have to make it as a professional artist. You also have to maintain that position.
So it's hardly a job done yet.
3 What drove you to make art as a professional vocation?
The idea of being able to make a living from what I am about
4 Explain your inspiration?
I tend to be inspired by music a lot, bands/recording artists whose music I find very cinematic not that my works is a translation of particulars songs, it just seems to stimulate my brain a lot visually.
More recently I seem to have made a conscious effort to use my history/background as a source of inspiration, adding a new dimension to my personal work.
5 In what way does your inspiration transform into ideas?
It depends..I mostly keep it all in my head and let it all mature until it's ready to be put down into words or sketches.
I very much like writing my ideas down rather than drawing them. I don't want to lock the ideas into a narrow visual, I think the words gives it freedom to evolve in other shapes once I start the actual piece of work
6 From Ideas to production of art – how? And why?
If i have an idea for a serie of works under a specifc theme, it requires some planning and is not as spontaneous as say, one off random pieces.
Though, I tend to have rushes of ideas very late at night which i need to write down on a notepad and work on it the next day or at a later stage.
I usually get lots of ideas for various themes at the same time, like a stream of consciousness and need to organise myself and prioritise which ones to work on first.
This can be a bit of a challenge as the rawer the ideas, the more vivid and fresh it is in my brain, the more acccurate/true to the idea/vision the work will be.
7 Could your ideas be portrayed in any other medium? If so which?
Yes, probably in 3D, installation works…set designs…films
8 Which artists would you most like to blatantly rip off?
Im not interested in ripping anyone off, though I can not help but being inspired by what I like and what touches me.
9 Why is your art made?
Because if I didn't do it, I'd find it impossible to stay alive.
10 What does being an artists mean to you?
It means being true to myself, it is my way of being.
Being an artist is having the ability to truly and consciously experience Life. It is not something you chose to be. You either are or you are not.
11 Are you happy with your reasons for making art? i.e Are there any trade offs that make life hard?
Yes, im happy with it
12 When does your art become successful?
When Christie's and Sotheby's start auctioning my works.
13 What is art?
That famous question…I don't intend to answer that question in few lines and would rather bring it to a discussion with other people.
14 How do you start the process of making work?
Taking all my materials out and getting on with it…
15 Who prices your work? And how is the price decided upon?
At the moment I do, and is decided upon various factors such as material/time/size/market etc…
16 What is your next; move,project,show etc?
I am starting a photography project inspired by Alfred Hitchcock pictures, this is more a creative team project.
And I am also working on 2 exhibitions, the first one entitled Dream Catchers and the second one My Seoul To Take.
17 What are the pros and cons of the art market?
One of the pros of the market is that there is actually space for a wide variety of artists…which also works as a con as the competition is tough and very elitist.
it is a very impulsive market, where you have to remain "in fashion" if you want to have some sort of sustainability in your career. I think you either accept it is a gamble or you just shouldn't be part of it.
18 Which pieces would you like to be remembered for?
I am hoping not to have done them yet.
19 Any routine in making your artwork? If so what?
No, no routine, it would kill the creative process.
20 What has been the biggest break in your career?
Im waiting for it
21 Who has been the biggest influence on you?
Various people have had various influences on me on totally different levels and for sometimes opposite reasons, so this is quite irrelevant.
22 How many artworks have you given away and to whom?
I have given few to my family and friends.
More Info:www.midnitecultures.com
Categories
Tags