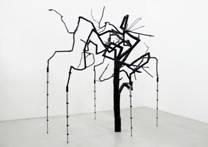 Launched with huge success in 2007, THE FUTURE CAN WAIT was devised as a museum scale exhibition for leading emerging to mid career artists. Situated in a spectacular 22,000 sq ft industrial space in Brick Lane's Old Truman Brewery the exhibition will feature 48 London based or educated artists working in painting, video, performance, sculpture and installation.
Conceived to complement and contrast Frieze and its satellite events, THE FUTURE CAN WAIT is London's largest curated exhibition and provides a much needed alternative to the art fair routine. It is an overview of London's most promising artists, most of whom are already achieving international recognition from collectors, galleries and museums.
With a preponderance of mainline issues such as death, mortality, beauty, horror, the self, sexuality, psychological intensity and the everyday, THE FUTURE CAN WAIT promises to be engaging and essential viewing during London's Frieze week.
Featuring:Angela Bartram,Kei Benger,Emma Bennett,Kiera Bennett,Appau Boakye-Yiadom Jr,Gordon Cheung,Christopher Davies,Helen Dowling,Tim Ellis,Nadine Feinson,Andrea Gregson,Neil Hamon,David Hancock,Aisling Hedgecock,Alexander Hoda,Luke Jackson,Sam Jackson,Monica Ursina Jäger,Chia-en Jao, Rebecca Kidson,Gayle Chong Kwan,Adam Latham,Juliana Cerqueira Leite,Robin Mason,Rui Matsunaga, Kate MccGwire,Sarah McGinity,Mark McGowan,Hugh Mendes,Alexis Milne,Richard Moon,Jock Mooney, Alex Gene Morrison,Tamsin Morse,Gavin Nolan,Margaret O'Brien,Janak Odedra,Kim Rugg,James Russell, Miho Sato,Piers Secunda,Dominic Shepherd, John Stark,Erik Tidemann,Gavin Tremlett,Will Tuck,James Unsworth,Miranda Whall.
THE FUTURE CAN WAIT PRIVATE VIEW October 14th 6pm – 9pm, PERFORMANCE 4pm – 6pm Daily T1 The Old Truman Brewery
Ellis Rumley Projects Presents THE FUTURE CAN WAIT. www.thefuturecanwait.com  www.ellisrumleyprojects.com
Categories
Tags