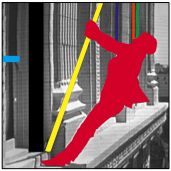 John Baldessari forms an important bridge between Pop Art and Nouveau Realisme and the big crop of artists/photographers that belong to a younger generation", according to the jury of the BACA International edition 2008, which is made up of Bice Curiger, Robert Storr and Alexander van Grevenstein.

John Baldessari
The BACA International is intended for an artist's artist; i.e. an artist who has fully made his/her name in the world of visual art but is not necessarily familiar to the general public. John Baldessari (1931) is also regarded as a focus and driving force of new developments. Baldessari is one of the protagonists of Minimal Art and Concept Art.
Although he started out as a painter, Baldessari soon exchanged his brush for a camera, with the goal of eliminating the boundary between painting and photography. His oeuvre is very recognisable, as he often combines black and white photos with coloured sections. As well as his own photos, he uses images from unsuccessful B movies, portraits, everyday snapshots and advertising pictures, which he regards as a reflection of reality.
Chanting Baldessari – a Masterclass
Baldessari has been influencing younger generations of artists for many years, and his teaching has played a large part in this. Baldessari: "It's essentially an idea that you can't teach art, but if you're around artists you might pick up something". Under the title Chanting Baldessari – a Masterclass, six young artists from the post-graduate Jan van Eyck institute in Maastricht will be presenting their work in the exhibition of the BACA winner. Prior to the award ceremony and opening, Baldessari will enter into dialogue with these artists about their work. The artists participating are: Ruth Buchanan (NZ) & Rachel Koolen (NL), Eleni Kamma (GR), Jean-Baptiste Maitre (F), Kristin Posehn (US) and Stéphane Querrec (F).
Collaboration
Besides the Masterclass, there will also be a presentation of work by artists with whom Baldessari has collaborated, including Koen van den Broek (1973) and Matt Mullican (1951).
Bonnefantenmuseum (Tues-Fri), Avenue Céramique 250, Postbus 1735, 6201 BS Maastricht
Categories
Tags