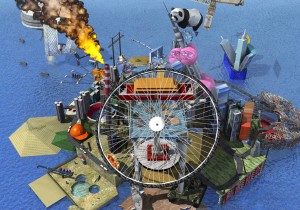 Beijing-based artist Cao Fei (born 1978) is fusing fantasy with the contemporary Chinese city in her construction of RMB City, an experimental art community in the internet-based virtual world of Second Life.

Cao Fei, through the avatar she created called China Tracy, spent a year exploring the possibilities of Second Life and produced the i.Mirror trilogy, 2007, a series of films that document her adventures, which were presented in the Chinese Pavilion at the 52nd Venice Biennale, 2007.
The Serpentine has commissioned the artist to present RMB City in the public space and to continue her investigation of this digital landscape. Once she has completed its construction in Autumn 2008, the buildings of the virtual city will be occupied for two years by partners including institutions and individual collectors who will host exhibitions and cultural activities open to all Second Life users. The project explores the creative potential of an online art community, seeking to create the conditions for an expansive discourse about art, urbanism, economy, imagination and freedom.
Reflecting on China's recent urban and cultural explosion, the architecture of RMB City is an amalgam of Chinese icons, ancient and modern, from the panda to the Beijing National Stadium for the 2008 Summer Olympics. The installation in the Gallery's lobby presents two- and three-dimensional visualisations of RMB City as well as computer access to a virtual viewing platform over the construction site, which features video updates of the construction process.
Cao Fei is one of the pre-eminent Chinese artists of her generation. Her work was included in the Serpentine Gallery's exhibition China Power Station, held at Battersea Power Station, London, 2006; Astrup Fearnley Museum of Modern Art, Oslo, 2007; and MUDAM, Luxembourg, 2008. She was presented recently in solo exhibitions at Le Plateau, Paris, and Lombard-Freid Projects, New York, both in 2008.
Categories
Tags