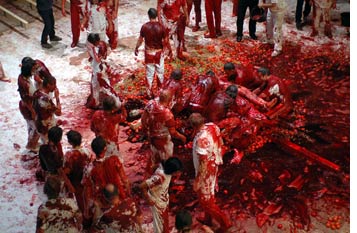 Hermann Nitsch Orgies Mysteries Theatre German retrospective in the Martin-Gropius-Bau, Berlin
Nov 30, 2006 – Jan 22, 2007
Aktion des Orgien Mysterien Theater am 19. November 2005 im Wiener
Burgtheater. © Hermann Nitsch Foto: Georg Soulek
From 30 November 2006 to 22 January 2007 the Nationalgalerie Berlin will be the guest of the Martin-Gropius-Bau, Berlin. The Verein der Freunde der Nationalgalerie is staging the first retrospective in Germany devoted to the complete works of the Viennese Actionist. Hermann Nitsch (b. 1938) has developed the Orgies Mysteries Theatre, a theatrical form that combines painting, music, drama and performance with liturgical-religious elements. One of the key fundaments of the Orgies Mysteries Theatre are the mystery feasts of antiquity, which enacted a purifying catharsis – a pivotal concept that continues to significantly influence the artist's work today.
Hermann Nitsch remains one of the most controversial contemporary artists. His work provokes protest and antagonism. It polarises the public.
The curator Britta Schmitz (Nationalgalerie) has developed an exhibition concept tailor-made for 18 rooms of the Martin-Gropius-Bau, one which in particular creates an ideal setting for Hermann Nitsch's large, multipart works. Loans from numerous museums and private collections abroad ensure that certain works can now be seen in Berlin for the first time in decades. The works on show include key pieces from Nitsch's oeuvre, such as the "Existenzaltar", 1960, Museum für Moderne Kunst, Vienna, nine "Stations of the Cross" and the "splatter paintings", which determined the artist's distinctive "signature" for decades and decisively shaped his style between Abstract Expressionism and Action Painting.
Other highlights of the exhibition are the famous "Geißelwand", 1963, Museum Ludwig, Cologne as well as the "Asolo Raum" and the "Schömer Raum", 1973 and 1998, respectively, from the Austrian private collection Essl. The Berlin exhibition in the Martin-Gropius-Bau will also feature numerous musical scores and drawings, photo documentation and films of earlier actionist performances. A special music room as well as a fragrance-room complete the retrospective on the eclectic productivity of this exceptional artist. On a 18 meter screen the visitor will witness Nitsch's 122nd action of the Orgies Mysteries Theatre in the Wiener Burgtheater (Vienna). The documentation of the action will be played in its full length of nearly four hours.
This first retrospective on the work of Hermann Nitsch in Germany provides the public and the media with a unique opportunity to appreciate in detail the complete works in all their diversity and the important positions of Viennese Actionism and the Orgies Mysteries Theatre in 20th century art.
A catalogue will be published by Verlag Walther König.
Categories
Tags