Tag:
Darren Bader
Darren Bader (b. 1978, Bridgeport (CT)) is an American artist living and working in New York. He received his BFA from New York University in 2000. Bader's works fall into a number of broad groupings, including word works, pairings, "impossible" sculpture, trash sculpture, and collaborative installation, often exploring the interconnectedness of seemingly disparate objects through complex (re-)arrangements, surprise juxtapositions, and absurd associations.
Andrew Kreps Gallery to present On The Nature of Things, a group exhibition that surveys and traces key moments in… Read More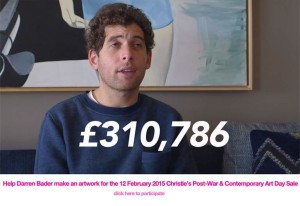 Crowdfunded Art With a Twist..
For centuries, Western art traditions have been centred on creating tangible and physical objects such as paintings, architecture and sculpture. Viewing art therefore, has been about seeing and looking. In contemporary art today, often something non-tangible must be accepted, even momentarily, to allow the artist to make their intended impression.