Art Cologne 2023 (16-19 November) features some 200 galleries: it's not particularly international, but that doesn't matter much, as there are so many high-quality German and Austrian galleries. Walking around an art fair is a blend of the familiar and the surprising. Here are ten things that surprised me:
Andreas Slominski: 'Reinorange', 2023 at Thaddaeus Ropac London, Paris, Salzburg, Seoul
These three made-to-order garage doors operate nicely as abstract paintings but are also – like much of the German artist's work – potential traps. And what good is a trap without surprise?  Curiously, they had safety catches, suggesting that they could still be operated as garage doors, and visitors were not allowed to open them. The gallery staff weren't sure, though, whether this was really the case or just a tease from Slominski.
Robert Indiana: 'Untitled', 1988 at Galerie Benden & Ackermann, Cologne / Düsseldorf
I saw the major survey of Robert Indiana (1928-2018) at Yorkshire Sculpture Park in 2022, but I don't recall anything like this, one of five drawings of different penises which the gallery obtained directly from his estate. Perhaps I shouldn't have been so surprised, given that the catalyst for Indiana's famous 'love' series was his relationship with Ellsworth Kelly in the early 60's. It's just another side of that.
Josephine Baker: 'Hydro Electricity: Spillway', 2023 at Nir Altman, Munich
Most surprising subject? Well, I've never seen a sculpture of a hydro-electric power station before, and British artist Josephine Baker has made a whole series of them. They play nicely with blue wiring as both electrical and aqueous, incorporate playfully bath-friendly plugs and – as is her wont – incorporate the possibility of failure. The spillway is a run-off area for excess water. I was reminded of Christopher Williams telling me earlier in the day that – on account of news broadcasts from Vietnam – aerial views always suggested the military to him (even when they are of kitchens, as in his latest work); and then of the recent Russian destruction of the dam serving Kakhovka Hydroelectric Station in Ukraine.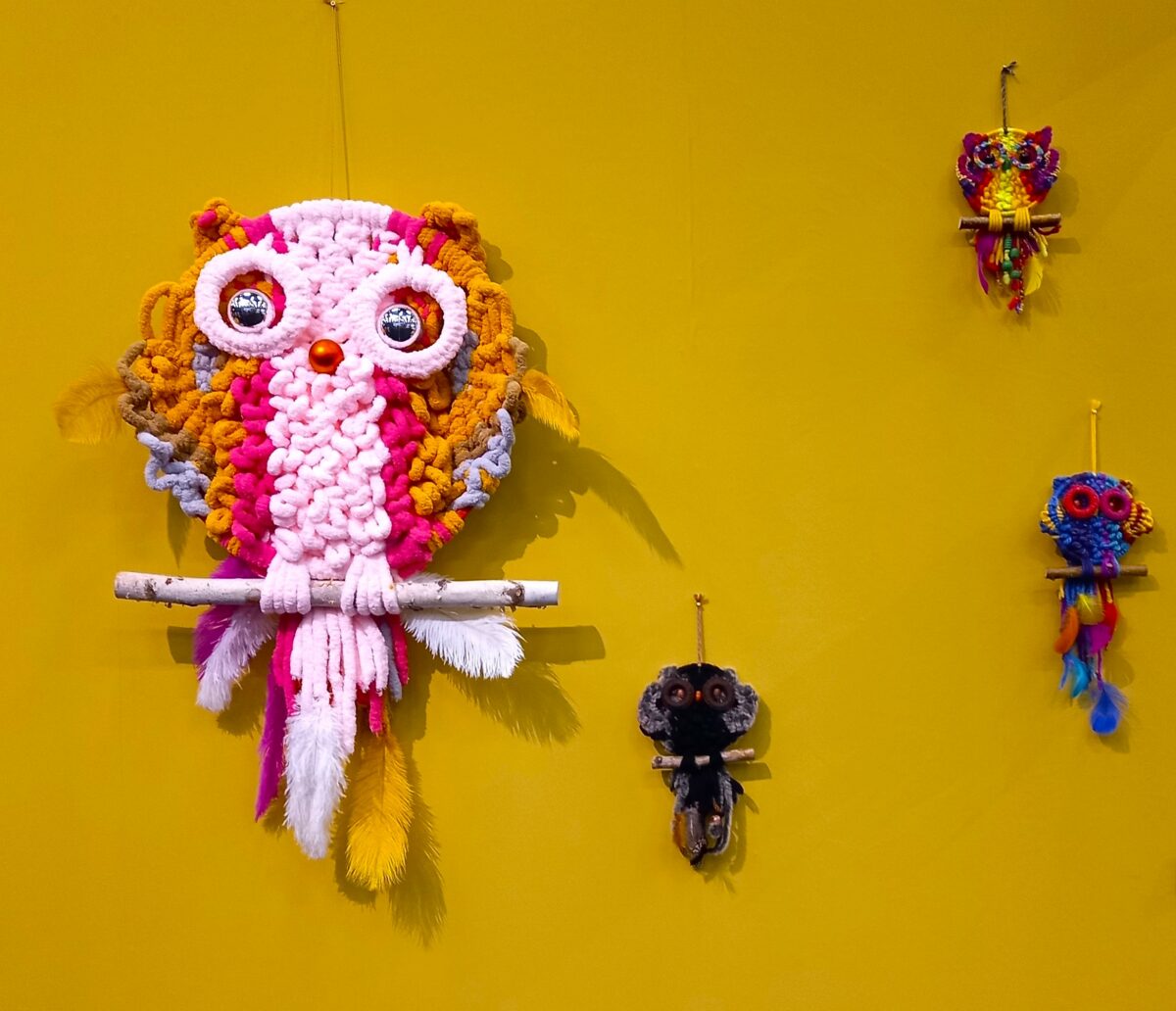 Tine Furler: 'The Owls', 2023 at Provinz Editions, Bochum
These surprisingly colourful owls were made by Berlin-based Tine Furler, who – slightly ironically –calls herself a 'Crazy Crafts Lady'. They play on the 1970's German tradition of making macramé owls to provide wise oversight of the home, but push into humorously colourful woollen territory, rather than the originals' hemp or jute, as they mediate between art and craft, cultural nostalgia and everyday life.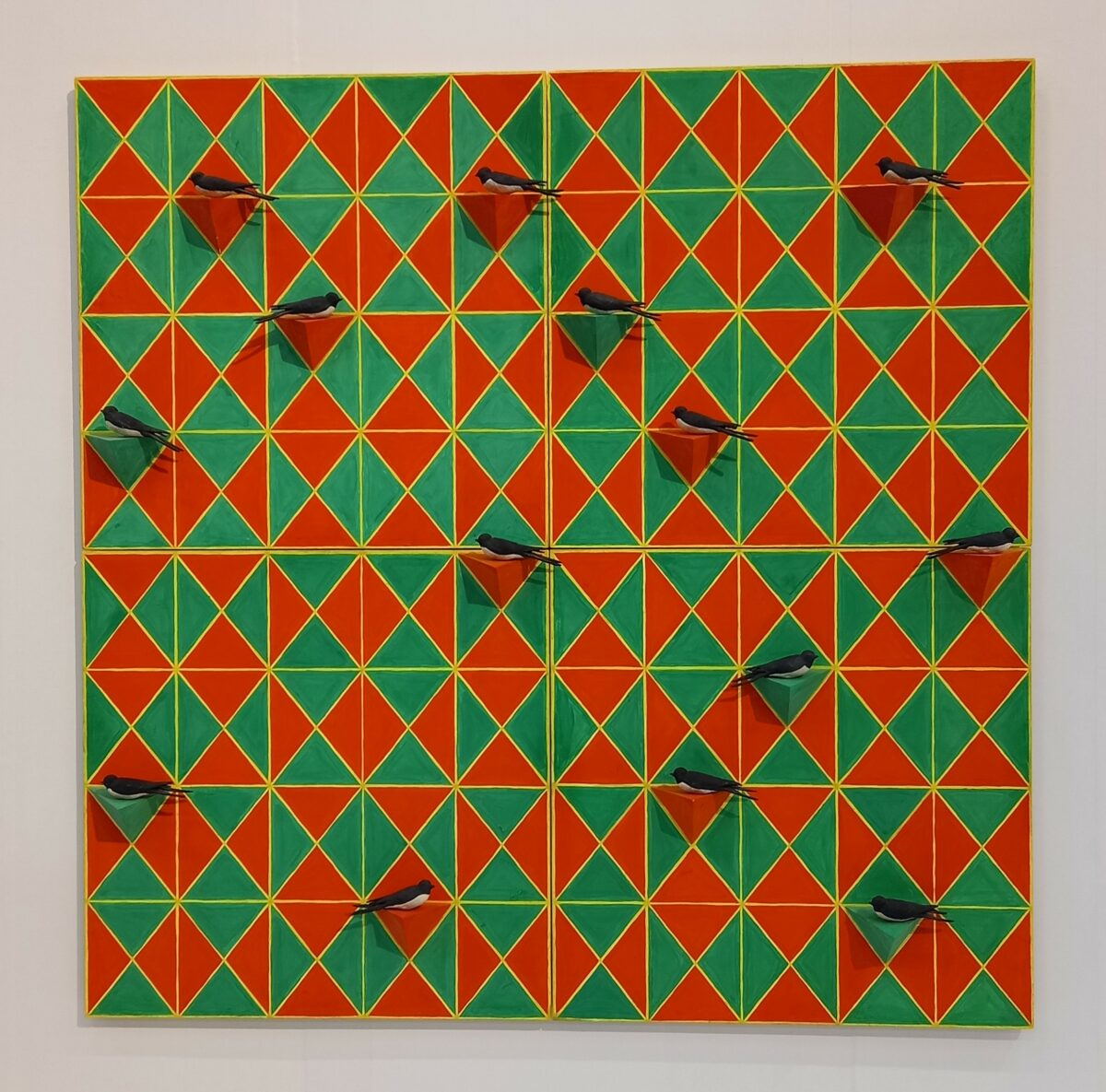 Elke Denda: 'Swallow Picture' 1986 at Josey, Norwich
Sticking to birds, one of only two British galleries in the fair was one I've never visited. Josey had a retrospective presentation of Düsseldorf artist Elke Denda. If that sounds easy on travel, not so much: the work had been transported from its showing in Norwich. 'Schwalbenbild' puts sculptural birds on ledges against a harlequin ground, conjoining abstract and representational modes in a witty manner I found easy to swallow.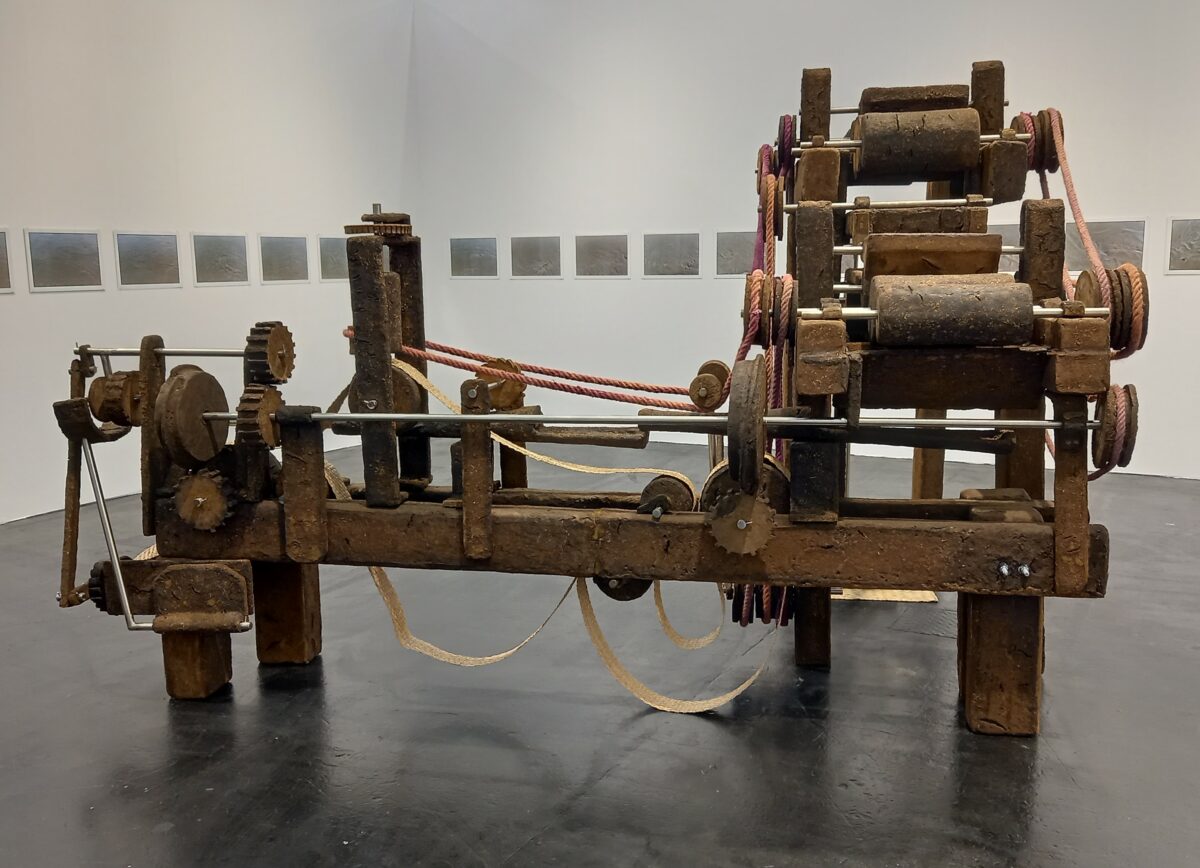 Ximena Garrido-Lecca: 'Reverse Engineering', 2023 at Galerie Gisela Capitain, Cologne / Berlin
This is a copy of the first cigar-rolling machine: it may look cumbersome for the task, but revolutionised the business in the late 19th century. The Peruvian artist Ximena Garrido-Lecca refers to native american use of tobacco in rituals by remaking the machine in a paste made of tobacco leaves and ashes: it becomes mystical, rather than functional. The title suggests rewinding history and reversing the established order, as well as the process of 'reverse engineering' as a way of understanding how something works.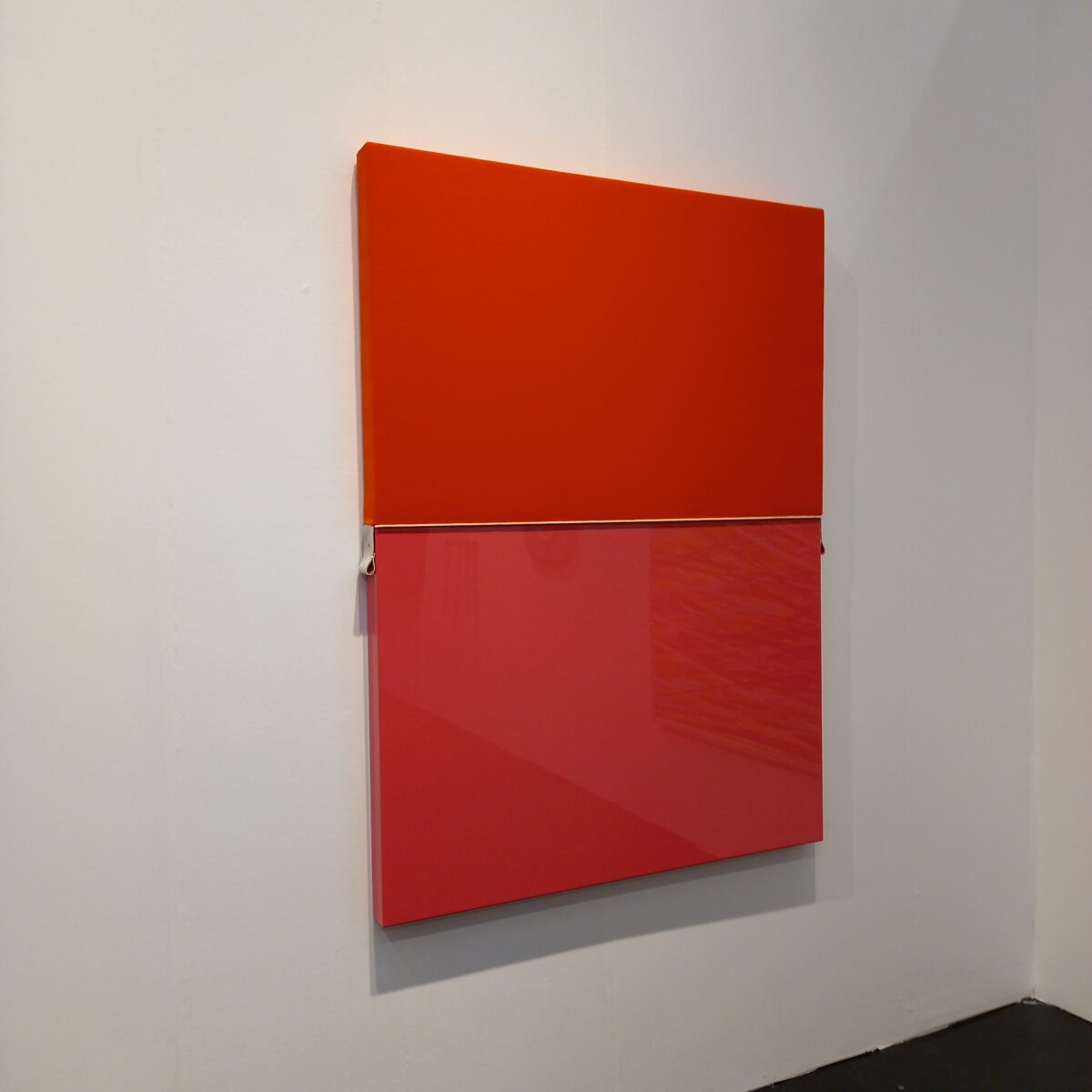 Henrik Eiben: 'Dropped', 2019 at galerie lange + pult, Zurich, Geneva and Auvernier
It was no surprise to find abstract work divided into crisp colourfields – there are many in the Fair, it's very much a German taste – but this is an entertaining and materially interesting take on the trope. It seems that a lacquered monochrome painting has slipped out of its case, made of cashmere and felt with leather handles. That being so, Eiben slips elegantly between painting and sculpture, deliberate and accidental, freedom and constraint.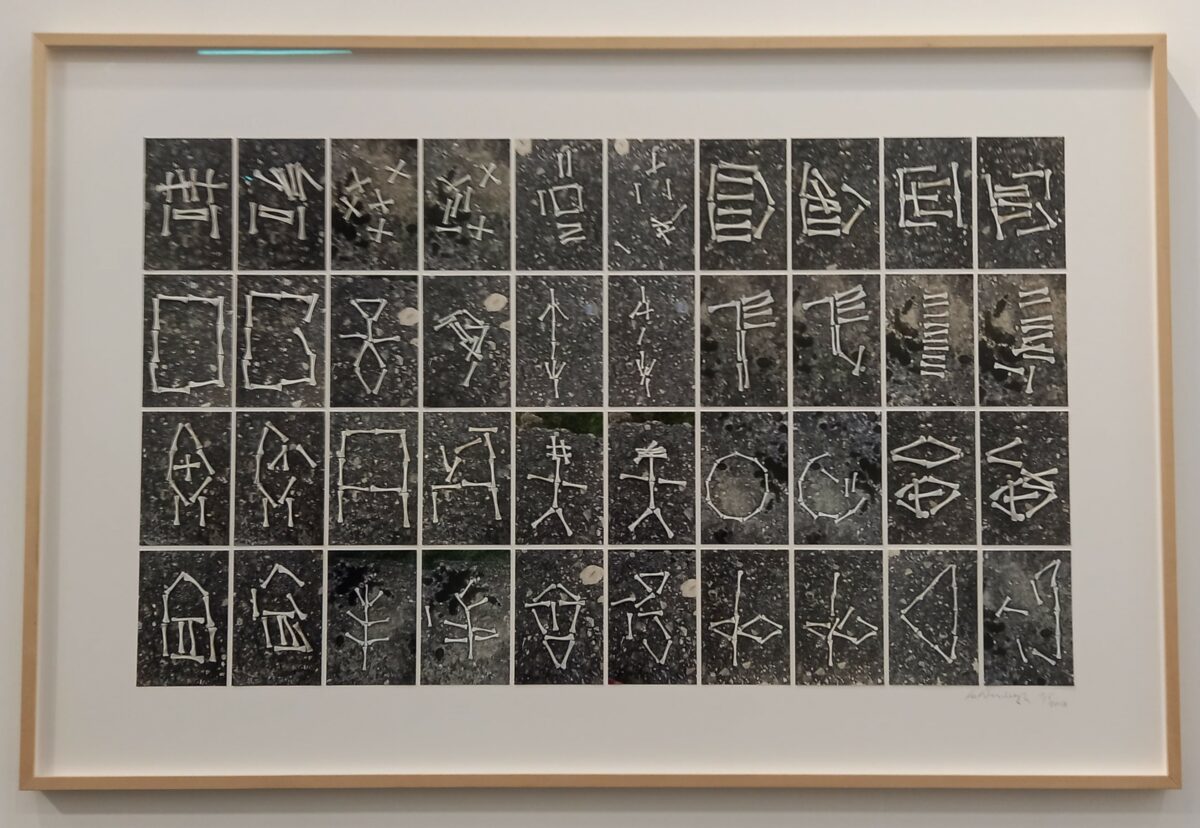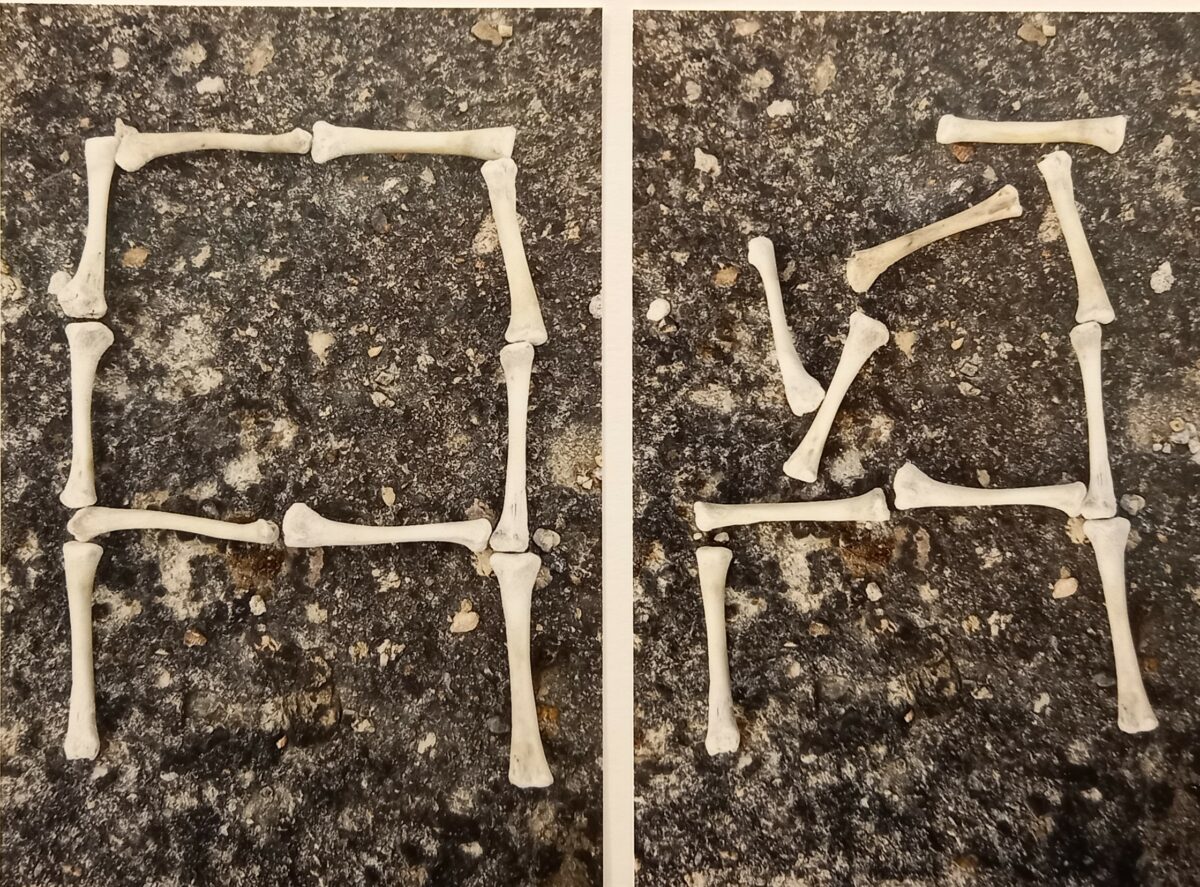 Lois Weinberger: 'Bone Game with Marten', 2019 at Keteleer Gallery, Antwerp
Austrian artist Lois Weinberger (1947–2020) probed existential questions concerning the relationship between us and our world. I assumed at first that these photographs were his arrangements of the bones of a pine marten. Not so: they are xxx pairs of images, the first showing an arrangements of bones her left outside his studio, the second how the bones appeared the following morning due to the collaborative rearrangements of a marten that visited regularly.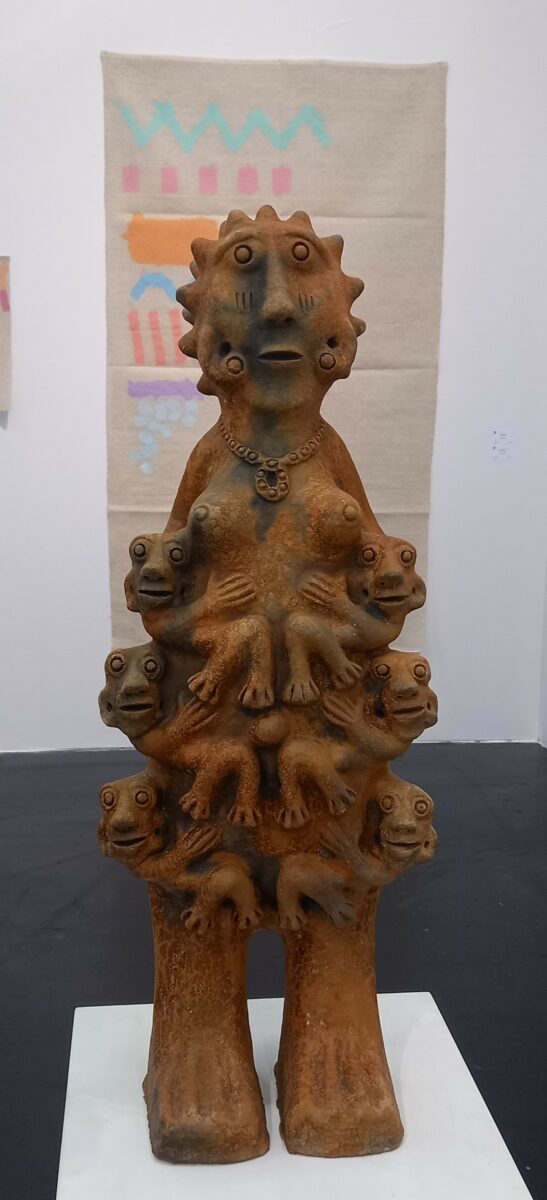 Seyni Awa Camara: 'Untitled', 2010 at Baronian, Brussels (with Giorgio Griffa behind)
How many children can you cope with at once? Six clingers-on isn't unusual in Senyi Awa Camara's mystical, mythically inspired works. The Senegalese artist, now 80, lives in a small village in the heart of the forest, where her mother taught her the traditional techniques of pottery when she was still a child. She sculpts in clay in her front yard, then fires the figures-come-monsters in an open-hearth kiln, any colouration resulting purely from the process.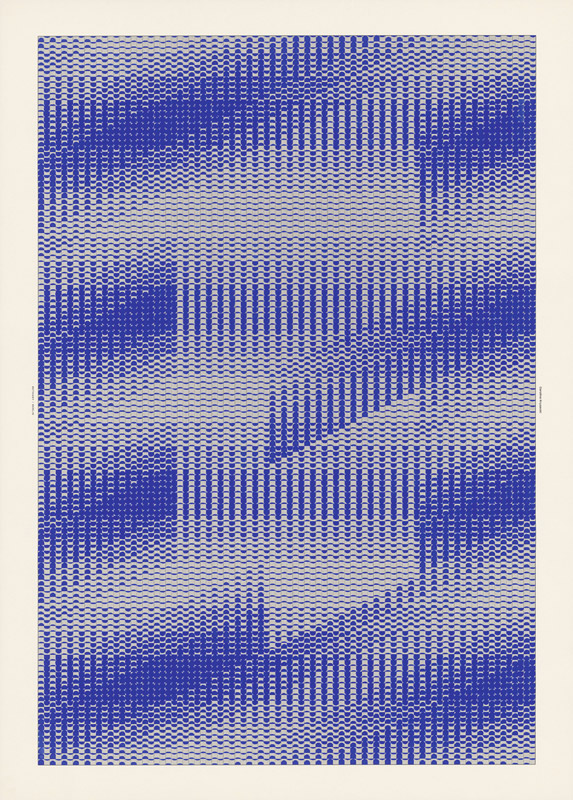 Caroline Kryzecki:  'BB 140/100-42 at Sexauer Gallery, Berlin
True, you have to know Caroline Kryzecki's work to be surprised by this… but for the decade I've followed her she's made exactingly detailed geometric drawings purely with biros. Now her 'Bethany/Berlin series uses watercolour. It arose from her discovering a gridded paper used by fabric designers to weave textiles. Kryzecki's bespoke version has seven thousand fields (not to mention the sub-divisions!) that she treats in turn with a watercolour brush stroke – or not – to make works of obsessively modulated excess.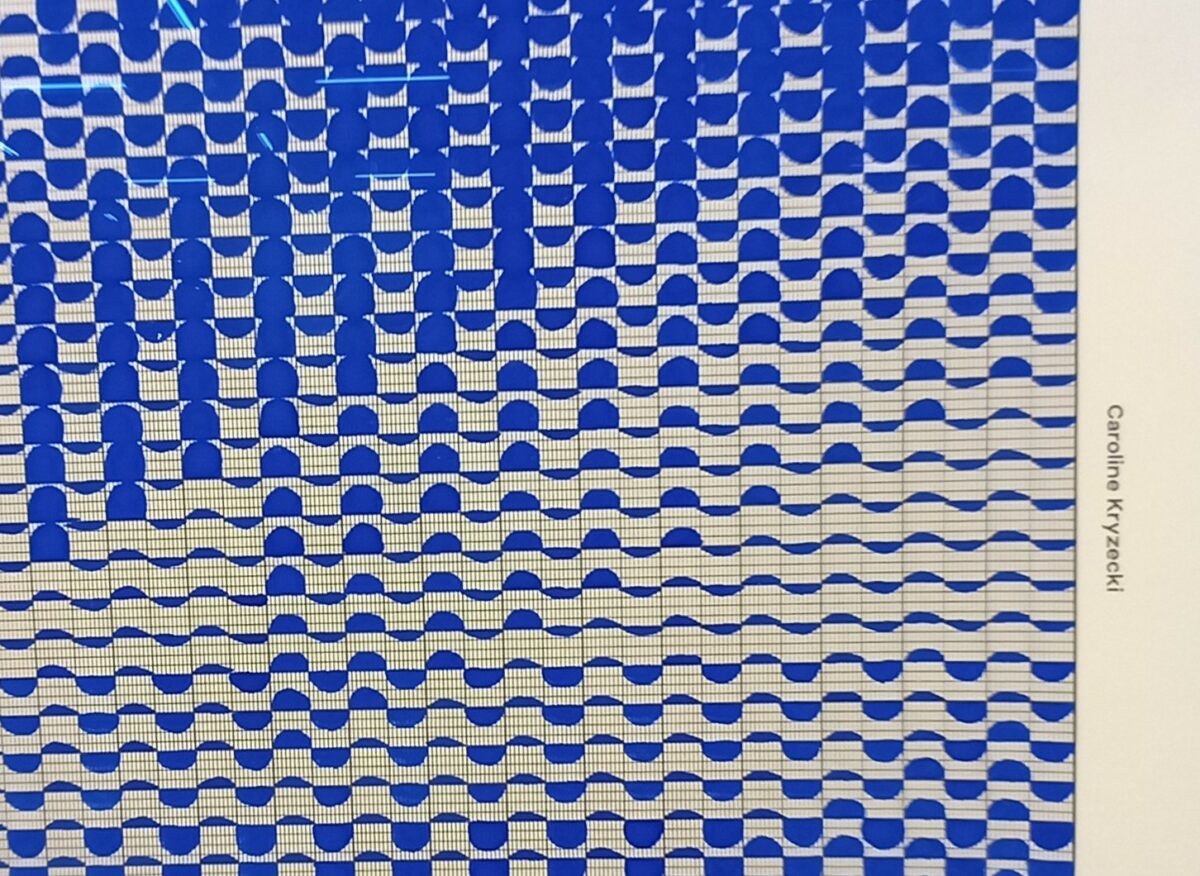 Categories
Tags