Damien Hirst's Diamond Skull 'For the Love of God' on show in the artist's first major survey exhibition in Germany.-
For the Love of God (2007), Damien Hirst's celebrated platinum cast of a human skull covered by 8,601 diamonds will go on show in the artist's first major survey exhibition in Germany, opening at the Museum of Urban and Contemporary Art (MUCA), Munich this week Thursday 26th October 2023. Since its debut in 2007, For the Love of God has become one of the most widely recognised works of contemporary art.
The artwork's construction involves the use of 32 platinum plates set with a collection of 8,601 VVS to flawless pavé-set diamonds, weighing 1,106.18 carats. The teeth adorning the skull belong to the original specimen, which was procured from a London taxidermist. Extensive bioarchaeological analysis and radiocarbon dating have revealed that the skull originates from the period between 1720 and 1810 and likely belonged to a 35-year-old man of European descent. The artwork intends to serve as a poignant reminder of the transient nature of human existence, provoking contemplation on the impermanence of life.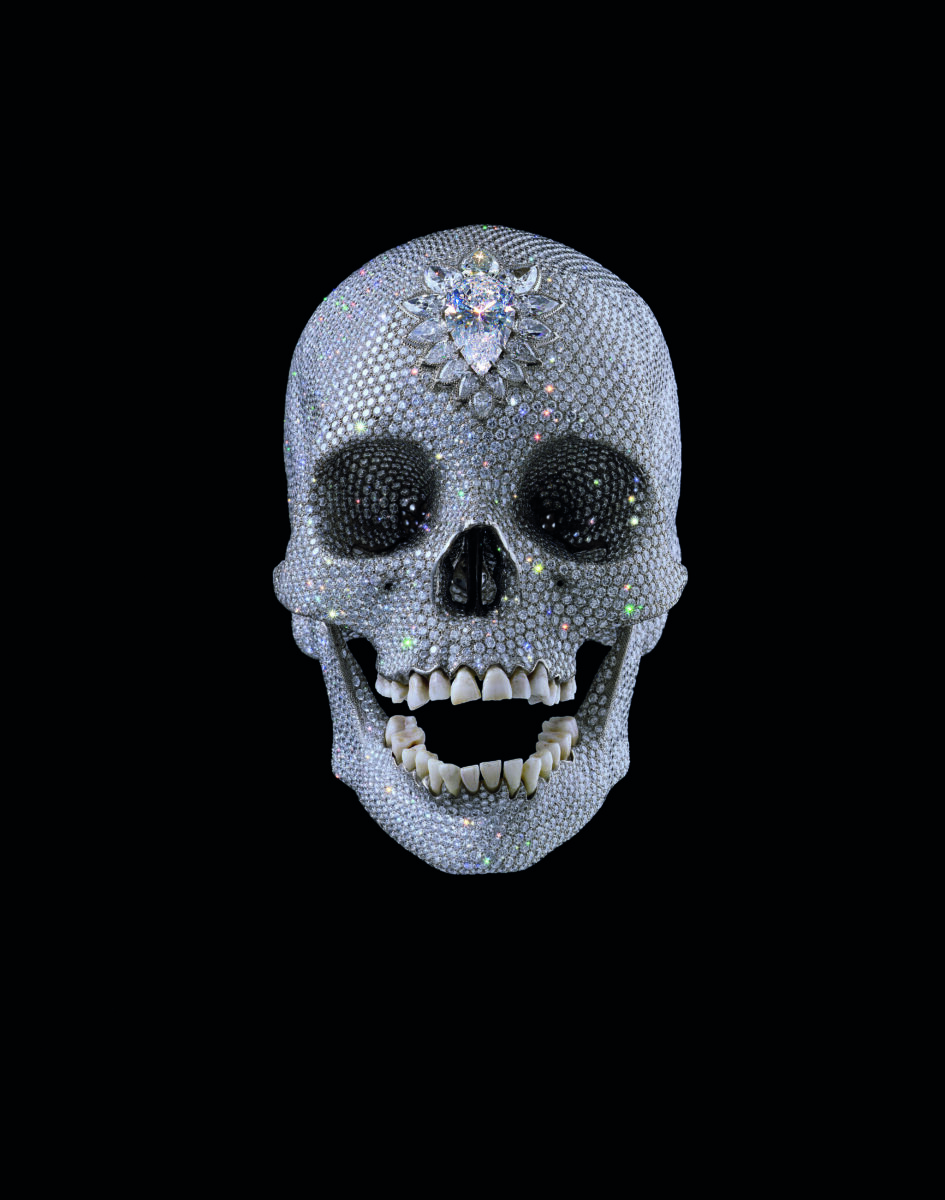 The artwork's title draws inspiration from the exclamations made by Hirst's mother upon learning of his forthcoming creations. The artist explains that his mother would often exclaim, ''For the love of God, what are you going to do next!''
Hirst's childhood memories of the comic '2000 AD' influenced the incorporation of a prominent central diamond in the artwork. Specifically, he recalls a character named 'Tharg the Mighty', who possessed a forehead adorned with a circular emblem, representing a powerful, deity-like figure with control over the universe. Hirst felt that the artwork needed an additional element, akin to a third eye, forging a connection to Jesus and his father. 
For the Love of God embodies Hirst's fascination with diamonds, emphasising the inherent uncertainty surrounding their value. The artwork confronts the competitive nature of the diamond industry and the capitalist society that sustains it. 
The work is on show until 28th January 2024 as part of Damien Hirst's first solo exhibition in Germany, titled The Weight of Things, alongside over 40 works which will include installations, sculptures, and paintings, some of which have not been seen before. The exhibition will include some of Hirst's most iconic series, including Natural History (formaldehyde sculptures), Spin Paintings, Medicine Cabinets, Treasures from the Wreck of the Unbelievable, Cherry Blossoms, and spot and butterfly paintings.
The show charts the emergence of Hirst's most famous themes. Throughout his career, Hirst has reflected on the complex relationships between beauty, religion, science, life and death.  The exhibition will be accompanied by a fully illustrated catalogue.
Time-slot tickets are now on sale at the MUCA:shop.muca.eu
Throughout the exhibition period, tickets are also available at the museum entrance. However, due to limited capacities, entry may be restricted for visitors who do not have a pre-booked ticket. 
About
Damien Hirst was born in Bristol and lives and works in London, Devon, and Gloucestershire in the UK. Collections include the Museo d'Arte Contemporanea Donnaregina, Naples, Italy; Museum Brandhorst, Munich; Museum für Moderne Kunst, Frankfurt am Main, Germany; Stedelijk Museum, Amsterdam; Centro de Arte Dos de Mayo, Madrid; Tate, London; Israel Museum, Jerusalem; Astrup Fearnley Museet, Oslo; Gallery of Modern Art, Glasgow, Scotland; National Centre for Contemporary Arts, Moscow; Museum of Modern Art, New York; Hirshhorn Museum and Sculpture Garden, Washington, DC; Art Institute of Chicago; The Broad, Los Angeles; Museo Jumex, Mexico City; and 21st Century Museum of Contemporary Art, Kanazawa, Japan.
Exhibitions include Cornucopia, Oceanographic Museum of Monaco (2010); Tate Modern, London (2012); Relics, Qatar Museums Authority, Al Riwaq (2013); Signification (Hope, Immortality and Death in Paris, Now and Then), Deyrolle, Paris (2014); Astrup Fearnley Museet, Oslo (2015); The Last Supper, National Gallery of Art, Washington DC (2016); Treasures from the Wreck of the Unbelievable, Palazzo Grassi and Punta della Dogana, Venice (2017); Damien Hirst at Houghton Hall: Colour Space Paintings and Outdoor Sculptures, Houghton Hall, Norfolk, England (2019); Mental Escapology, St. Moritz, Switzerland (2021); Cherry Blossoms, Fondation Cartier, Paris (2021); and Archaeology Now, Galleria Borghese, Rome (2021).  Hirst received the Turner Prize in 1995.
Founded in 2016 by Christian and Stephanie Utz, the Museum of Urban and Contemporary Art (MUCA) is Germany's first museum dedicated to urban and contemporary art. Housed in a former electrical substation, MUCA is a stone's throw from Marienplatz, in the centre of Munich.
MUCA's mission is to integrate urban art into the contemporary art discourse and to exhibit the most celebrated artists of the 20th and 21st century. Since its inception, MUCA has become a leading authority in collection building, with a focus on housing significant works by artists renowned for using the urban landscape as part of their practice.
The MUCA collection now holds over 1,200 artworks and is well acknowledged as one of the most important collections of urban and contemporary art in Europe. It has progressively expanded over 25 years to include works from Pop Art to New Realism, covering themes including art in the urban environment, figurative painting, and socio-political issues.
Categories
Tags