White Cube has announced the representation and first UK solo exhibition of Marina Rheingantz.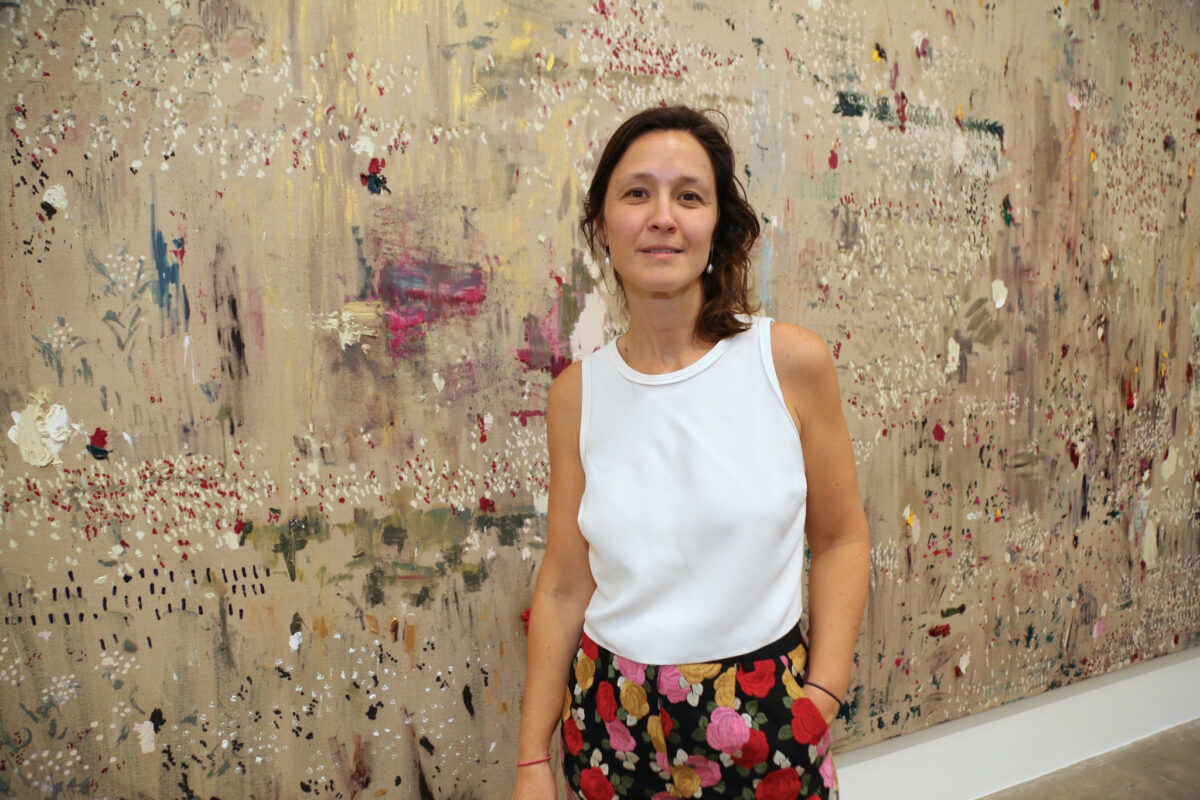 São Paulo-based artist Marina Rheingantz's first solo exhibition in the UK and her debut with White Cube will open at Mason's Yard, London, on 10th October 2023, coinciding with Frieze London.
Rheingantz was born in 1983 in rural Araraquara, Brazil, and studied MA Fine Arts at Fundação Armando Alvares Penteado in São Paulo. Her works, which expand the genre of landscape painting, embody the dichotomies inherent within Latin America's social relations, industrialisation and the sublime natural world.  Working with a variety of mediums, including paintings and tapestries, Rheingantz evokes ambiguous images of sea cliffs, bodies of water, mountain regions and arid wastelands. At times adopting an aerial perspective, her works are characterised by the interplay of geometric repetition, urban detailing and resolute natural terrain. Growing up in the countryside on her family's farm, Rheingantz often travelled across São Paulo visiting construction sites and studying the landscape of the country's south-eastern region.
'When I started painting, my practice was very connected with the landscape I grew up in. I felt bound to the wilderness and the feeling of being free', she recalls. Her more recent work draws on memories as well as her own photographs, articulating a lyrical suggestion of place that has been 'seen, sensed and remembered'.
Marina Rheingantz (b.1983 Araraquara, Brazil) lives and works in São Paulo, Brazil. Selected solo exhibitions include FRAC Auvergne, Clermont-Ferrand, France (2021); Nichido Contemporary Art, Tokyo (2016); Independent Projects, New York (2014); Centro Cultural São Paulo (2012); and Centro Universitário Maria Antonia USP, São Paulo (2011). 
Selected group exhibitions include Museum de Fundatie, Zwolle, Netherlands (2023); Kunsthal KAdE, Amersfoort, Netherlands (2022); Museu de Arte do Rio, Rio de Janeiro, Brazil (2020); Museum Dhondt-Dhaenens, Deurle, Belgium (2018); Estação Pinacoteca, São Paulo (2018); LITEXPO, Vilnius, Lithuania (2017); Kunsthal KAdE, Amersfoort, Netherlands (2016); Projeto Piauí, Pivô, São Paulo (2016); The Rubell Family Collection/Contemporary Arts Foundation, Miami (2016); Museu de Arte Moderna do Rio de Janeiro, Brazil (2015); Contemporary Arts Foundation, Miami, Florida (2015); and The Museum of Fine Arts, Gifu, Japan (2015). 
Her work is held in international collections including Museu Serralves, Porto, Portugal; Taguchi Art Collection, Tokyo; Pinacoteca do Estado de São Paulo; MAM Rio, Rio de Janeiro; Inhotim, Brumadinho, Brazil; Pinault Collection, Paris; and Itaú Cultural, São Paulo.
The artist is represented by White Cube, Fortes D'Aloia & Gabriel, Bortolami Gallery and Zeno X Gallery.
Categories
Tags