Skarstedt will begin its fall season with a solo exhibition of the Swiss sculptor Hans Josephsohn (1920-2012). The exhibition, featuring approximately thirteen sculptures, traces Josephsohn's career from the 1950s through the early 2000s. Focused on three of his most iconic forms—the reclining figure, the half-figure, and the head—this exhibition serves as a testament to the artist's profound mastery of the human form. Hans Josephsohn will mark the artist's first solo exhibition with the gallery and the artist's first solo exhibition in New York in almost ten years.
In a career that spanned over six decades, Josephsohn remained unwaveringly dedicated to the human figure—its contours, its spatial depth, and its very essence. It is a subject as old as art itself, and indeed, Josephsohn was inspired by ancient influences from Greek, Egyptian, and Assyrian sculpture, as well as Medieval art, Romanesque churches, and Indian temple reliefs. By connecting these eras of artmaking with his lived experience, Josephsohn imbued his sculptures with a sense of timelessness. Contemporary in their abstraction and riddled with textured surfaces, these sculptures appear as if they were made yesterday. At the same time, their stoic simplicity suggests the classicism of centuries prior.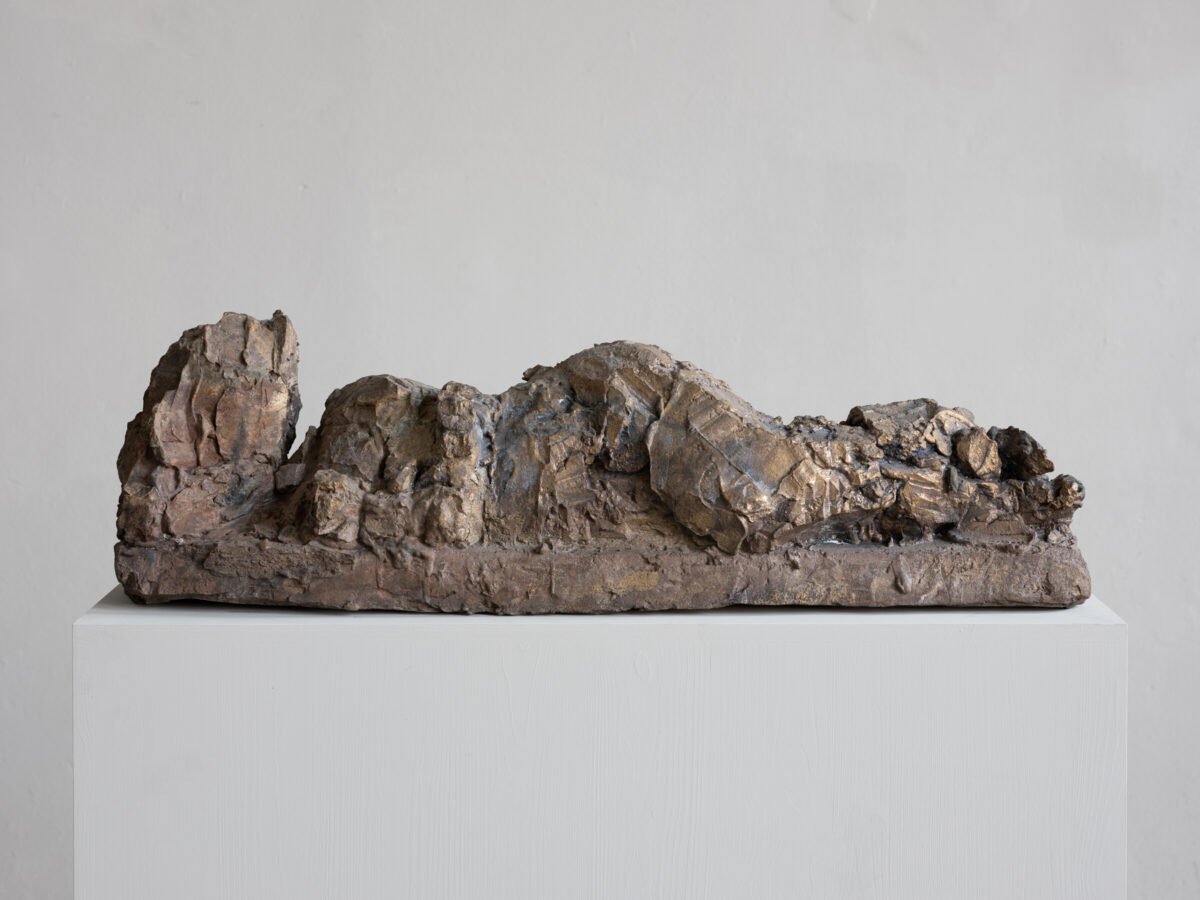 This timelessness is a testament to humanity and its myriad nuances. However, Josephsohn's own relationship with that humanity was fraught, which is borne out in his works, making them likewise profoundly personal. Born into a Jewish family in Königsberg, then the capital of East Prussia, Josephsohn was displaced by the events of the Second World War, first by studying art in Florence before quickly being forced to relocate to Switzerland, where he would remain until his death at the age of 92. Josephsohn spent much of the rest of his life consciously and unconsciously attempting to excavate the core of humanity, his status as an outsider due to his Jewish heritage and immigrant status, and the emotional and bodily toll of these harrowing events.
As the artist's biographer, Gerhard Mack, aptly notes,
To Hans Josephsohn, human beings are bodies; everything is expressed in this body—thoughts
and feelings, desires and anxieties, stories and expectations. There is nothing beyond this tangible human body and, most of all, there is no truth outside of it…It was always the body that had to bear and was marked by the consequences of this mindlessness. The body bore its injuries and burdens, its movements and fault lines.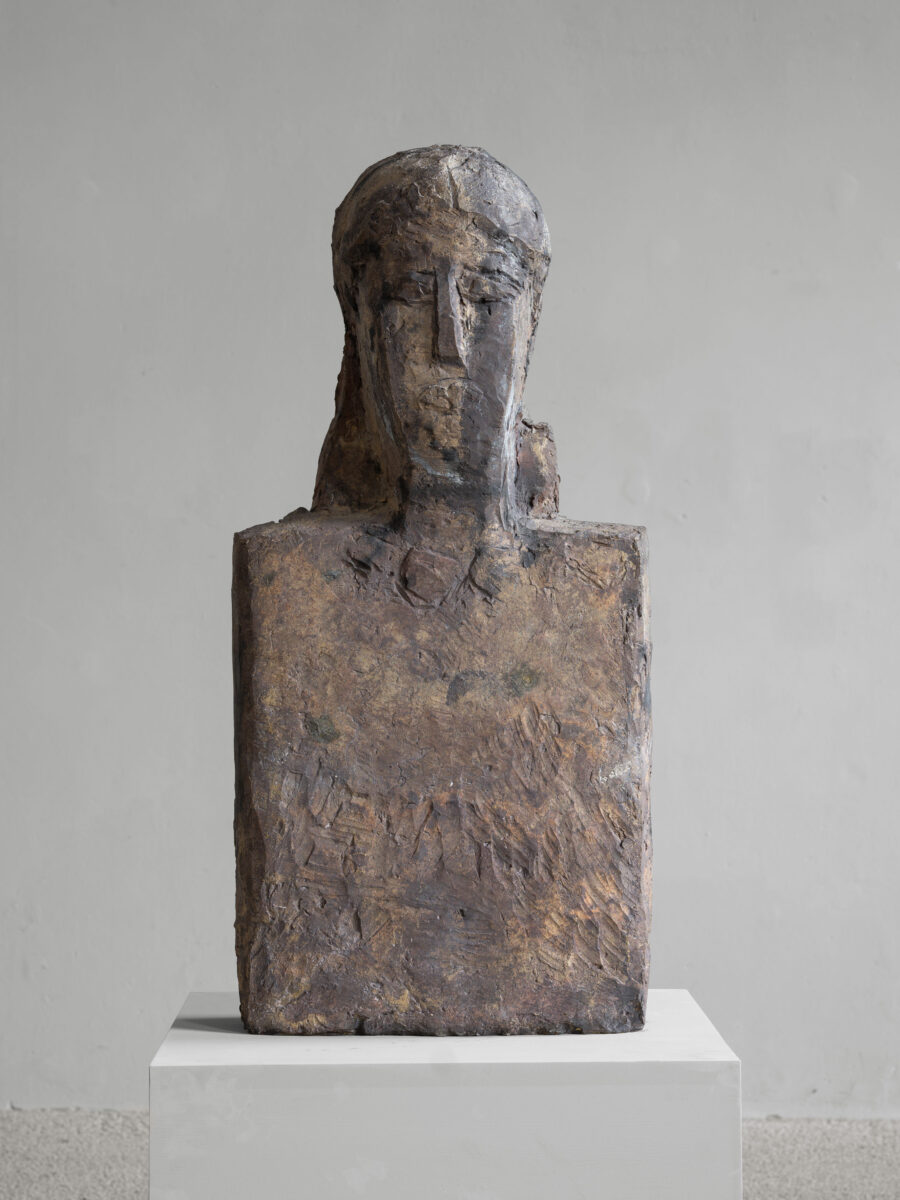 Josephsohn's faces and forms exist in the liminal space between abstraction and figuration. At once deeply specific and intimate—many of his works are modeled after figures in his personal life, such as those in the exhibition named for his two wives, Mirjam Abeles and Verena Wunderlin—they are also ethereally devoid of individualization.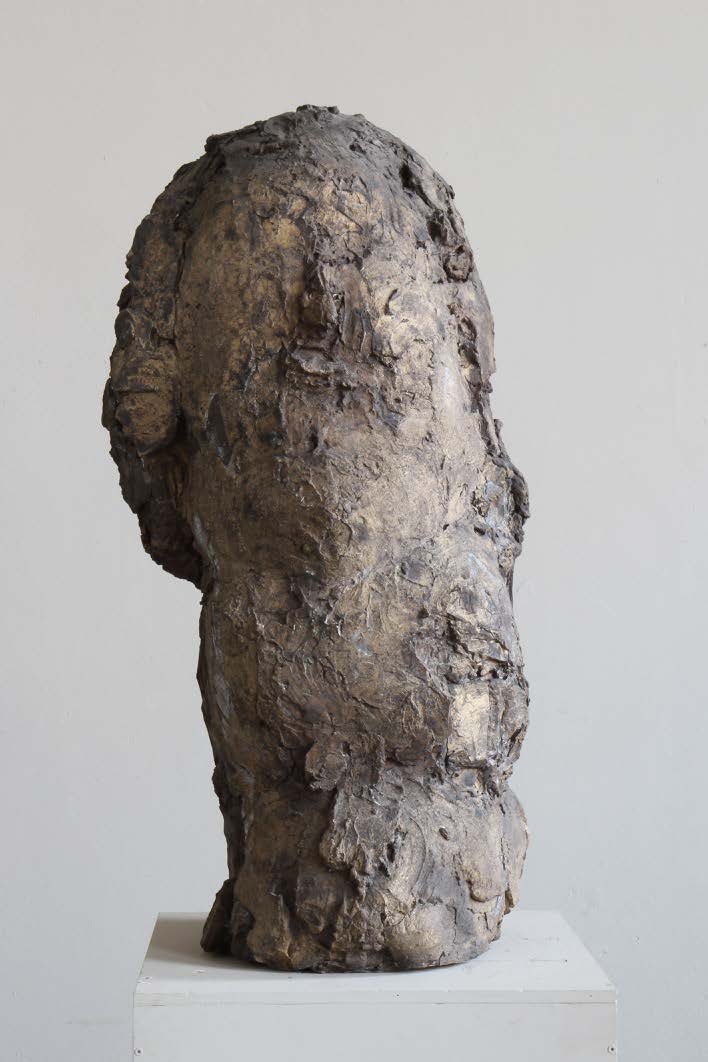 Josephsohn worked by building his objects in plaster or clay through an intuitive process of addition and subtraction. In this crucial step, the particulars of his models' features are blurred and expanded, replaced by mere suggestions. Like Alberto Giacometti or Willem de Kooning, Josephsohn's hand is left on the final sculptures, lending texture and tactility to the finished works. In Untitled (Verena) (1987), for example, the artist's second wife is reduced to mere hints of mouth, nose, ear, hair, and torso through bumps and grooves that bear the artist's fingertips. At the same time, there is a sweetness in Josephsohn's handling of her, a palpable sense of care.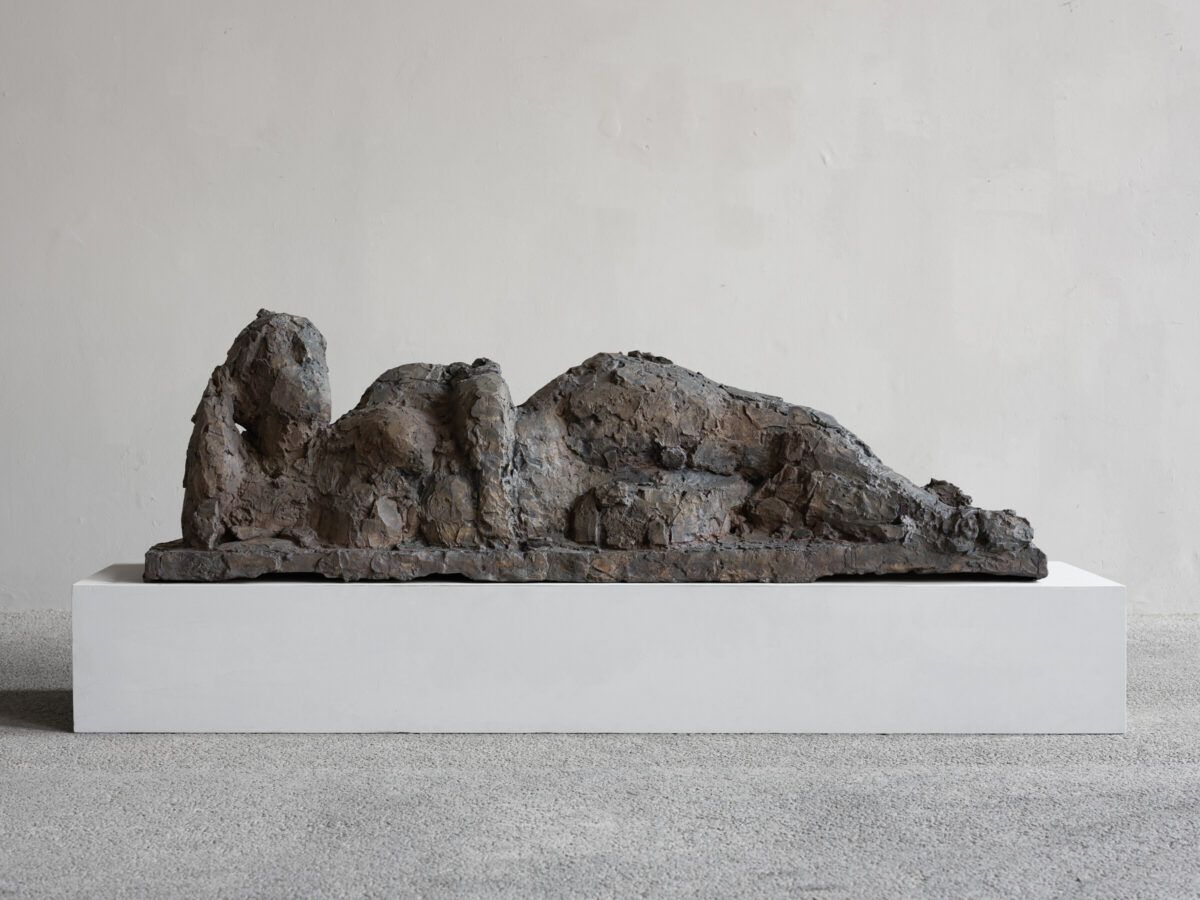 Meanwhile, in Untitled (1971), a nude woman reclines, her head propped up by one arm, the other draped over her torso. Beyond the curvature of her figure, there is only the allusion to a nose and hairline to hint at who she may be. Paradoxically, this opens up the bodies on view to allow for the viewer's own personal associations to come to the fore. These methods resemble the sculptural work of contemporary artists such as George Condo or Rebecca Warren, two artists who, in their own ways, explore the inner workings of the human psyche and the depiction of the female body through semi- or wholly-abstracted corporeal forms.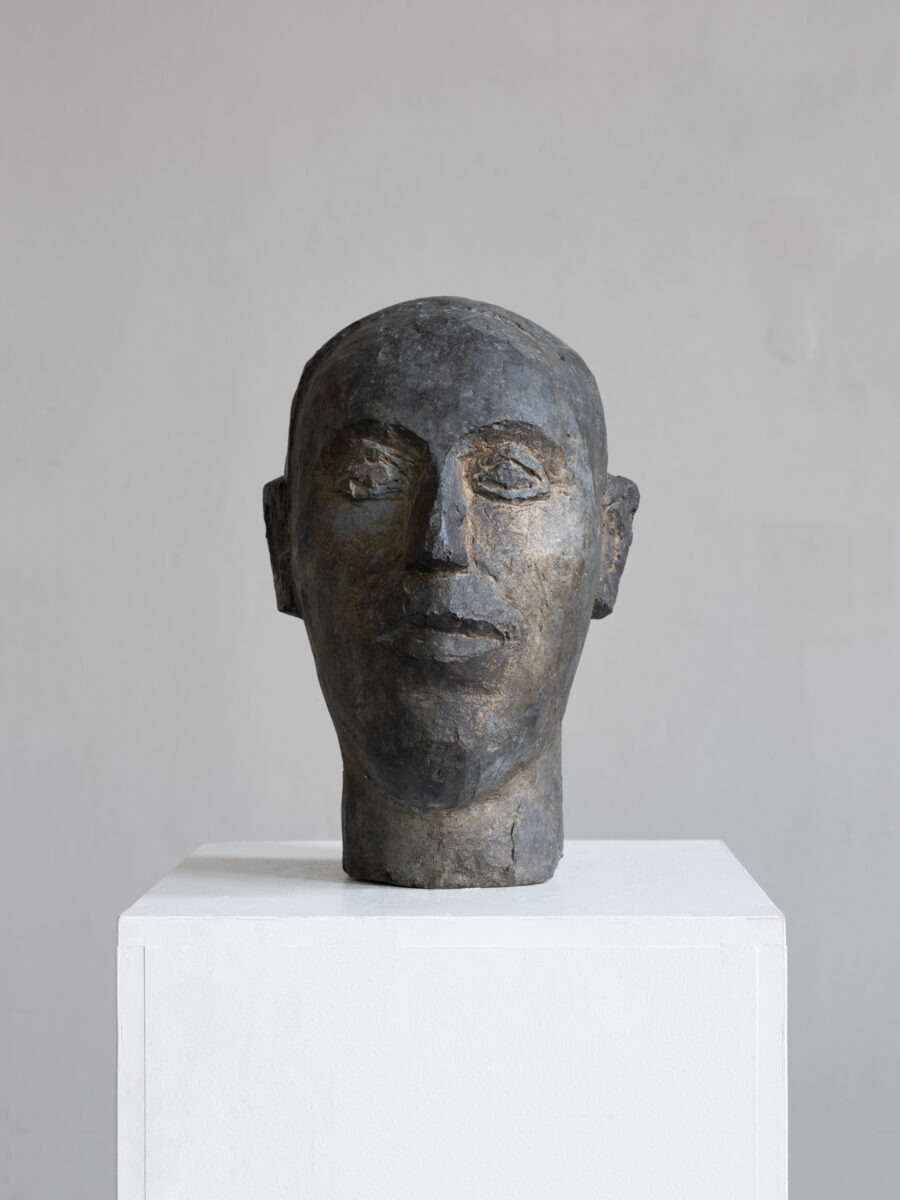 The plaster models of these sculptures are subsequently cast in brass, Josephsohn's preferred material. This lends his figures a sense of irrefutable heaviness, and a feeling of permanence for an artist whose early life was marked by transience. For example, Untitled (1958), one of the exhibition's most defined faces, maintains a dignified weightiness and gravitas bolstered by the work's materiality.
Today, Josephsohn's work continues to resonate and hold great significance. His sculptures offer a profound sense of contemplation and connection in a world characterized by rapid change and shifting perspectives. They remind us of the enduring power of art to capture the essence of the human experience, transcending time, place, and individuality.
Hans Josephsohn, 6th September – 28th October 2023, Skarstedt NY.
Art Opening Wednesday, September 6th
About the artist
The Swiss sculptor Hans Josephsohn (1920-2012) was concerned with representing the human being as a figure in space throughout his life. Conveying the corporeality and weight of the human body in sculptural form, his works often project the sense of stillness and immutability. Modeled in plaster or clay and subsequently cast in brass or bronze, Josephsohn's sculptures reveal a complex surface bearing traces of the movement of the artist's hands. Portraying standing or reclining figures, heads or three-quarter busts, the sculptures are almost always executed from a model whom the artist knew well. Evading overtly realistic representation of individual features, the works present an almost abstract vision of the figure, whose unique surface nevertheless registers the specificity of the encounter and individuality of the sitter.
The stringent evolvement of his oeuvre starts with geometrically reduced sculptures, leading into a more figurative phase and culminating in his typical stylistic idiom, which is characterized by precisely shaped volumes with only coarsely worked surfaces. Josephsohn's unique style is wholly committed to modernity, yet without renouncing tradition. Having grown up in a Jewish family in Königsberg, which belonged to Germany at the time, Hans Josephsohn came to Zurich via Italy in 1939. There, he studied sculpture with Otto Müller and started working in his own atelier in 1943.
His work can be found in important public collections, including Aargauer Kunsthaus, Aarau; Kunsthaus Zurich, Zurich; Kunstmuseum St. Gallen, St. Gallen; Museum zu Allerheiligen, Schaffhausen; MMK Museum für Moderne Kunst, Frankfurt am Main; Neue Nationalgalerie Berlin, Berlin; Stedelijk Museum, Amsterdam; and KOLUMBA Art Museum of the Archdiocese of Cologne, Cologne. At the La Congiunta museum in Giornico, 33 of his sculptures have been on permanent display since 1992, while the Kesselhaus Josephsohn in St. Gallen shows a regularly changing selection of artworks from all phases of Josephsohn's creative life.
Recent museum exhibitions include Hans Josephsohn, MASI Lugano, Lugano (2020-2021); Schauen ist das Wichtigste, Museum zu Allerheiligen, Schaffhausen (2020); Hans Josephsohn, ICA Milano, Milan (2019); Existential Sculpture, Museum Folkwang, Essen (2018); Hans Josephsohn, Modern Art Oxford, Oxford (2013); Hans Josephsohn, Yorkshire Sculpture Park, Wakefield (2013); Hans Josephsohn: Sculptor, MMK Museum für Moderne Kunst, Frankfurt am Main (2008); and Hans Josephsohn: Sculptures, Stedelijk Museum, Amsterdam (2002). Works by Josephsohn were included in numerous group exhibitions, including the Venice Biennale in 2013. In 2021, Albert Oehlen included Josephsohn's sculptures in his curated group exhibition at MASI Lugano titled big paintings by me with small paintings by others. Oehlen will be the curator of a large Josephsohn exhibition at the Musée d'Art modern de la ville de Paris in October 2024.
Categories
Tags