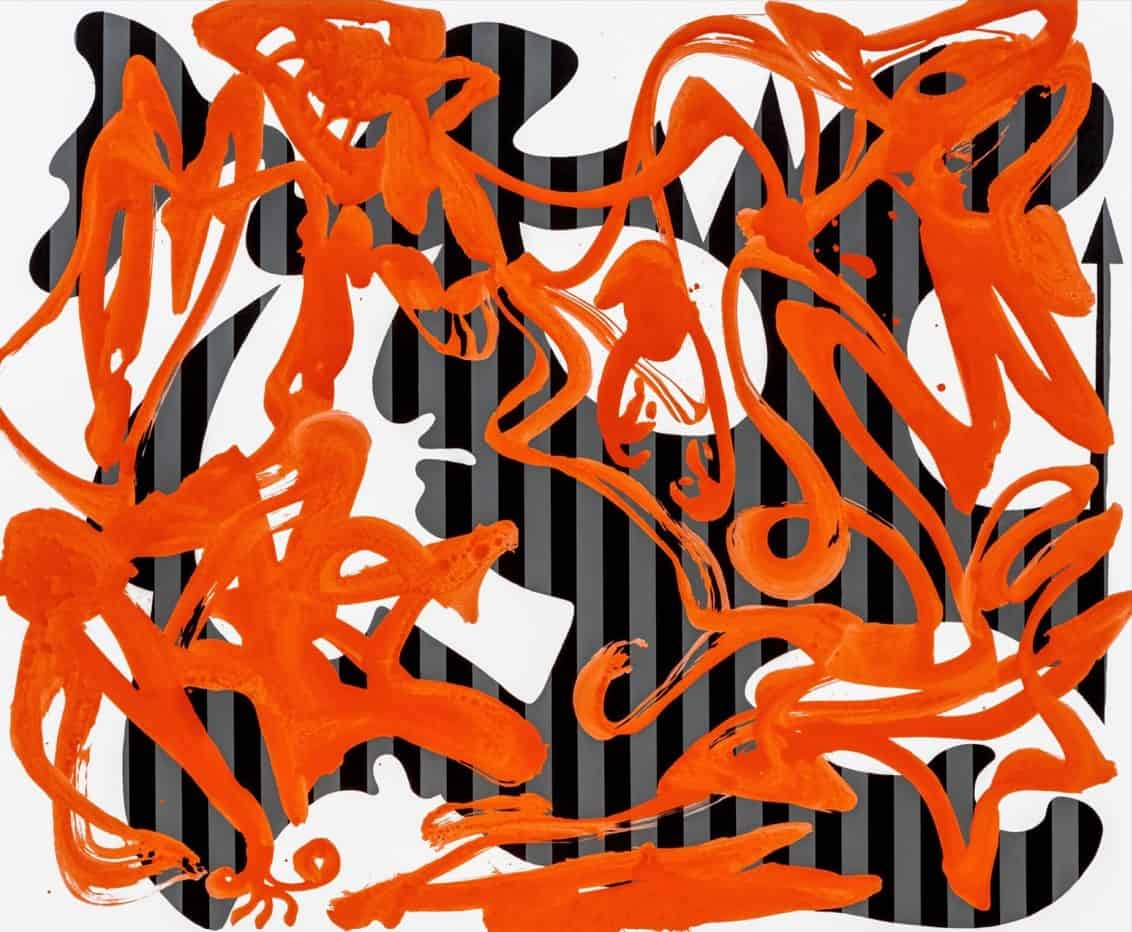 Charline von Heyl: 'Crash Course (Atalante)', 2016 – acrylic on canvas, 173 x 208 cm
Skarstedt, 8 Bennet Street, London SW1A 1RP skarstedt.com     Instagram:@skarstedtgallery
Skarstedt originated in New York and now operates in Paris and London as well. It was founded in 1994 by Swedish-born Per Skarstedt to present, says the gallery, 'a program of museum-level exhibitions by contemporary European and American artists'. That's exactly what it has delivered, judged by the London programme since 2012, most recently in a space on Bennet Street designed by Tom Croft, also responsible for Simon Lee and Timothy Taylor's spaces.
The combination of quality and geographical focus might be described as traditional. The show content, on the other hand, is a blend of blue chip artists in adventurously themed group shows, and new bodies of work by artists not so often seen in London: Eric Fishl, David Salle and Sue Williams come to mind. Also, I grant, the very popular Kaws – but no gallery works only with artists I like… The London operation is managed by Director Martin Klostefelde with curator Maria Borshchevska. The latter pointed out to me that not only does Charline von Heyl  simultaneously mimic rapid brushwork and mechanical reproduction in 'Crash Course (Atalante)', she also plays a subtle game with what's painted over and under in: up close, it's not what one would assume from a distance. The US-based German, who isn't represented in the UK and so is particularly welcome here, shifts with notable invention between works. She certainly belongs in such company as Jacqueline Humphries, Albert Oehlen, Steven Parrino and her husband, Christopher Wool – among those who impress in the current twelve artist show of 'Radical Abstraction'.
London's gallery scene is varied, from small artist-run spaces to major institutions and everything in between. Each week, art writer and curator Paul Carey-Kent gives a personal view of a space worth visiting.
Categories
Tags