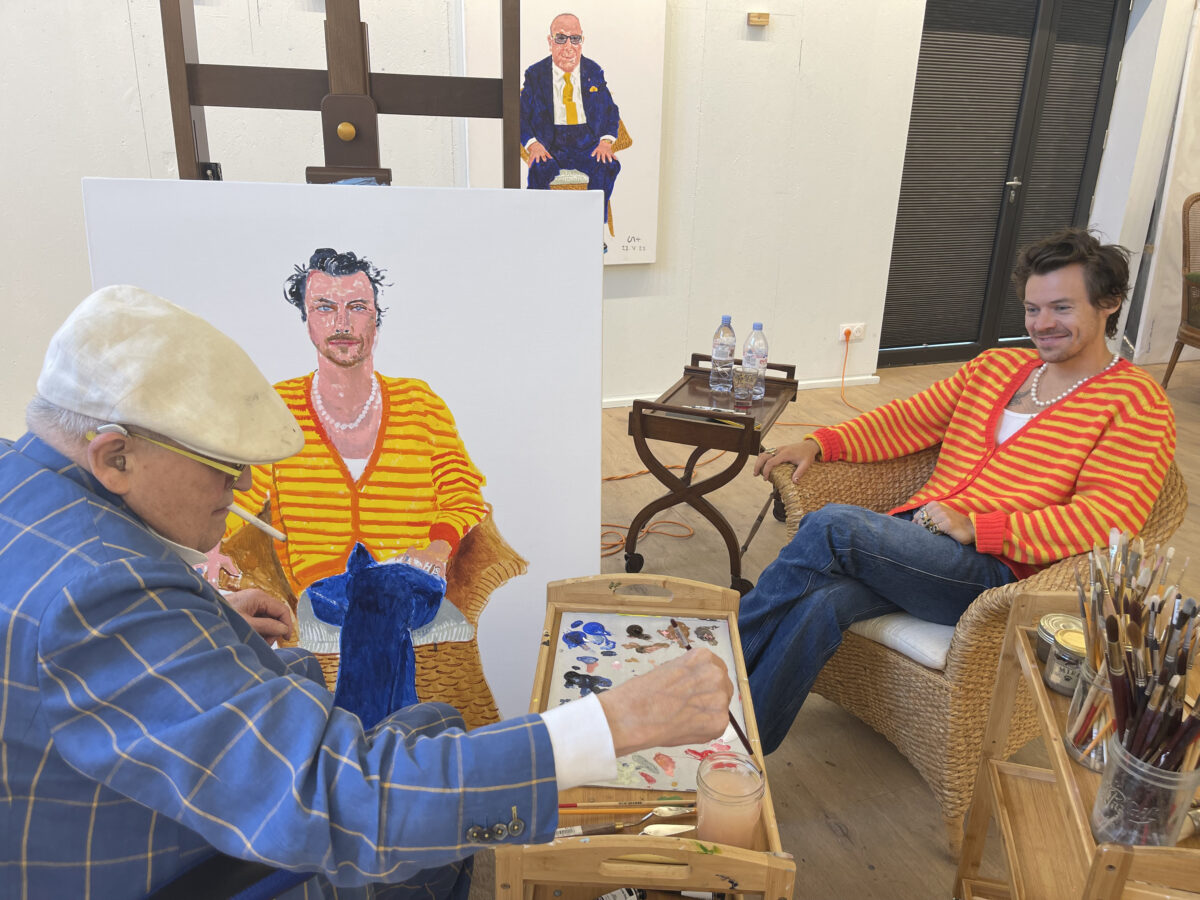 A new Harry Styles portrait by David Hockney has been revealed today it is one of over 30 new portraits, painted at the artist's Normandy studio between 2021 and 2022.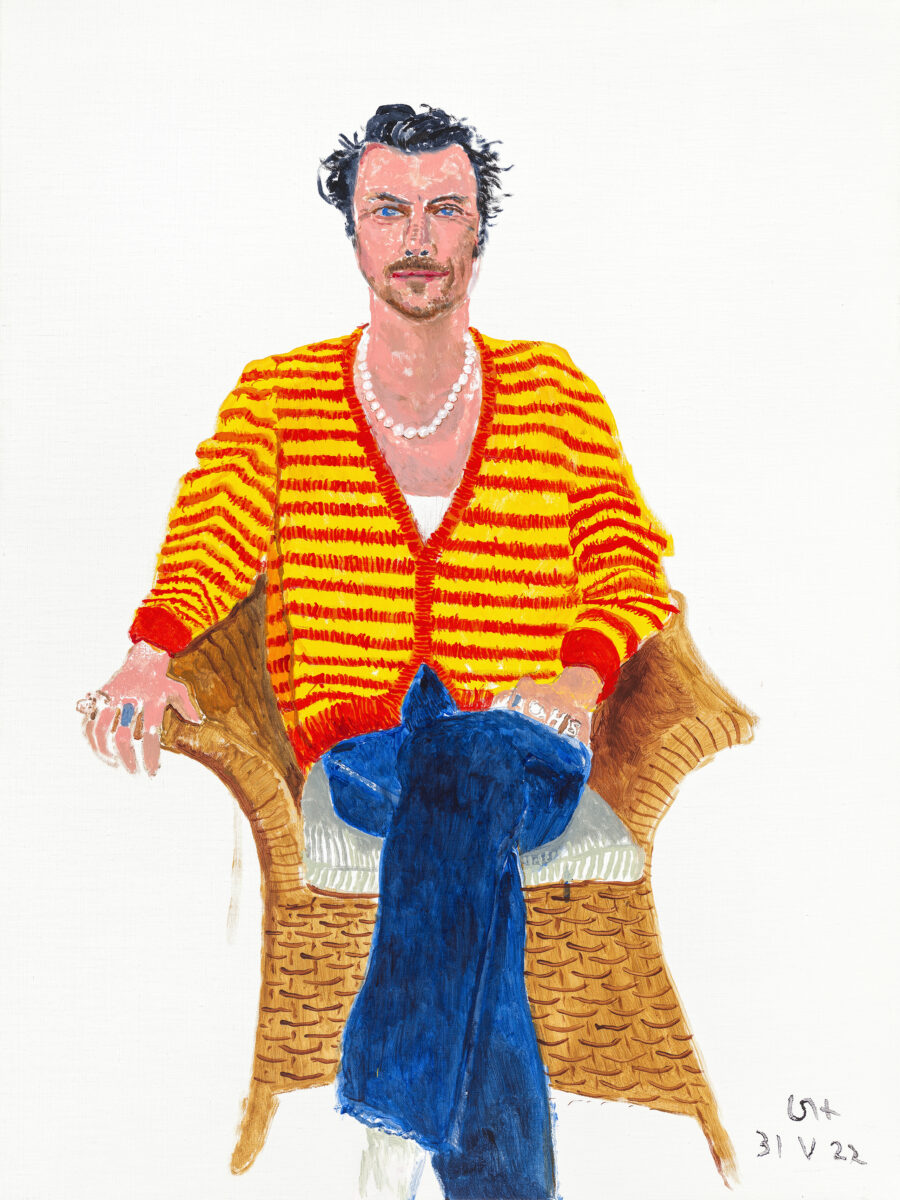 All the portraits will be displayed for the first time when the National Portrait Gallery opens David Hockney: Drawing from Life on 2nd November 2023.
Following our reopening and the success of a brilliant first summer, I am delighted to be restaging this major exhibition for David Hockney at the new National Portrait Gallery, which makes good on a pledge I made to David in March 2020 that we would return to his wonderful exhibition in better days. Hockney is one of the most internationally respected and renowned artists today, and to see his new portraits, made over the last couple of years and which demonstrate his constant and continuing ingenuity and creative force, is life affirming.

Dr Nicholas Cullinan Director, National Portrait Gallery
Hockney's new paintings will be displayed alongside portraits originally exhibited as part of the National Portrait Gallery's 2020's presentation, rendered in pencil, pastel, ink and watercolour, using both traditional and non-traditional drawing equipment, including coloured pencil, pen, the 35mm camera and apps found on the iPhone and iPad.
Featuring around 160 works from public and private collections across the world, as well as from the David Hockney Foundation and the artist himself, David Hockney: Drawing from Life traces the trajectory of Hockney's practice, predominantly through his intimate portraits of five sitters: his friend, Celia Birtwell; his mother, Laura Hockney; his former partner and curator, Gregory Evans; his master printer, Maurice Payne; and the artist himself. Supported by White & Case, the exhibition will explore the artist's work over the last six decades, with the addition of new portraits – depicting friends and visitors to Hockney's Normandy studio.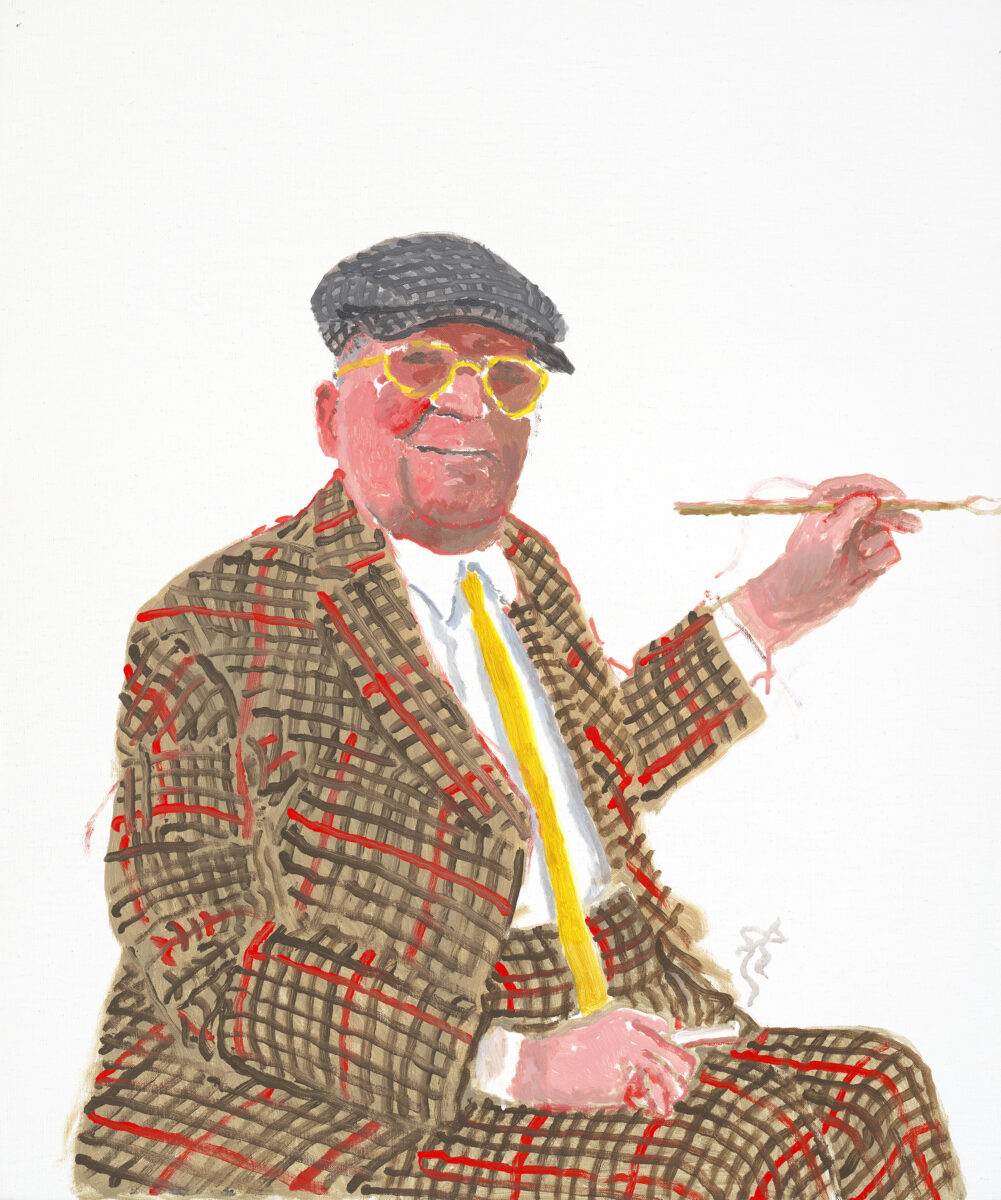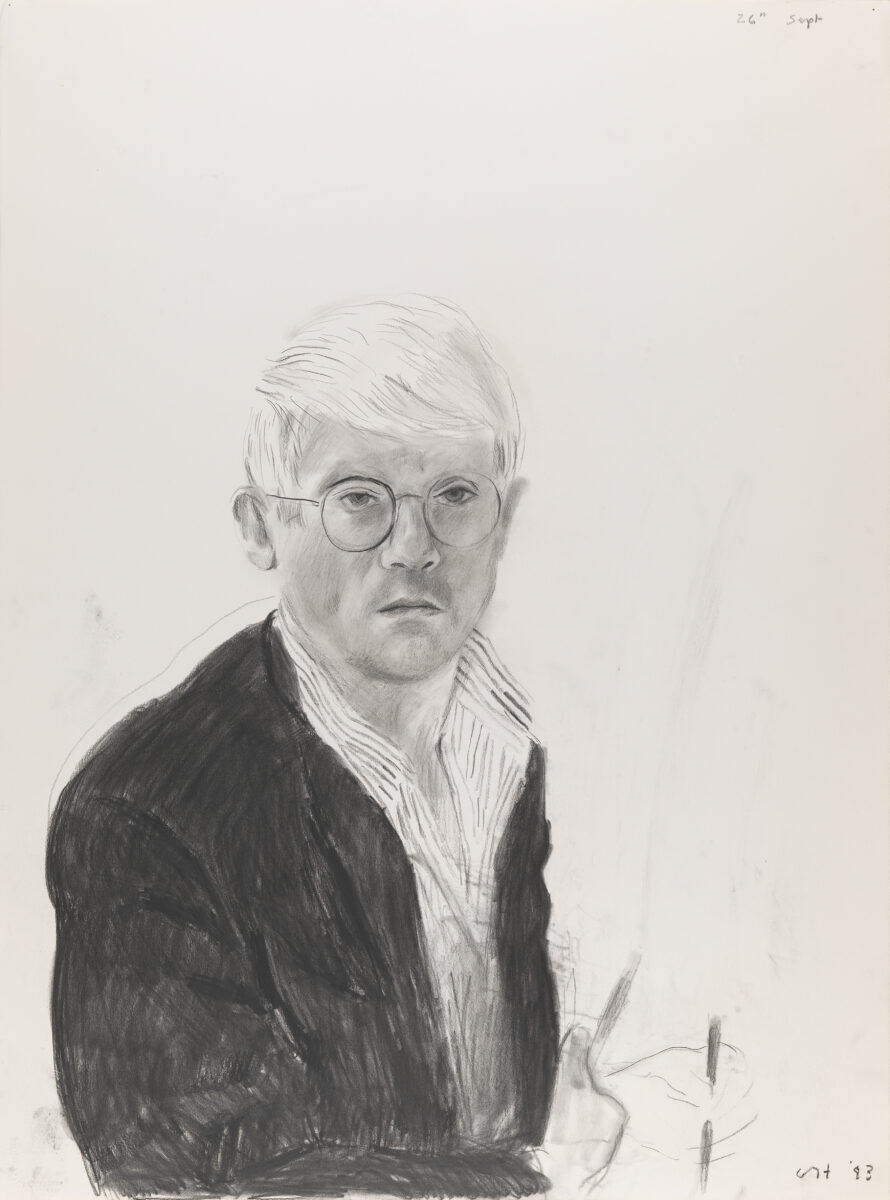 Bringing the exhibition right up to date, new single and double portraits include depictions of the artist's partner, Jean-Pierre Gonçalves de Lima, and people from the local Normandy community. The portraits mark a return to painting after a period spent capturing the Normandy landscape around his home through the seasons on his iPad. Each portrait was painted from life directly onto the canvas without any under drawing and completed in 2-3 sittings.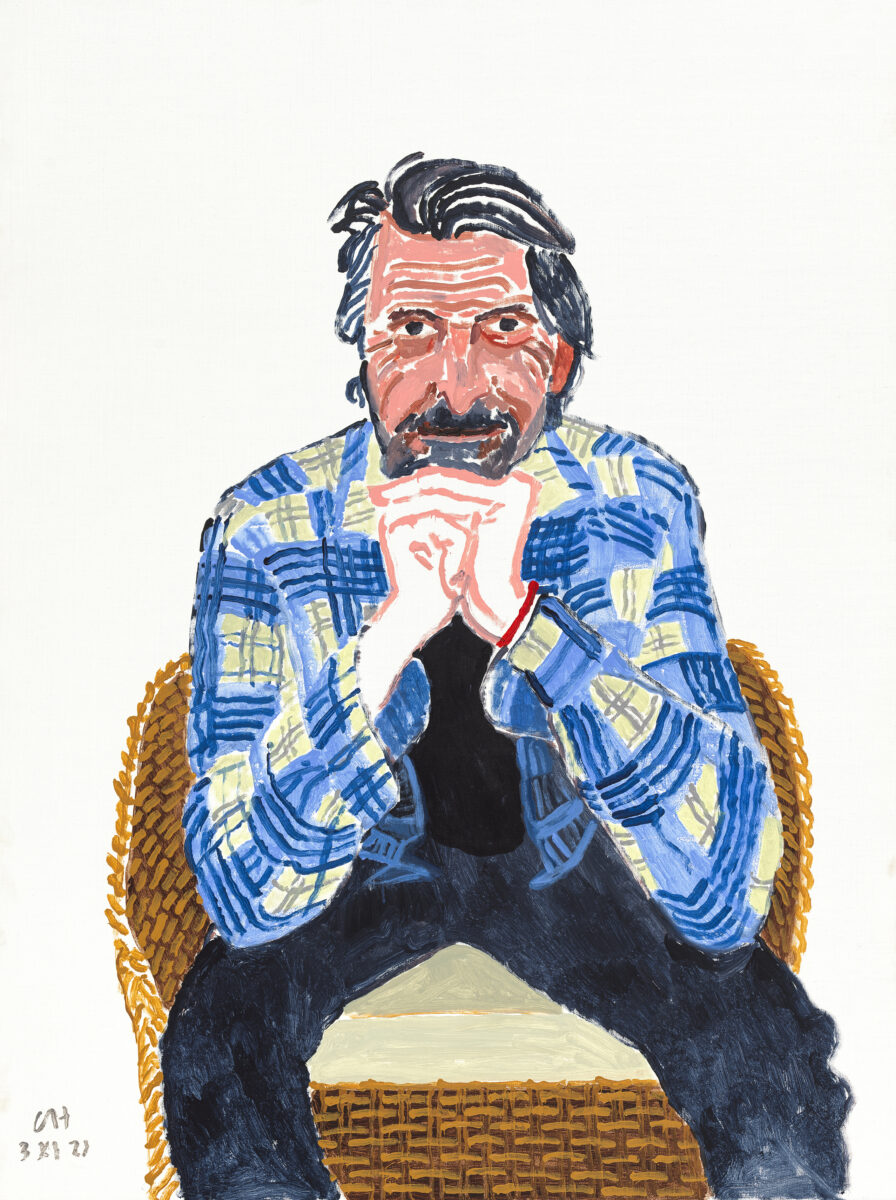 David Hockney is recognised as one of the master draughtsmen of our times and a champion of the medium. David Hockney: Drawing from Life examines not only how drawing is fundamental to the artist's distinctive way of observing the world around him, but also how it has often been a testing ground for ideas and modes of expression later played out in his paintings. Over the past sixty years, the artist's experimentation with drawing has taken many different stylistic turns. The portrait drawings reveal his admiration for both the old masters and modern masters, from Holbein to Matisse. The influence of Ingres can be seen in Hockney's neo-Classical style line drawings of the 1970s and the 'camera lucida' drawings of the late 1990s. In the 1980s he created photocollages to "draw with the camera," as he described it, creating Cubist depictions of form which paid homage to Picasso. In more recent years, Hockney has returned to the distinctive mark making of Rembrandt and van Gogh.
In addition to the 33 new works, highlights of the exhibition include coloured pencil drawings created in Paris in the early 1970s; a selection of drawings from an intense period of self-scrutiny during the 1980s, when the artist created a self-portrait every day over a period of two months; and rarely seen works, including his pivotal A Rake's Progress etching suite (1961-63), inspired by William Hogarth's engraving series with the same title (1697-64), ephemera documenting his relationships with the sitters, and the painting My Parents and Myself – an earlier version of My Parents in Tate's collection.
David Hockney: Drawing from Life, 2nd November 2023 – 21st January 2024, National Portrait Gallery
Tickets can be purchased HERE 
Tickets £21 (Concessions from £10.50), Members go free npg.org.uk  Supported by White & Case
The Gallery's reopening is supported by reopening partner Herbert Smith Freehills, longstanding supporter of the National Portrait Gallery.
David Hockney: Drawing from Life will be accompanied by a fully illustrated hardback catalogue (£35), featuring around 160 beautifully reproduced portraits, an essay from curator Sarah Howgate, and an interview with David Hockney. The new portraits painted by Hockney at his Normandy studio – depicting his friends and visitors, including singer Harry Styles, his partner, Jean-Pierre Gonçalves de Lima, and the artist himself – will be included as part of an exclusive image-led book, David Hockney: Normandy Portraits (£18.95). Both will be available via the Gallery shops and online at npgshop.org.uk.

David Hockney: Drawing from Life is curated by Sarah Howgate, Senior Curator of Contemporary Collections at the National Portrait Gallery. Her previous exhibitions for the Gallery include David Hockney: Drawing from Life (2020), David Hockney Portraits (2006), Lucian Freud Portraits (2012); Gillian Wearing and Claude Cahun: Behind the mask, another mask (2017); Tacita Dean: PORTRAIT (2018) and Friendship Portraits: Chantal Joffe and Ishbel Myerscough (2015).
Categories
Tags