Studio Voltaire and the LOEWE FOUNDATION are pleased to announce the recipients of the 2023 LOEWE FOUNDATION / Studio Voltaire Award: Babajide Brian, Maz Murray, Emily Pope, Shamica Ruddock, Meera Shakti Osborne, Nick Smith and Ossie Williams. This major award aims to increase opportunities for under-represented artists in the UK, providing vital support through rent-free studio space, professional development opportunities and a bursary.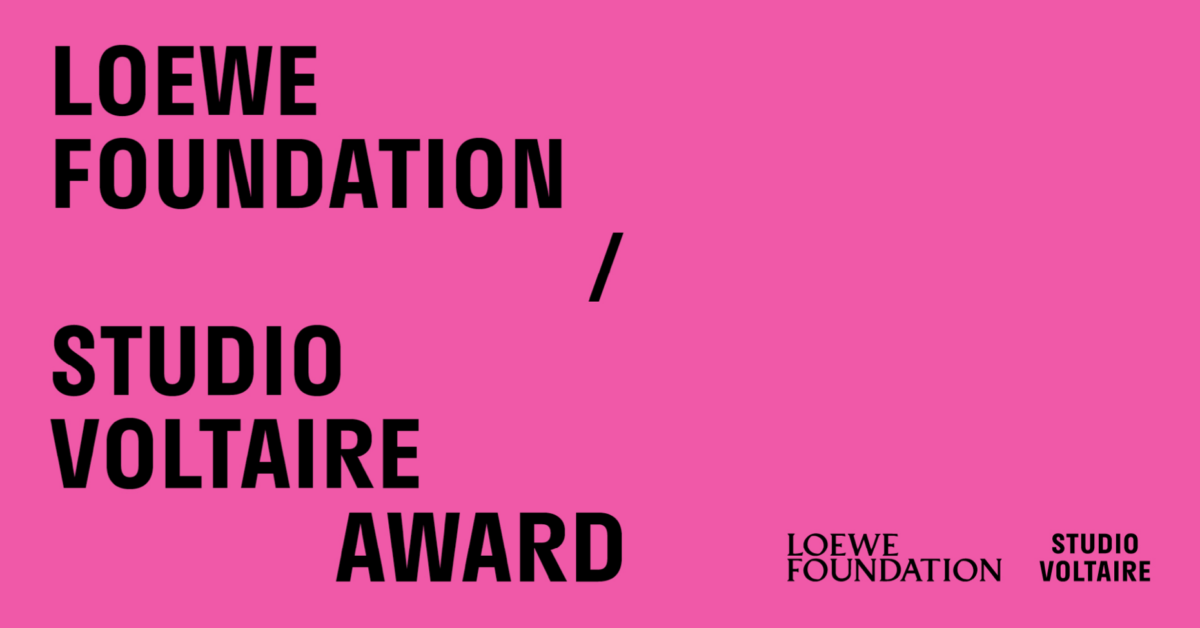 2023 LOEWE FOUNDATION / Studio Voltaire Award
Established in 2021, the award celebrates talent, individuality and original thinking within contemporary art practice. The programme aims to increase and strengthen equitable representation and access, and amplify artistic voices across class, race, gender, sexuality and disability. The selected artists for the second edition are working across a range of disciplines and mediums, encompassing a diverse set of interests, experiences and methods.
Sustained issues of economic disparity, compacted by the cost of living crisis, present one of the most urgent and pressing challenges for artists today. This unique award has been developed in direct response to the urgent need for affordable and secure workspace for artists in London.
Each of the seven awardees will receive:
A rent-free workspace within Studio Voltaire's award-winning buildings for two years
A bursary of £5,000
An individualised programme of mentoring and professional development
Curatorial and pastoral support
Access to local and international audiences via public events programming
Studio Voltaire received more than 600 applications through an open call process, and via a group of selected nominators, emphasising the need for long-term opportunities to support and sustain artists' practices.
The 2023 recipients were chosen by an expert panel comprising Studio Voltaire's Director Joe Scotland and Curator (Studios & Residencies) Maggie Matic; Sepake Angiama, Artistic Director of Iniva; curator Andrew Bonacina and artists Anthea Hamilton and Elizabeth Price.
The seven awardees will move into their studios from September 2023, joining Studio Voltaire's community of artists, including Ain Bailey, Lubna Chowdhary, Kaye Donachie, Anthea Hamilton and Bolanle Tajudeen (Black Blossoms).
The second phase of the award, a year-long residency for an international artist to be based at Studio Voltaire, will be announced later this year.
As the cost of living crisis intensifies and has an increasingly adverse effect on artists, it was no surprise that we received such a high volume of strong applications. The level of need amongst artists is more pronounced than ever. We have a long way to go in overcoming the financial barriers and structural inequalities that are holding many brilliantly talented artists back, but we hope that this award can go some way in furthering this important ambition. Our new awardees are all at exciting and pivotal stages in their artistic careers, and we are delighted to welcome them into the community at Studio Voltaire and very grateful to LOEWE FOUNDATION for supporting this vital programme.

Maggie Matic, Curator (Studios & Residencies) at Studio Voltaire
About the artists
Babajide Brian, he/him
Babajide Brian (b. 1996, London) is an artist working primarily in drawing. Brian has built a significant body of work over the last ten years using pencil, mechanical pencil and fine liners on paper. Working directly from life, photographic imagery and memory, his work falls into two distinct areas: architecture and portraiture. His architectural drawings are precisely detailed, carefully constructed to represent the beauty and energy of the subject in its location. His recent work centres around portraits and shirt designs based on the FA Premier League. This expansive series features over 100 drawings exploring the sport's culture, aiming to tackle forms of discrimination and racism prevalent within the sport and wider society. As part of his practice, Brian sets up temporary working spaces around London to produce and exhibit work, creating new ways of communicating with audiences.
Maz Murray, they/he
Maz Murray (b. 1995, Basildon) is an artist working across film, writing and performance. They use satire, surrealism, melodrama and humour to discuss queer and trans identity, class and the complexities of public life by repurposing and subverting pop cultural tropes such as music videos, television documentaries, talk shows, social media content and cinema. Their work haphazardly charts the creation of artificial landscapes – from New Towns and shopping centres to queer spaces and imagined utopias – and the struggles that shape them.
Their work has been included in various group exhibitions and screenings, such as Outfest, Los Angeles (2022); KinoKraat, Nicole, Amsterdam (2022); Mascara Film Club, London (2021); QueerCircles TV, (2020); London Short Film Festival, RichMix, London (2019); and the Artists' Film Club, ICA, London (2018). They graduated from Chelsea College of Arts with a BA in Fine Art in 2017. They will have their first institutional solo show at Focal Point Gallery in 2024.
Emily Pope, she/her
Emily Pope (b. 1990, London) is a visual artist working across moving image, printmaking, radio, creative writing and publishing. Her research explores a history of experimental contemporary broadcast media with a focus on humour and satire, feminism, political rhetoric and class politics, and ways of challenging dominant power structures.
Pope has exhibited in solo and group exhibitions at Ginny On Frederick, London (2023); Sundy London (2022); Wysing Arts Centre, Cambridge (2022); The Box Museum, Plymouth (2021); VO Curations, London (2020); Tate Britain, London (2019); Peak Gallery, London (2019); Paradise Works, Manchester (2019); The Royal Standard, Liverpool (2018); Serf, Leeds (2018); Hester Gallery, NYC (2018); VI VII, Oslo (2017); HA HA Gallery, Southampton (2017); Auto Italia, London (2017); and Turf Projects, London (2015). She has made radio serials for Resonance FM, Comet Radio, Synaptic Island and Montez Press Radio. 
Shamica Ruddock, she/they
Shamica Ruddock (b. 1992, London) is an artist-researcher working between sound and moving image. Ruddock considers the ways that Black diasporas are engaged and presented, particularly interested in how black techno sonic production functions as a form of speculation, narrativising and space-making. Through film Ruddock explores Afro-Caribbean puppetry, masquerade and oral folk storytelling traditions. Black temporalities, dispossession and fugitivity are also important points of departure.
Recent solo exhibitions have been held at South London Gallery (2022) and Treasure Hill Artist Village, Taipei City (2019), with previous screenings at not/nowhere, London (2023); Bertha DocHouse, London (2022); and Abandon Normal Devices, Manchester (2021). Ruddock shares an ongoing project with Glasgow-based artist Hannan Jones. They have performed at Cafe OTO alongside Pat Thomas (2023) and at Counterflows, London (2022). Ruddock was a 2020 Open School East Associate Artist.
Meera Shakti Osborne, she/they
Meera Shakti Osborne (b. 1992, Tottenham) is an artist and youth worker from north London whose work focuses on collective healing through self-expression, exploring the potential of art as a tool to share stories that might feel sidelined. Shakti Osborne's practice engages with accessibility and confidence building in both formal education settings and casual encounters across sound, digital media, oil painting, zines, breathing, talking and dancing. In recent years Shakti Osborne has focused on questions around history-making, the ethics of collaboration and processes that allow for flexing, glitches and love.
Recent exhibitions include department of Unruly histories at Cubitt Gallery, London (2023). Shakti Osborne has worked with The Drawing Room, Focal Point Gallery, iniva, Kala Bhavana Visva Bharati, Newbridge Project, Nottingham Contemporary, Peckham Platform and Reprezent FM, and they are a visiting lecturer at University of the Arts London. Shakti Osborne studied Design at the Central School of Speech and Drama in 2015, and at the Cairo Institute of Liberal Arts and Science in 2018.
Nick Smith, he/him
Nick Smith (b. 1982, Liverpool) works primarily in video collages and photographic installations to explore the theme of class within the context of the built environment. Smith's archive of photographs, videos and research materials, compiled from his work as both an artist and property inspector, serves as the primary source for his work. He aims to create images that evoke a sense of connection between the past and present, focusing on moments of arrival and departure, regional identity, memory and the residue of place and its relation to social change.
Ossie William, he/they
Ossie Williams's (b. 1993, St Lucia) work is an intimate exploration of Afro-Caribbean culture and identity. Through photography, film and screen printing, Williams documents their formative experiences within the Caribbean and explores the intersectionality between community, religion and queerness. A central theme in their work is the construction of Otherness within the Afro-Caribbean community and its relationship to religious conservatism, hyper-masculinity and sexuality. Additionally, Williams considers the complexities of memory, a yearning for intimacy and a sense of belonging.
The LOEWE FOUNDATION
The LOEWE FOUNDATION was established as a private cultural foundation in 1988 by Enrique Loewe, a fourth-generation member of LOEWE's founding family. Today, under the direction of his daughter Sheila Loewe, the Foundation continues to promote creativity, organise educational programmes and protect cultural heritage in the fields of craft, art, design, photography, poetry and dance. The Foundation was awarded the Gold Medal for Merit in the Fine Arts by the Spanish government in 2002. @loewefoundation
LOEWE & Culture
Culture is at the core of LOEWE's DNA, exemplified by a longstanding commitment to creativity in all forms and disciplines. Reflecting fashion's vital link to contemporary life, a strong emphasis on art, design and craftsmanship has been a cornerstone of creative director Jonathan Anderson's rebuilding of the brand, one of the world's oldest luxury houses. Since Anderson's appointment in 2013, LOEWE has initiated a series of collaborations with artists and artisans who reinterpret and expand the brand's values. Aside from showcasing the many facets of LOEWE, these cultural projects reflect the transfer of knowledge and the cooperative spirit that have been characteristic of LOEWE since it was founded as a collective of leathermakers in 1846. 
Categories
Tags