Christie's and Gucci present  Future Frequencies: Explorations in Generative Art and Fashion.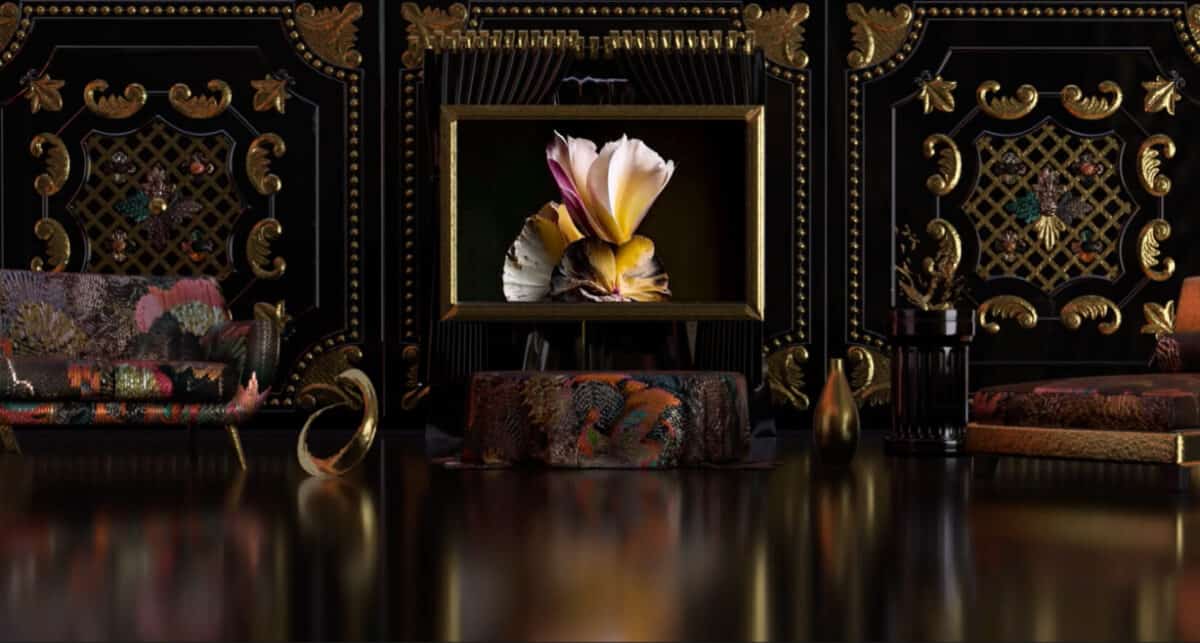 This collaborative auction showcases a number of today's leading talents in the digital art space, featuring a diverse group of artistic notables with a distinct focus on generative systems and artificial intelligence. The sale comprises 21 NFTs, including examples from Claire Silver, Emi Kusano, Emily Xie, William Mapan, Zach Lieberman, Botto, Helena Sarin, DRAUP, among others.
Christie's is so thrilled to present Future Frequencies, Explorations in Generative Art and Fashion in collaboration with Gucci. The auction features a select group of artists heavily inspired by the design and production of garments, textiles and the fashion industry at large. The outputs they've created range from abstract to literal and are completely fascinating, changing the way we can think about using algorithms and data to advance human creativity across fields. We are particularly excited to showcase this auction and exhibition alongside Christie's seventh Art + Tech Summit this summer in New York City.

Sebastian Sanchez, Manager of Digital Art Sales, Christie's
In each of their works, the artists creatively explore intersectional aspects of fashion, art, and technology, with themes ranging from generative textile studies to algorithmic interpretations of the iconic Gucci Bamboo 1947 handle. This interplay between autonomous systems, AI, and fashion represents a fusion of disparate ecosystems – overlaying fashion, an industry concerned with garment design and production, onto the worlds of generative art and artificial intelligence, which employ algorithms, modeling, and data to simulate human-like intelligence and artistic output. The result is a pioneering take, with many female artists' perspectives, on the many opportunities at the cutting-edge of creativity and technology. It's an invitation to avant-garde thinking, with the motivation to propel radical new ideas and concepts around fashion's supporting technologies towards future realities.
 I'm very proud to present two works: Shinjitai, created in collaboration with Emi Kusano for Gucci, and style moderne, a solo piece for Christie's. Shinjitai, which translates to "new character forms," is wearable art that uses AI to merge the storied aesthetic of Gucci with the spirit of Harajuku fashion. Inspired by Art Deco, style moderne uses machines to create an intimate digital home for its collector. Combining AI, 3D, film, and advanced mathematical functions with antique paintings and tapestries from China, Japan, and Eastern and Western Europe, both works are intended to celebrate the era of AI: the sophistication of experience, the innocent joy of the new, the depth of cultural heritage, and the light of the future. In the spirit of our digital+physical world, both works include physical components for their collectors–from rolls of fabric to hologram displays.

Claire Silver
The auction will take place on Christie's 3.0, a fully on-chain auction platform launched by Christie's in 2022, and the works will also be highlighted on Gucci Art Space, Gucci's online gallery space spotlighting and empowering artists by providing them with the freedom and latitude to harness uncharted, innovative concepts and expressions at the intersection of fashion and art, to disrupt and redefine existing norms. It follows up on Gucci's launch of its Vault Art Space back in 2022. Unbound by physical walls, this purely digital environment presents an immersive whirlwind of creativity since its debut auction and exhibition, The Next 100 Years of Gucci, auctioning a selection of NFT artworks, each a visionary and collectible fragment of Gucci's kaleidoscopic heritage.
Future Frequencies: Explorations in Generative Art and Fashion, open for bidding July 18th – 25th, 2023: nft.christies.com
Categories
Tags