Lee Sharrock selected 7 standout artists from the Central Saint Martins Postgraduate Art Shows
Summer is well and truly here, and so are the annual graduate art shows, including the Postgraduate art show of Central Saint Martins, the world-renowned art school in London's Kings Cross, where the next generation of artists, designers, curators and innovators are developing and experimenting their practice.  The MA Contemporary Photography, practice and philosophies, MA Fine Art, and MA Fine Art: Digital shows are all open to the public, and there are some exciting artists exploring vital issues of contemporary society including; Artificial Intelligence and humanity's future, sustainability and the climate emergency issues of gender parity, post-feminism, sexuality, cultural identity and racial equality. 
1. Yiying Liu
Yiying Liu's 'Centaur' is a captivating film commenting on a future where AI has taken over, and warns of a future where humanity and machines create new species. Yiying Liu explains:
This work delves into the ethical and social consequences of the convergence of humans and machines in the rapidly evolving realm of artificial intelligence. By drawing parallels between AI and Centaur, it prompts inquiries about the ethical frontiers between humans and objects, as well as humans and nature, within the domain of artificial intelligence.
2. Rihanata Bigey 
Winner of the Tension Fine Art Gallery prize, Rihanata Bigley, is exhibiting 'SAVAGE', created with Ink drawing, raffia, collage and acrylic on wood.  
The artist explains: 
SAVAGE explores the representation of black women, their iconographic significance in cross-cultural and historical context and their representation as icon, object and subject of fantasy.The work embodies a process of deconstructing stereotypes associated with the representation of black women in collective and public memory by exploring inherited colonial languages and it's hidden meanings attached to the culture and narrative of the Africa and it's diaspora. SAVAGE exposes multiple layers of visible and invisible trauma and identity but also celebrates black women in all their diversity.
3. Veronika Flint
Veronika Flint exhibits a beautiful collection of ceramic deer heads titled 'Rewilding the post-Anthropocene'. Flints sculpture examines the effects of man-made climate disasters, which she says "will outlive humanity by aeons, but new species will evolve in the wastelands. These deer are the product of one such evolutionary branch."  @olopottery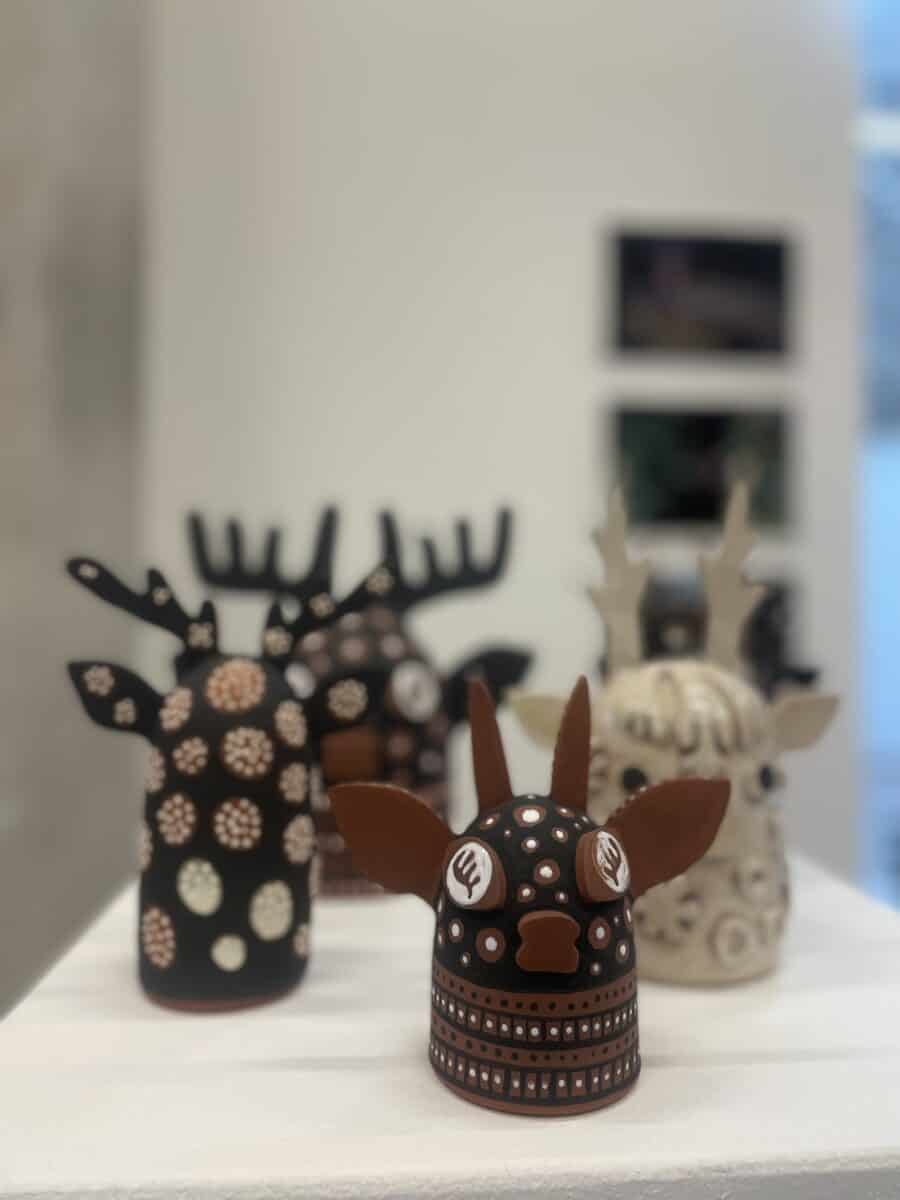 4. Heiyi Tam
Heiyi Tam's candy-coloured canvases have delicious titles such as "buttered pears and a sugar-filled fever dream", look good enough to eat, and evoke culinary experiences such as "a squeeze of lemon and its lingering citrus echoes in the air, or the quiet whispers of simmering sweet tea on the kitchen stove."  @heiyitam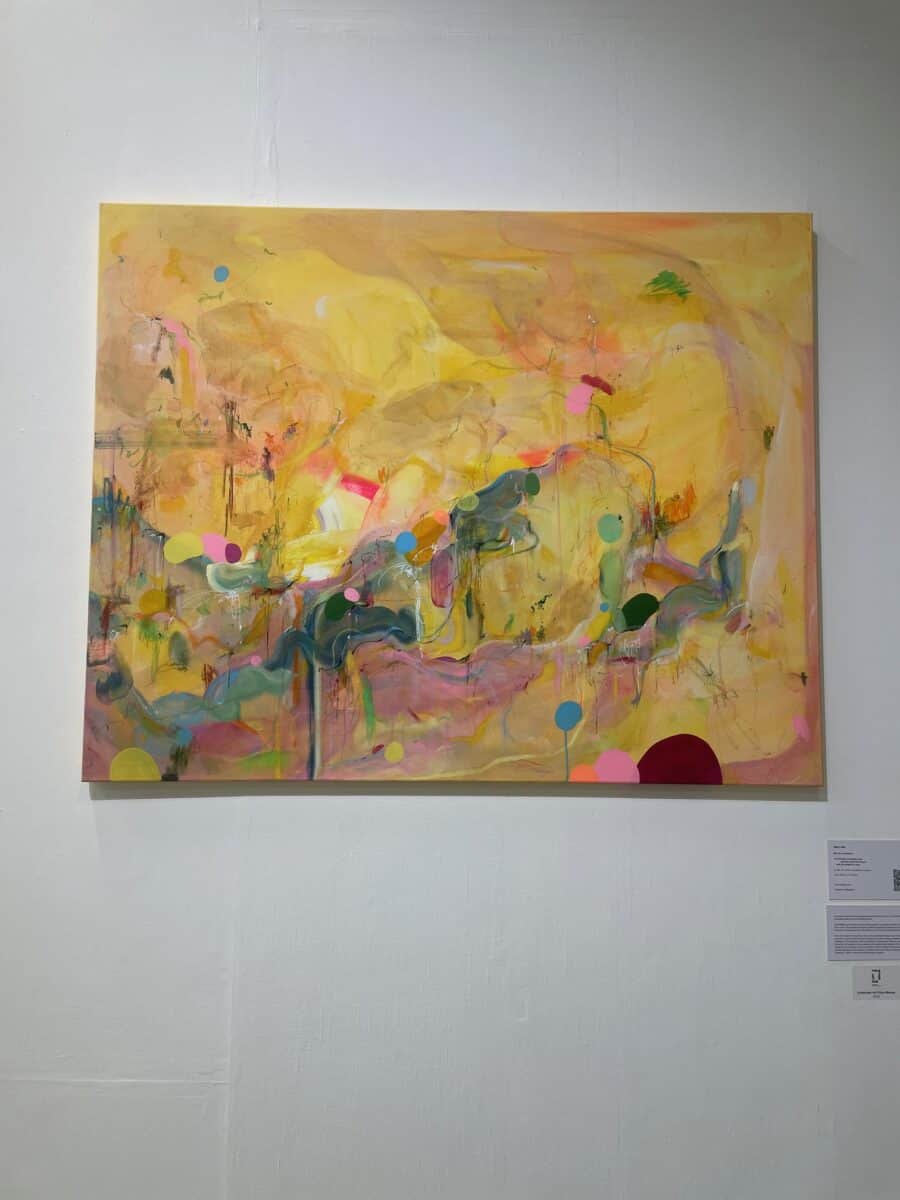 5. Mathilda
Mathilda's installation 'JOAN of Arc' is inspired by Baudelaire's 'The Flowers of Evil', and features a chair with internal organs spilling out of it, continuing the legacy of feminist artists such as Louise Bourgeios and Tracey Emin.  
"The inspiration of my work involves Baudelaire's The Flowers of Evil, and his symbolism. At the same time, I was attracted to classical tragedy, as the name of my work is Joan of Arc, I chose a French-style chair as my foundation. I want to express the connection with the body in my work, so I used Deleuze's theory of the "the body without organs" as a reference for my work. Of course, the biggest inspiration behind the work is my personal identity, I am a feminist and I want to present the power of females, the struggle, and the feeling of being torn apart by women in a patriarchal society." @mathilda_LLLLLLL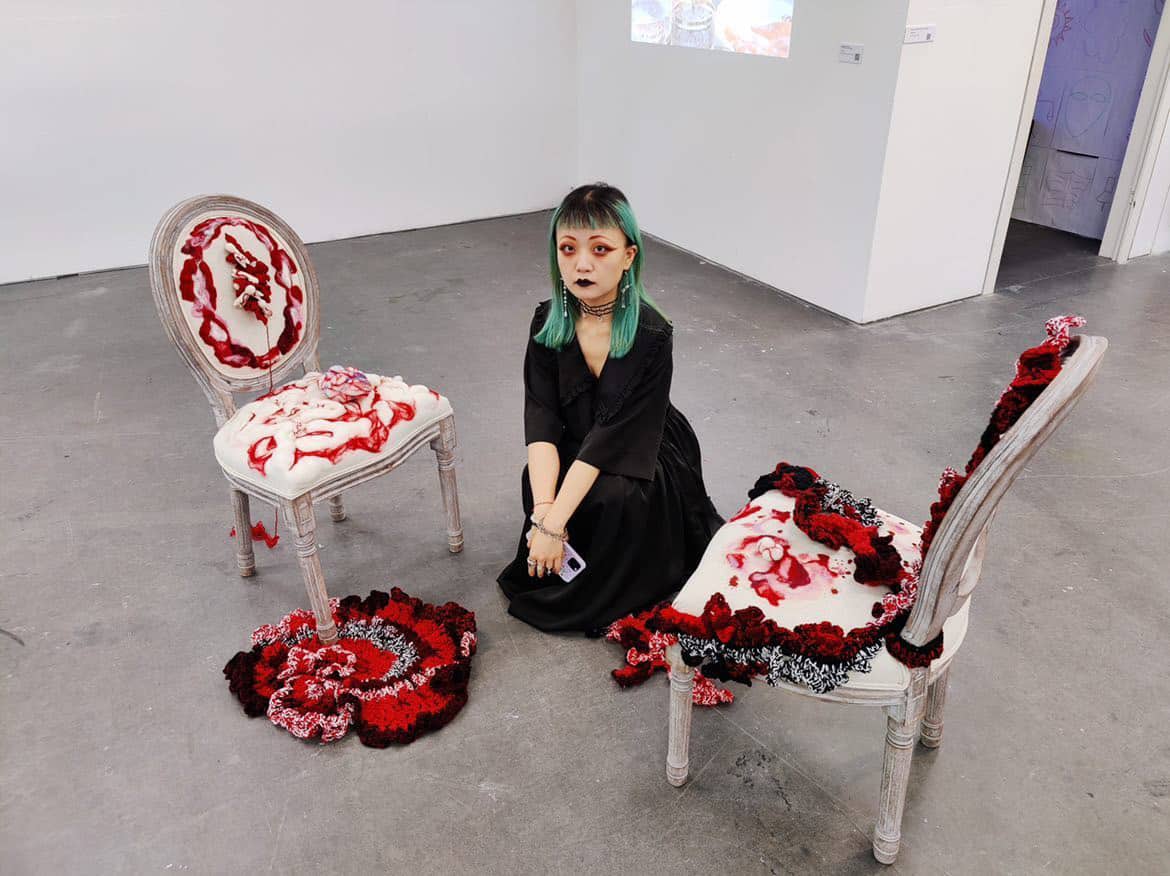 6. Vesper Xander 
Vesper Alexander's wearable sculptures repurpose razor wire in a subversion of the "aesthetics of violence". 
Vesper Xander: 
"When I first started working with razor wire, I was attracted to the promise of security associated with it, especially in relation to bodily autonomy and self-determination. On the other hand, my work is driven by the inherent contradictions of our modern society, particularly our conflicting desires for self-protection and the isolation that often results. Through my work I seek to subvert traditional symbols of violence by tunring them into garments that challenge traditional definitions of strength and safety, while re-imagining the characteristics of body armour."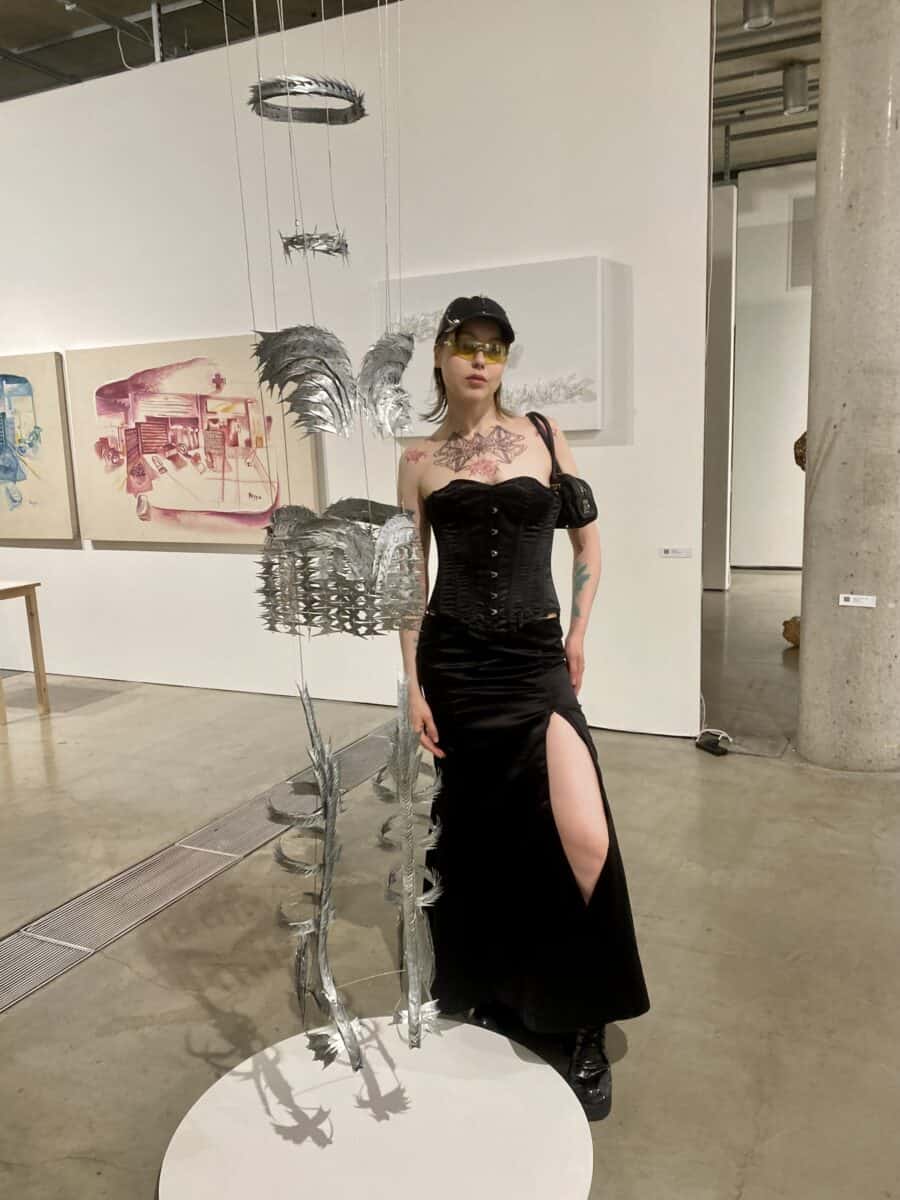 7. Qin Huang 
Qin Huang's moving sculpture 'SYNFEMALE' is described as 'a practice in feminism' which pushes back against misogynist stereotypes of women, and uses mechanical systems to comment on how patriarchal society manipulates women.  @jessyhuang2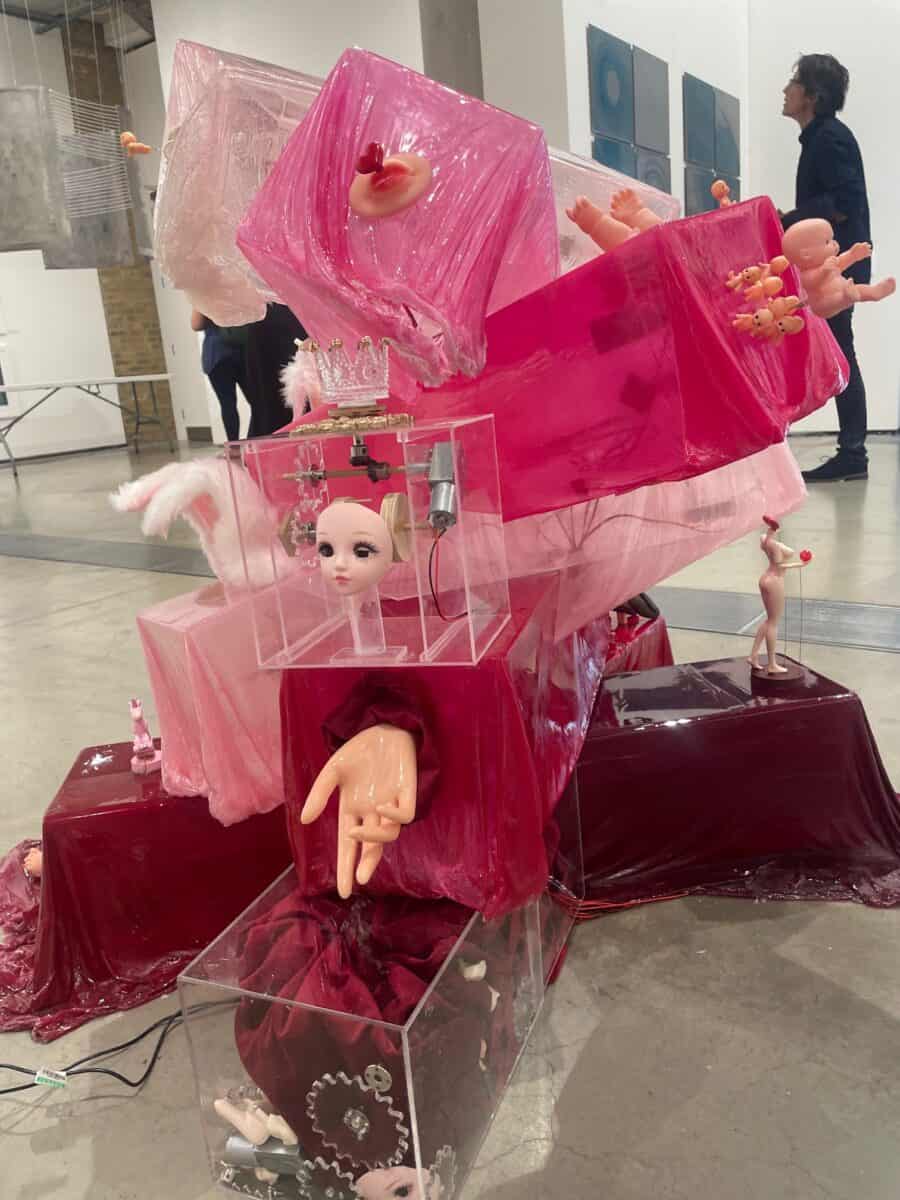 Central Saint Martins Postgraduate Art Show is open to the public in Granary Square arts.ac.uk/colleges/central-saint-martins
Categories
Tags