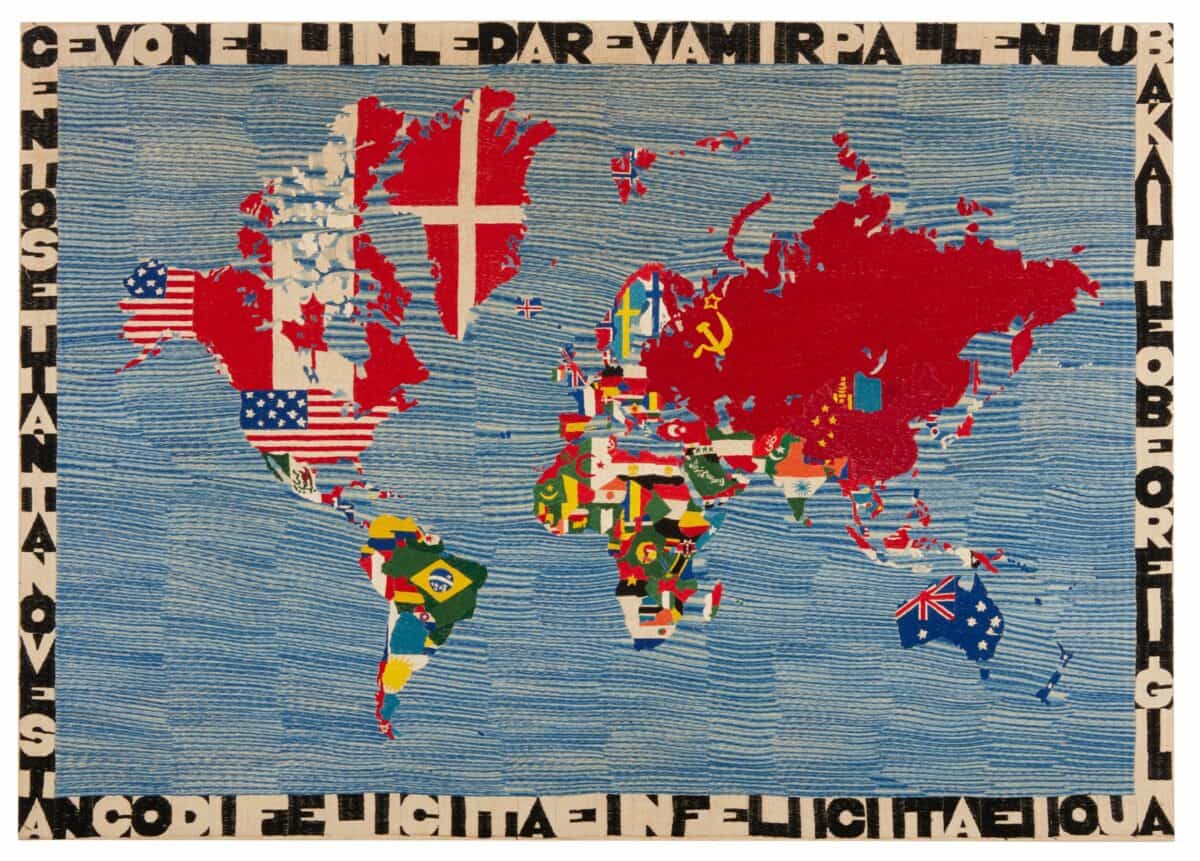 Ben Brown Fine Arts to open Alighiero e Boetti: Regola e Regolarsi, curated by Mark Godfrey, to be presented across the London galleries and Claridge's ArtSpace, in the heart of Mayfair.  
Ben Brown Fine Arts have steadfastly exhibited Boetti's work over the last two decades, with seven solo exhibitions and numerous group shows at both the London and Hong Kong galleries, highlighting our depth of interest and expertise in 20th-century post-war Italian art.  This exhibition brings together iconic examples from various periods of Boetti's oeuvre, including Arte Povera objects, Mappe, Arazzi, Aerei, Faccine, Biro and other experimental works on paper, and a rare rug (Tappeti) and kilim.  Esteemed art historian, curator and critic Mark Godfrey, a Boetti scholar who organized the seminal retrospective Alighiero Boetti: Game Plan for Tate Modern, London, which traveled on to the Museum of Modern Art, New York, and Museo Reina Sofía, Madrid, has conceived of this exhibition to present Boetti's work in two distinct embodiments – Regola ('Rules') and Regolarsi ('Adjustments'), as well as a private viewing space of experimental works on paper by the artist.
In the main gallery at 12 Brook's Mews, Godfrey brings together a group of works exemplifying Boetti's Regola ('Rules'), elucidating the key conceptual strategies the artist explored in the late 1960s and 70s that would serve as the foundation of his future practices and investigations.  The works here will demonstrate Boetti's explorations of serial schemes and systems; his innovative approach to self-portraiture; his use of language; and his way of producing work with the assistance of unknown third parties.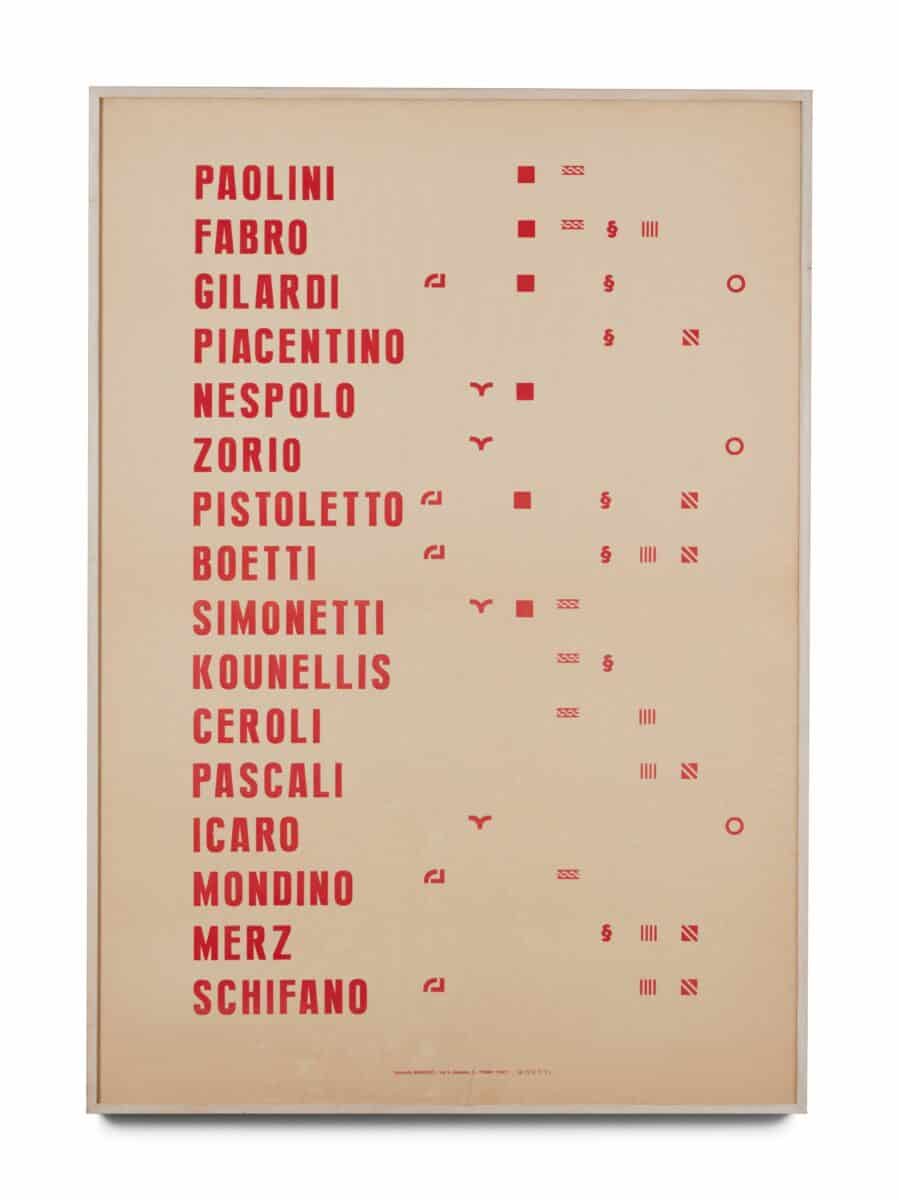 Alighiero e Boetti: Regola e Regolarsi continues at Claridge's ArtSpace, where the notion of Regolarsi ('Adjustments') is investigated, featuring resplendent Aerei, Biro, Mappe and Arazzi spanning the artist's career.  While Boetti's work remained conceptually rigorous, it became more sumptuous, colourful, and expansive.  The scale grew, and the material range too.
At the gallery's private viewing space at 52 Brook's Mews a selection of works on paper, including collages, friezes, cut-outs and other experimental pieces, will be exhibited.  While Boetti employed assistants and craftspeople to produce his Biros, to print the outlines of his Mappe, and to embroider his works, he also worked alone in his studio on these kinds of paper works.  He explored many techniques of printing, ink blowing, and tracing, and his paper works have a profound intimacy to them.
Alighiero Boetti: Regola e Regolarsi, Ben Brown Fine Arts London and Claridge's ArtSpace 12 Brook's Mews, London W1K 4DG 2 June – 31 August 2023
Mark Godfrey is a curator and critic based in London. From 2007 to 2021 he was senior curator at Tate Modern, London, where he curated and co-curated shows including Alighiero Boetti Game Plan; Soul of a Nation: Art In The Age of Black Power; and retrospectives of Sigmar Polke, Roni Horn, Franz West, and Gerhard Richter. Godfrey also curated Christopher Williams: The Production Line of Happiness, a retrospective that debuted at the Art Institute of Chicago before traveling to the Museum of Modern Art, New York, and Whitechapel Art Gallery, London. Godfrey won the Absolut Prize for Art Writing in 2015 and recently co-edited The Soul of a Nation Reader. In 2021-2022, Godfrey curated the exhibitions Laura Owens & Vincent Van Gogh at the Fondation Vincent Van Gogh, Arles; Jacqueline Humphries: jH1:) at the Wexner Center for the Arts, Columbus, Ohio; and Anicka Yi's Turbine Hall project, In Love With The World, at Tate Modern, London.
Categories
Tags