5 Artists to explore from Frieze New York-  Frieze New York returned for the fair's third edition at The Shed in Hudson Yards with a robust lineup of 69 local and international exhibitors, both seasoned and new. Brooklyn-based art writer Vittoria Benzine attended eight art fairs for the first time over 2022 — a crash course rife with lessons, namely the commodity of earliness. She holds Frieze amongst the city's most anticipated annual occasions, but this year preferred easily arriving on the event's second public day to savor the scene and snap photos. Despite stunning solo shows in the first floor's main hall by Naudline Pierre and Nan Goldin, this year's fair felt staid for more reasons than Friday, down to the Frieze Projects adorning the escalators between all four floors, like ektor garcia's very delicate installation La Llorona. Elsewhere, she noticed one of the very same paintings she'd seen on display last year.
While Benzine has come to crave the reunion element of art world events like this, Frieze marked a unique opportunity to commune with the driving purpose at the occasions's core — creativity. As we perused the fair in full, here's five artists we were psyched to learn more about at Frieze New York 2023.
Pam Glick (with Stephen Friedman, London)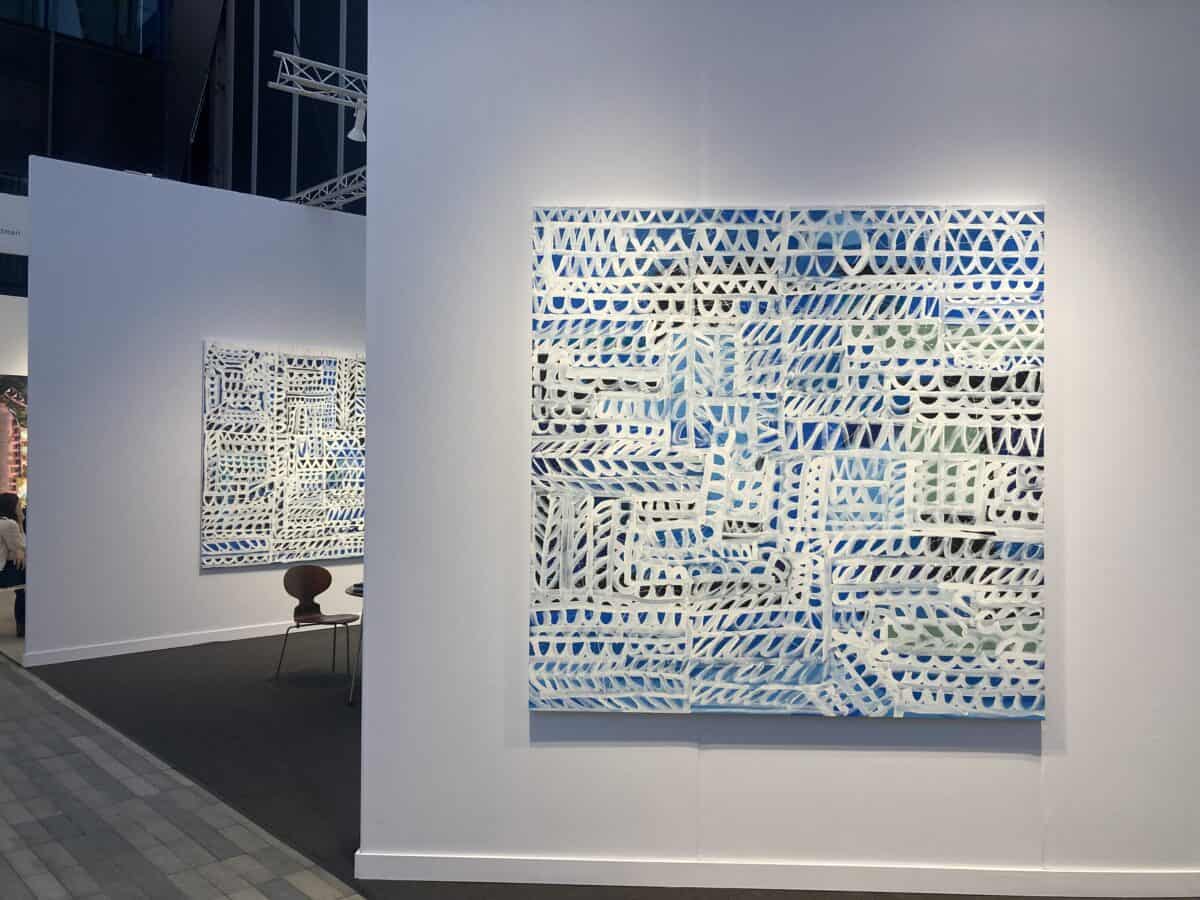 Glick was the first artist I saw at Tennis Elbow when I first learned of the TriBeCa gallery in 2021. Though that remains her most recent solo show, Glick's unmistakable style halted my limber, unassuming and scanning eyes on Frieze's first floor. Regardless of my personal affiliations, I think that's an incredible feat for an artist — using the formless to create a recognizable language. Matthew Higgs curated her large "playground" abstractions at a well-received White Columns show back in 2016, but this year, he assembled solo displays of Glick's work with Stephen Friedman at both Frieze and Independent, the week before. At the Shed she showed a new series titled 'Box of Rain' in more tranquil tones than I'd seen thus far, pitted against the action of her muse Niagara Falls, close to the artist's upstate studio. 
Yoo Geun-Taek (with Gallery Hyundai, Seoul)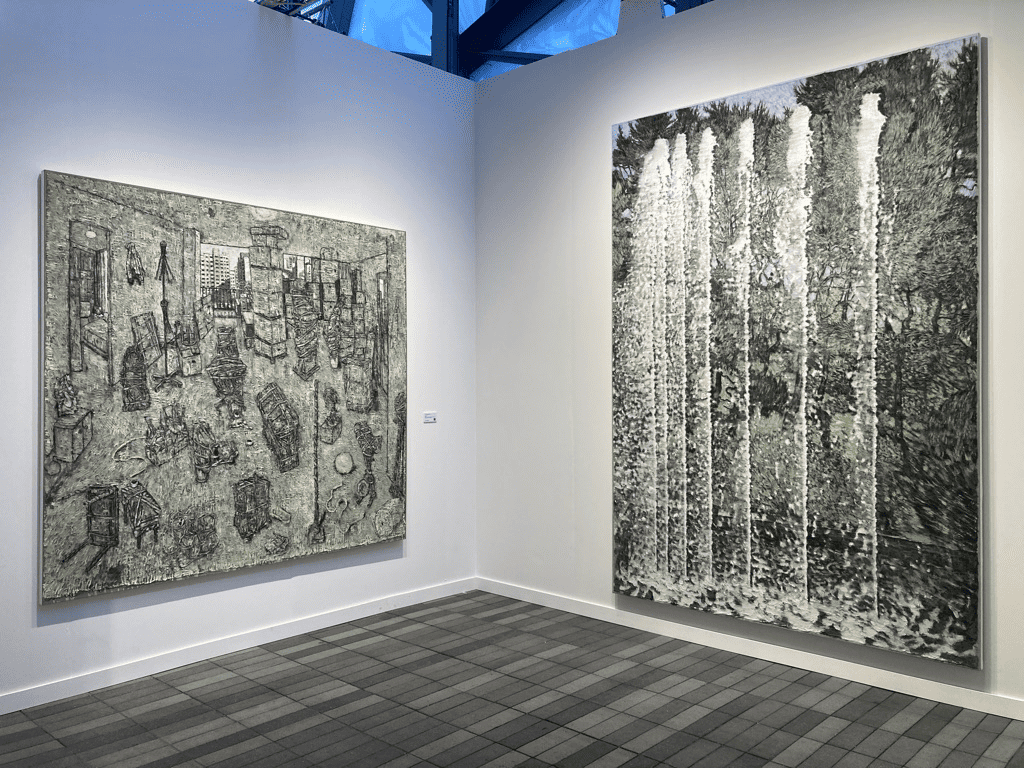 Though his work appeared—and sold!—with the same exhibitor at this very fair last year, Gallery Hyundai devoted their whole booth for the first time to this contemporary Korean painter's vigorously tactile abstractions, which some viewers aptly likened to experiences with forest bathing while I was eavesdropping on the floor. 29 available paintings span nearly 15 years of Geun-Taek's practice, rooted in Korea's formal Dansaekhwa movement — the face of Korean contemporary art circa 1970. The artist participates in the genre's next generation by pairing narrative figuration with abstraction, much like these canvases all layer painting, Hanji paper, and layers of ink and oyster shell powder at once.  
Shipibo Conibo Center (with Clearing, New York)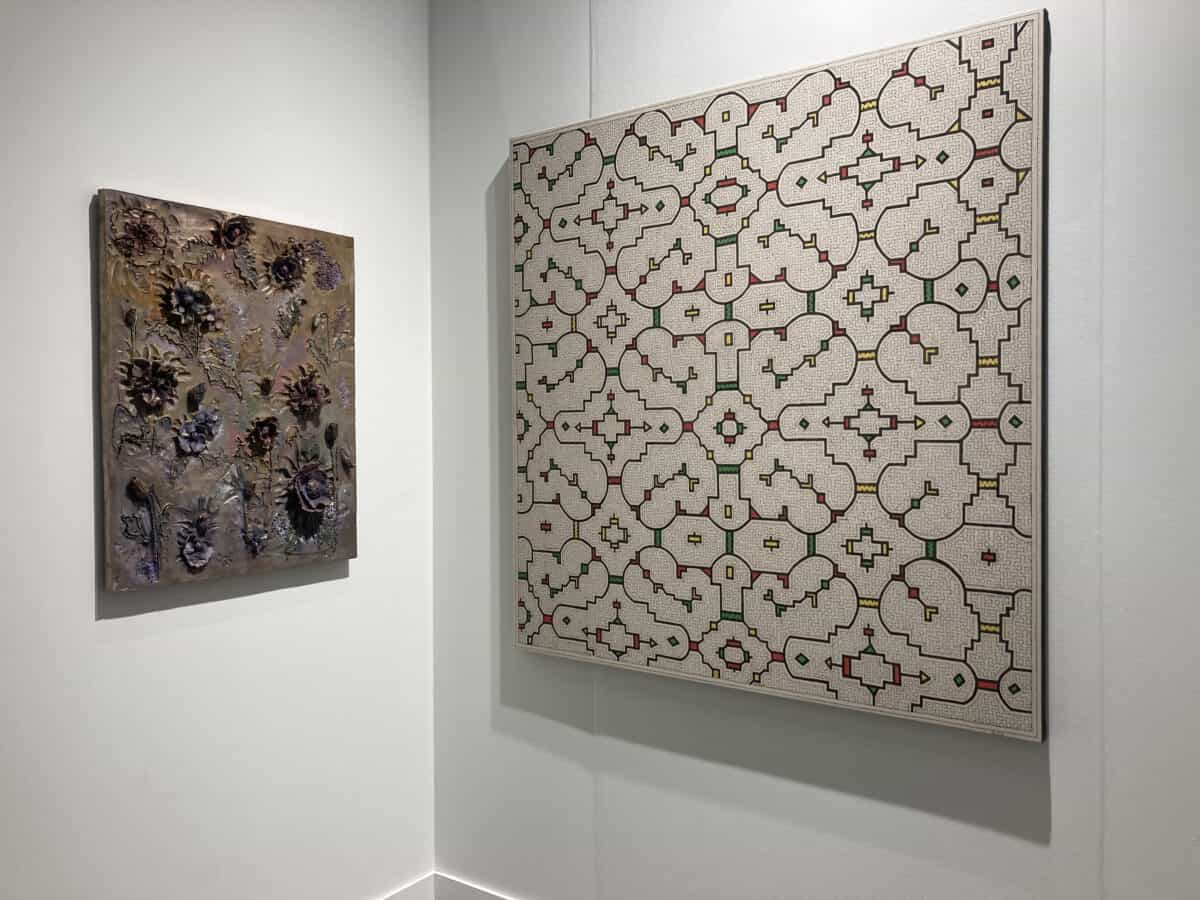 Everything at Clearing's booth, adjacent to the fair's impeccable "Focus" section, was worth seeing — particularly Dallas-based sculptor Hugh Hayden's desk made of sharpened pencils. The gallery, a new Bowery transplant by way of Bushwick, is well known to launch stars. However, when I looked into who produced the mesmerizing patterns of vegetal dyes on cotton across from Hayden's bark Telfar bag, I was surprised that it was by Sara Flores, presented through a whole group — the West Harlem-based Shipibo Conibo Center, sustaining "Indigenous self-determination and territorial sovereignty as well as visual arts, music, and ethnobotanical research—which in the Shipibo-Konibo lifeway are inseparable."
Mary Bauermeister (with Michael Rosenfeld Gallery, New York)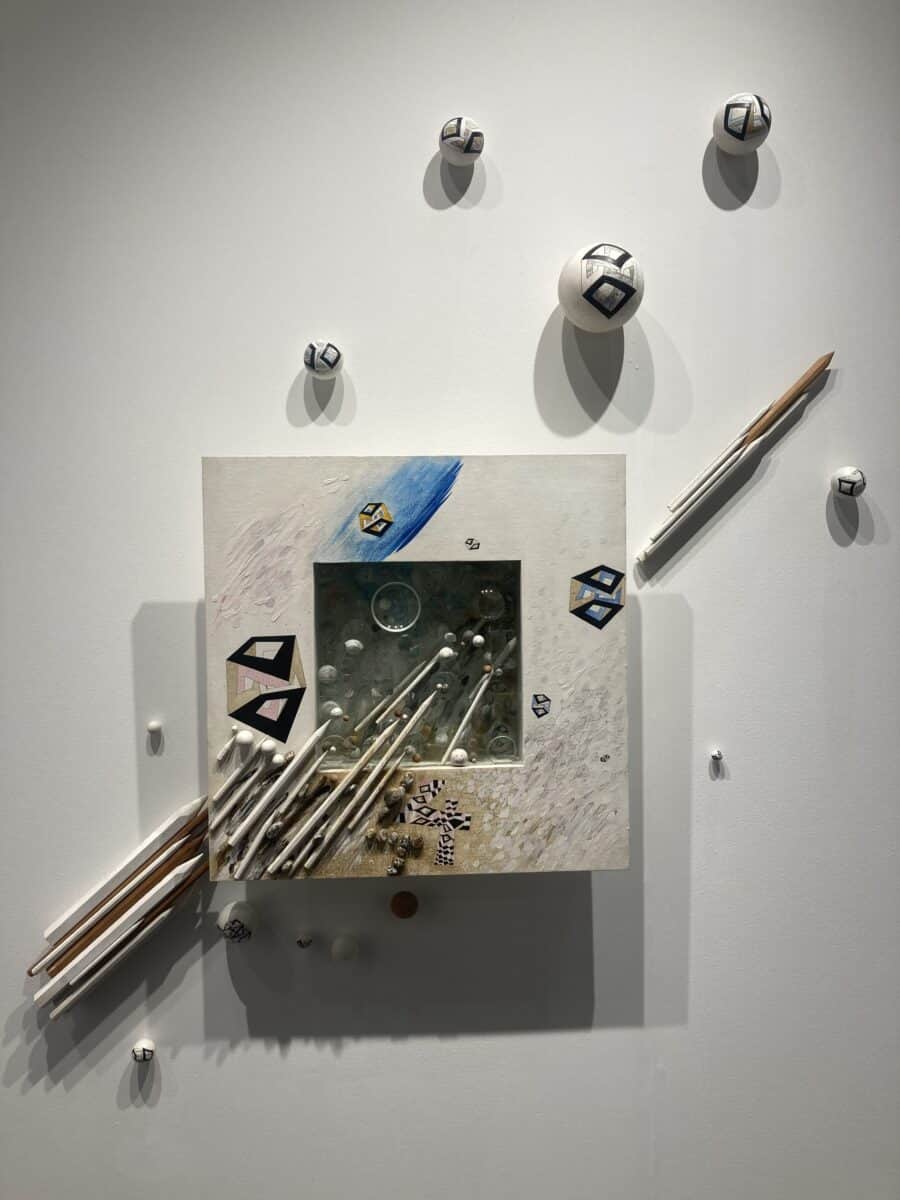 Mary Bauermeister passed away in March, and while I prefer to honor artists while they're alive, to cheer them on and fuel their work, I got happily roped in by one of her hypnotic lens boxes on the uppermost sixth floor, like a whirlpool with its depths. A cornerstone of the Fluxus Movement, Baurmeister managed to move in the background, directly influencing John Cage and Nam June Paik — artists with bigger names outside of Bauermeister's native Germany, where she was based for most of her career, save for a stint in New York throughout the 1960s. At least in this instance, emulating Bauermeister posthumously might share her legacy yet keep the focus on her output and ethos, rather than legend.
Daniel Otero Torres (with Mor Charpentier, Paris)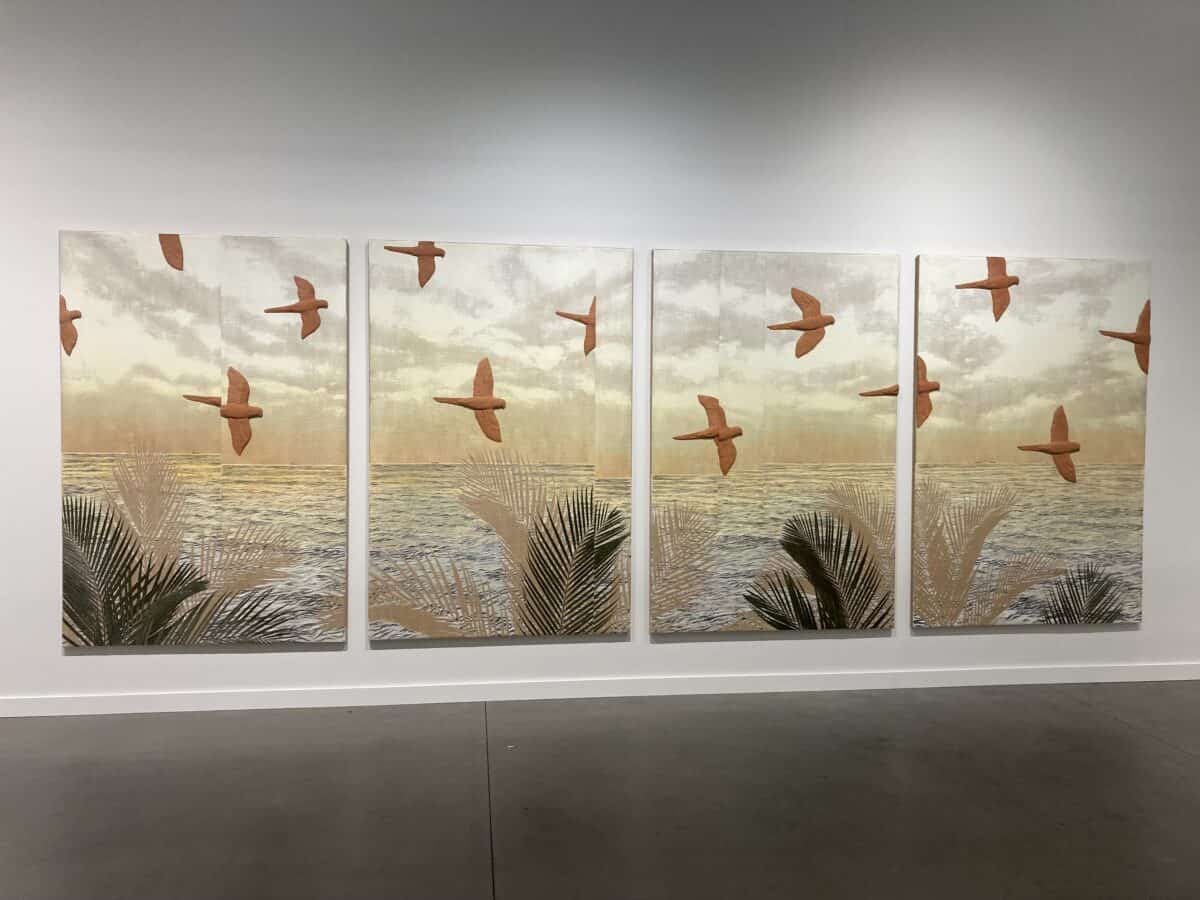 I wasn't the only one drawn to this set of four large works by Parisian-based Otero Torrres on Frieze's showstopping fourth floor. We all zoomed in and out with our feet in sync to the meditative rhythm of these mixed media and acrylic scenes on burlap, totally grounded in water but imbued with flight and some surrealism, in the disjointed bits where tails and faces get cut off. For all their monumentality, the most critical detail to these works emerges only for the closest eyes to savor as minuscule silhouettes of ships on the horizon, inspired by coal vessels the artist saw in Colombia's Santa Marta Bay as a kid.
Categories
Tags