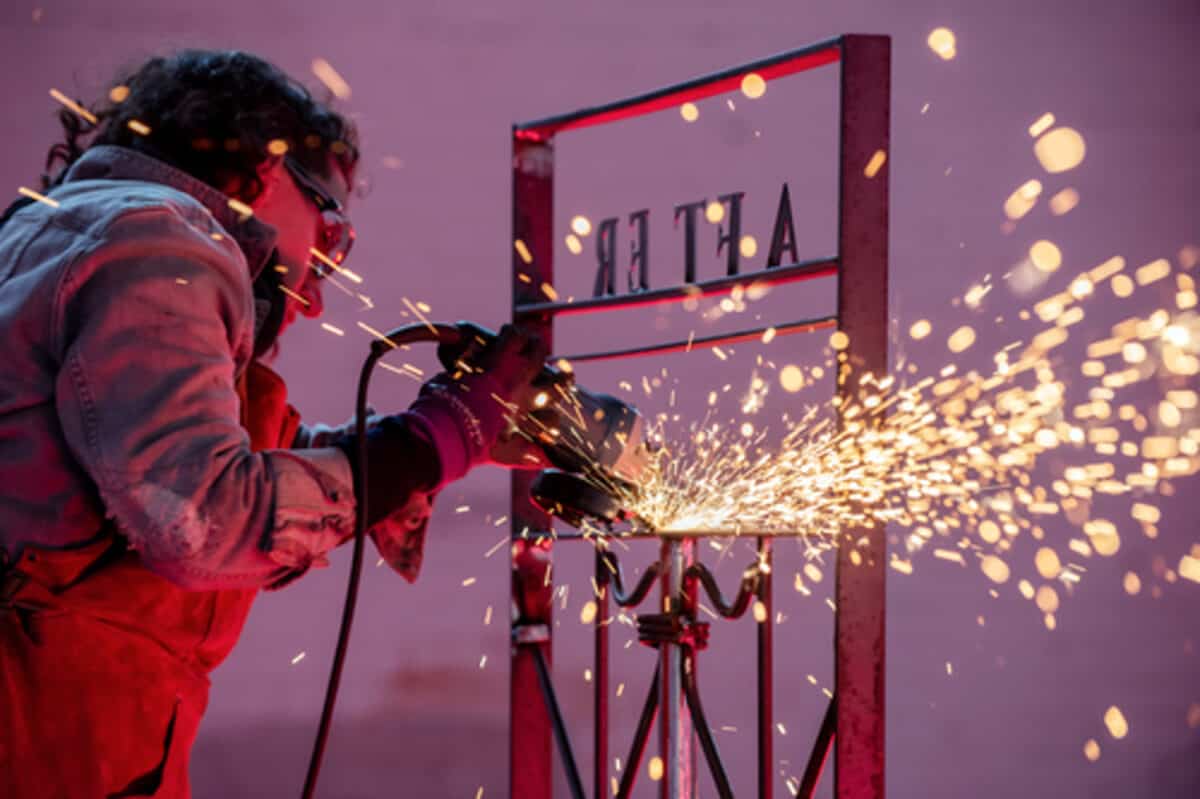 'Arbeit Macht Frei' is the grisly slogan that was welded into the black ironwork of the front gate of the Dachau death camp. Work will make us free: that's nasty, the sickest of sick jokes. In 2014 the gate was stolen, and a local blacksmith forged a replica. In 2022, artist Rachel Mars forged a replica of the replica. This was subsequently dismantled, and over four days of FORGE, developed as part of the Barbican Open Lab programme and presented in the Barbican's Pit Theatre, she is welding the iron gate replica a second time. Watching the work of the welding on the first night was laborious and a bit of a strange thing to pay money to do; it's more like something you might wander in and out of at a bigger show rather than the show itself.
As a durational work, it's not compelling. It's tedious work, with a lot of measuring to the millimetre, hammering, remeasuring, tapping, eating an apple, dabbing with baby wipes. The actual welding is when the sparks literally fly, but it is infrequent. It's immersive fun for sensory deprivation fans to wear the apron and the full-on Darth Vader welding mask with the visor that goes dark whenever the sparks flash. FORGE is not intended to be entertainment, and as a work, it starts to get more interesting when you think about it as work about work,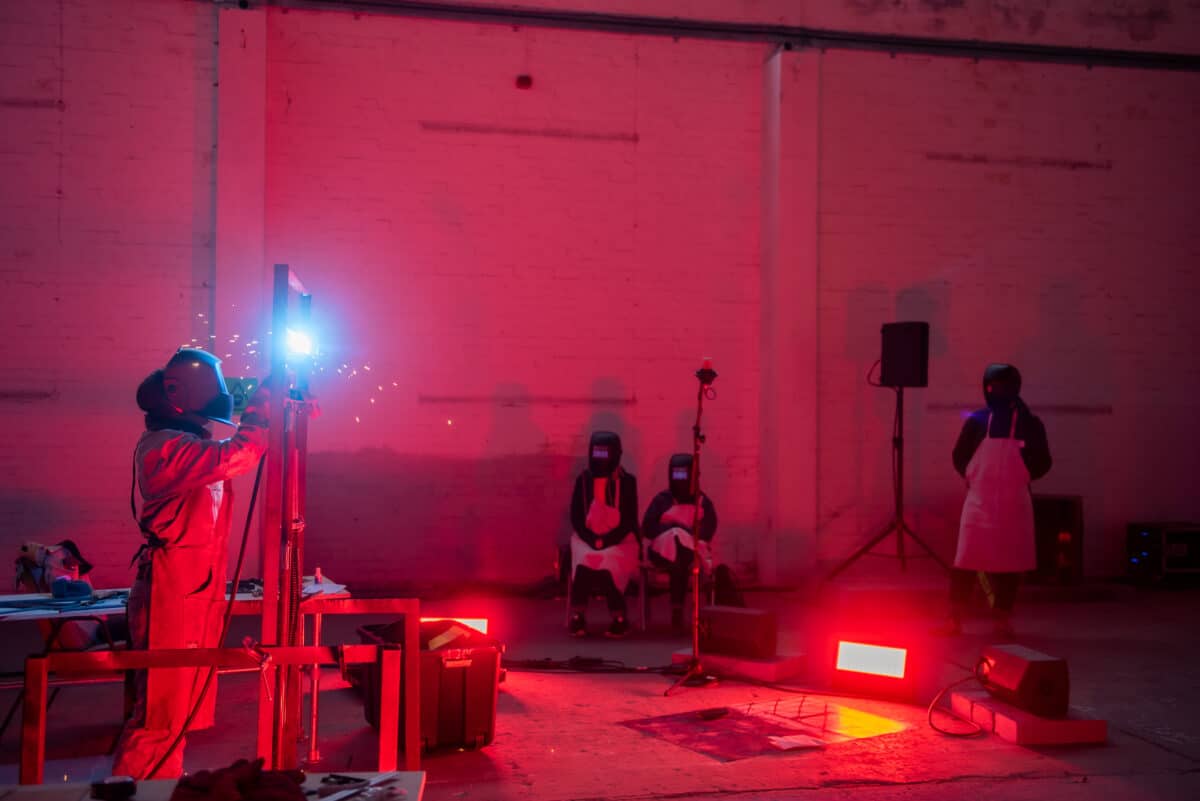 Work is both noun and verb, especially in art. All the works of Martin Creed's work are simply called "Work No. ####". Rachel Mars's Forge is an (art)work wherein she works on a piece of (iron)work. It's intended to interrogate the notion of memorials, but it's potentially more interesting than that. Mars's performance work is rooted in Queerness and complex Jewishness, and Forge provocatively works these dialogues using historical reference and eclectic sound design in ways that make you think about what art is and how our relationship to it is constructed.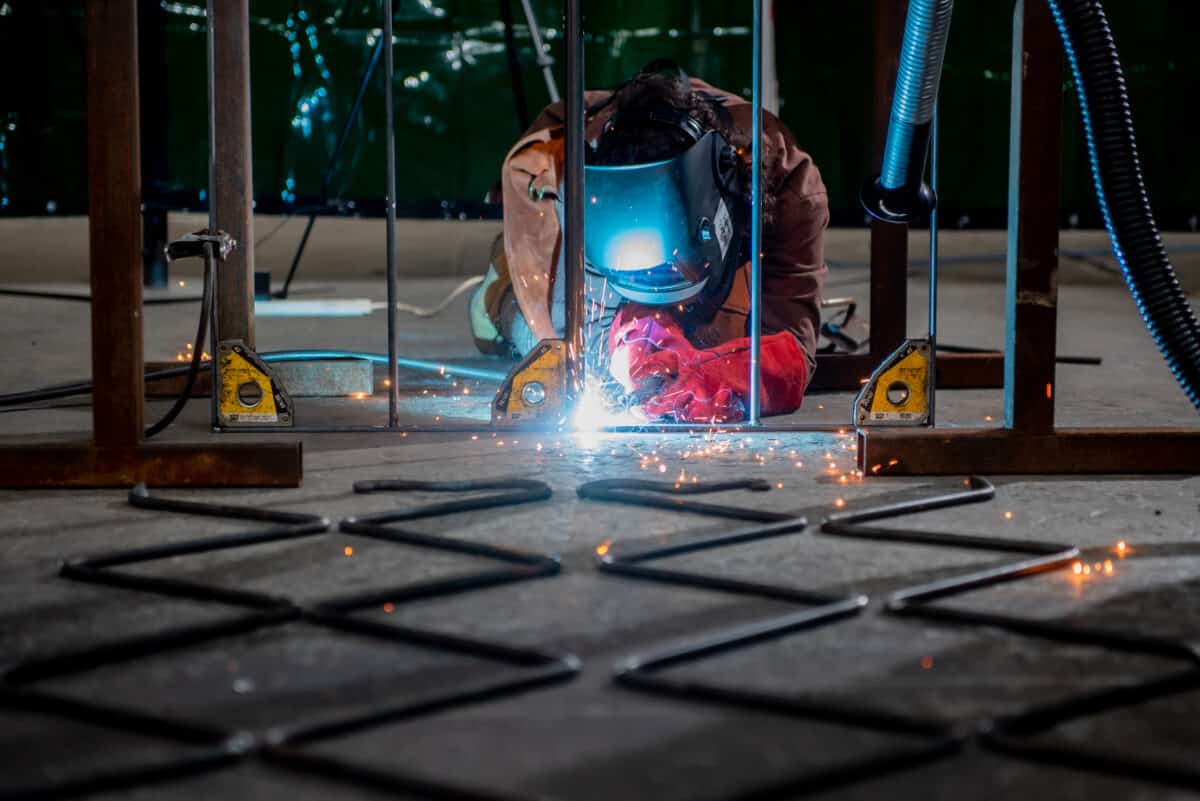 The welding is artisanal, which raises the horrible thought that the original gate for the extermination camp was created with as much precision, as much as you find in a work of art. Possibly the person who made it was even proud of their work, which is a horrible thought. The central 'art' of FORGE lies in the act rather than the artefact, in raising the question of whether the work produced by the work is an artwork, and whether the original was in any way 'art'. We instantly recoil and say it can't be. FORGE is instructive in raising the question as a jarring thought experiment that interrupts our sense of any distance between civilisation and barbarism.
The sound design by Dinah Mullen is also jarring, with plenty of ironic music choices from the songbook of cheesy eighties bangers: Flashdance…What A Feeling, Against All Odds, Heaven Is A Place On Earth. It's some sick black humour that some would find offensive. Queer aesthetics are empowering but can seem glib, or it could be that there's unsettling force in the ironic juxtaposition of the holocaust and power pop. You recall Serge Gainsbourg's "Nazi Rock" or The Producers. It's nowhere near the sickness of 'Arbeit Macht Frei'. As a deliberate bad-taste gesture it might make you think about whether you are really feeling your feelings or just responding in a duly respectful way because that's what you do. How do you respond to that? Does it work, this kind of work? What, you call this entertainment!? This great work about welding: does it spark joy?
AJ Dehany writes independently about music, art and stuff. ajdehany.co.uk
FORGE by Rachel Mars, Wed 17th—Sat 20th May 2023 barbican.org.uk/rachel-mars-forge
All photos JMA Photography.
FORGE also features two associated public conversations focussing on personal, local and national/international issues of memorial:
The Politics of Memorials: How We Shape Memory in Public SpaceTue 16th May, Barbican Theatre (tickets £3*)Difficult Inheritances: Jewish Artists On Confronting Their Histories Fri 19th May, Fountain Room (tickets £3*)
About the artist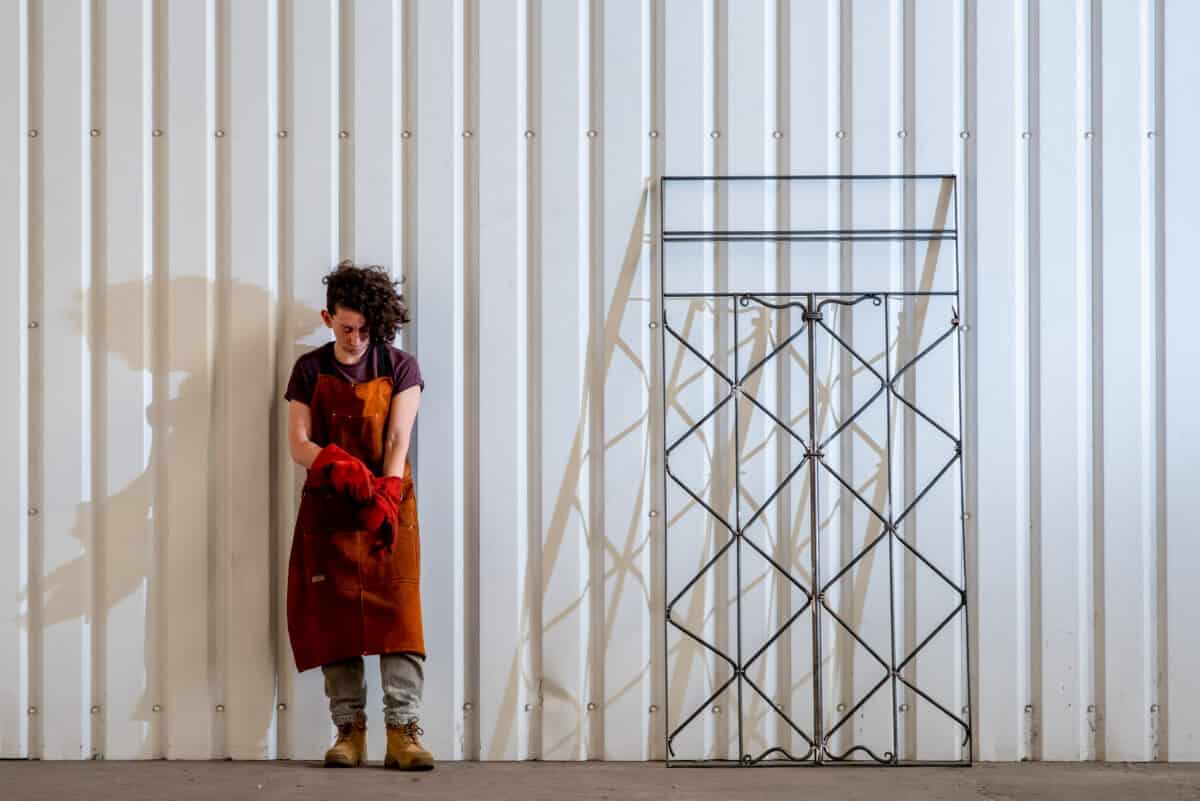 Rachel Mars is a writer and performer. Her shows combine theatre, comedy, storytelling and live art practices. She was on the first Writers Lab UK and Ireland in 2021, and a finalist on 4Stories 2022. She has won a Total Theatre Award, the Oxford Samuel Beckett Theatre Trust Award and is often funded by Arts Council England. She is currently co-writing her first musical for Home Theatre, Manchester. Her first TV comedy/drama was optioned by Hillbilly Films. She was on the Royal Court Playwrighting Course in 2021. In the past her work has seen her inviting children to smash up her dad's bad pottery with hammers, learning to play Roller Derby and unearthing historical sex letters. She has performed all over the UK and internationally including at the Barbican, South Bank Centre and festivals in New York, Austin, Seattle, Melbourne and Brisbane. She is committed to representations and explorations of queer female identity, using theatre and comedy as tools for provoking new arenas of empathy and understanding. Rachel is an artist fellow of Birkbeck University's Centre for Contemporary Theatre.
Categories
Tags