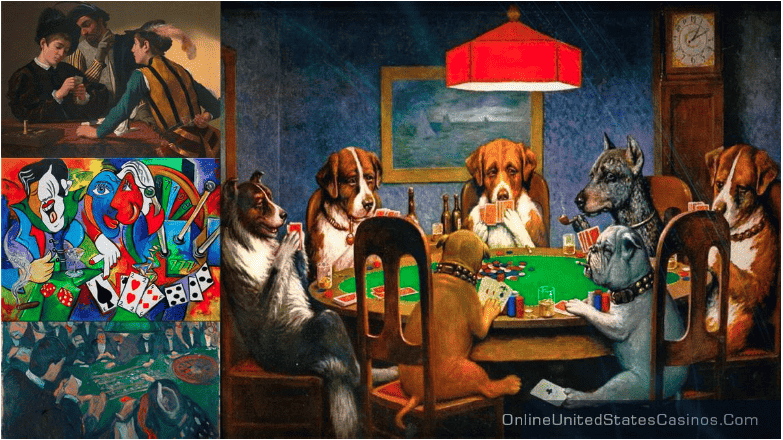 Art is a magical, non-verbal process of storytelling that expresses strong emotions. For centuries, it has been influencing the world in myriad ways. Artwork can transform any dull atmosphere into a beautiful and delightful experience. Hence, casino operators add artistic elements to improve the game and experience for gamblers.
Let's take a closer look at the role of art in the gambling industry.
What is the Connection Between Art and Gambling?
Due to an artistic approach, casino venues and games become fascinating for gamblers. It serves as a means of connecting people with the objects and environment around them.
That said, unique and elegant designs keep the players hooked while playing a game. When a casino venue is the epitome of art, it entices more players to gamble at that location.
Art also allows casino operators to build their reputation in the market. It creates a cultural landscape and eliminates the negative impression that people usually have about gambling.
Art-Inspired Retail Casino Clubs
Brick-and-mortar casinos aren't merely a source to earn a few dollars by playing slots, blackjack, or roulette. Casino lovers also visit these clubs to unwind around their extravagant vibe after a hectic week. These land-based casinos use modern art or classic decor objects to set a mood-enhancing aura.
Usually, wealthy art collectors run retail casinos that act as a source to share their collections and love for art. Monte Carlo Casino, Bellagio Resort, and Casino de Huesca are a few prominent casino spots known for their luxurious artwork and furnishings. Some clubs incorporate sleek centerpieces, while others hang classic paintings on the walls.
Every corner of these casinos represents nothing but art. Lucrative artwork creates a one-of-a-kind impression on the visitors when they wander around the long passageways and huge casino floors.
Besides, you'll find casino resorts that create a separate art gallery. Visitors can dedicate a few hours to exploring the sophisticated artwork by renowned artists in these areas. The casinos also host art exhibits to engage more aesthetes with magnificent art pieces. Hence, even numerous art enthusiasts visit gambling venues to soak in the creative ambiance.
Undoubtedly, a casino club is an ideal combination of gambling and artistic delight.
Famous Online Casino Games with Art Themes
Artwork is even evident in real money casino internet sites these days. To create a real-world vibe, virtual casino operators introduced slot games based on different art themes. You'll find both artwork-inspired gambling websites and game titles. The unique illustrations make these casino platforms stand out in the competitive online market.
Slot game developers also strive to build aesthetically appealing graphics to suffice gamblers. Check out some unique casino games inspired by iconic artistic works.
Renoir Riches: This online slot game features symbols inspired by French Impressionist style painter Pierre-Auguste Renoir.
Starry Night: As the name indicates, this slot title has symbols based on the highly esteemed Vincent van Gogh's "Starry Night" painting. You can also unlock Starry Night Bonus round to earn big rewards.
Da Vinci Diamonds: The name says it all! This online slot by IGT will give you a glimpse of the finest art pieces by notable Italian artist Leonardo Da Vinci.
Comic Book Slots: You'll also find comic book art-inspired slots, such as Spiderman, Dracula, Zeus, and Iron Man. The colorful theme of these games mostly entices the youth.
Further, casino companies are investing in Metaverse and VR-based games nowadays. You can soon get the real-life experience of playing in casinos decorated with classic art pieces.
Influence of Art on Poker Games
Art is giving a new identity to a traditional poker game. Today, you can play your favorite card game with beautifully-designed aesthetic chips that are the piece of artwork.
That said, poker card art is a new trend in the gambling industry. Created by professional artists, these customized plastic sets can feature various artistic elements in bold designs and non-conventional color themes. It includes baby blue, forest green, turquoise, violet, or orange.
Further, ceramic poker chips are available in a range of intricate designs. The smooth surface with printed designs gives a luxurious feel while playing the card game.
Besides, the World Series of Art Poker tournament is a new addition to this age-old card game. Unlike traditional tourneys, contemporary LA artist Jonas Wood hosts this event between artists and art dealers. Based on reports, many Hollywood celebrities also participate in this tourney anonymously.
Promote Responsible Gambling Through Art
Art is beyond creating attractive themes to engage betting fanatics. These days support groups also use art as a powerful tool to assist problem gamblers in coping with addiction problems.
Gambling disorder causes a destructive effect on personal and professional relations. It can further severely impact a person's mental and financial condition. Thus, non-profit
organizations use creative art programs to educate addicts about the risks of excessive real-money betting.
The art therapy program doesn't require problem gamblers to have artistic skills. Instead, it helps them to open up about their gambling urges during the practice.
Creative activities don't just effectively distract the mind but can also help manage stress when avoiding gambling. Art therapy also helps mitigate anxiety problems in addicted gamblers. It allows the recovering person to feel and process all their emotions during stressful conditions.
The art techniques used during the coping mechanism can be:
Painting
Sculpting
Playing music
Drawing
Writing poetry
FAQs
1. How does art influence us?
Art is a source to improve quality of life by providing a sense of accomplishment and satisfaction in individuals. It enhances mood, creative skills, and cognitive aptitudes. Moreover, you can understand various aspects of the world through art, including culture, language, history, and ethics. Thus, it erases the socio-cultural boundaries.
2. Which casino games have art-inspired themes?
Various art-based slot themes are available in the market, such as Pablo Picasslot, Starry Nights, and Monalisa Jewels.
3. What are famous art-based traditional casino venues?
Enjoy classic fine artwork by visiting casino venues like Monte Carlo Casino, Bellagio, Casino de Paris, Casino de Huesca, and Hippodrome Casino.
Final Thoughts
Casinos have a centuries-old relationship with art. Those unique displays of art have been a cornerstone for casinos to grab the attention of the masses. Whether gambling online or directly at traditional casinos, the compelling game backdrops allow you to appreciate the finest artwork through.
So experience art through the lens of gambling!
Categories
Tags