Well, well, well, New York — the games have begun. Not to go full Gossip Girl on you all, but the vibes are definitely right for it. The weather is beautiful, Brooklyn-based art writer Vittoria Benzine's cycle has gone follicular, and yesterday's VIP opening of Future Fair marked a similar fresh start, christening a cascade of five art fairs to open across the Big Apple over the next two weeks. Future Fair, however, is blazing a unique trail, treating exhibitors like shareholders and constantly paying it forward. FAD donned our leopard print and set out to search for treasures at this up tempo art fair, which focuses on sharing the strongest emerging talent this art world has to offer. You could try a psychic, or simply read on.
Rafael Plaisant and Elisa Soliven at High Noon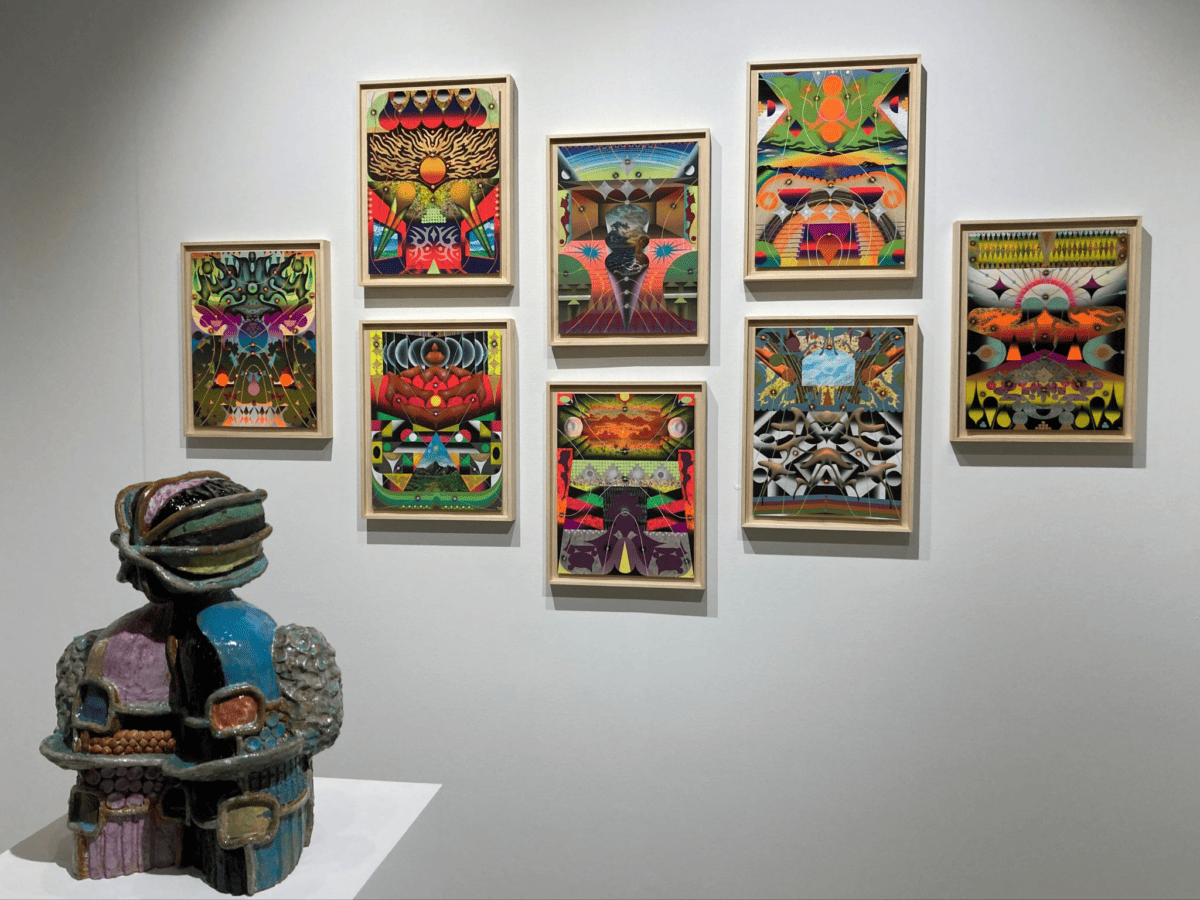 Is it just me, or do all art fairs skew a little maximalist these days? Has it always been that way? I guess they're commercial trade events, after all, even if there's a family reunion element. Extreme noise offers its own kind of palette cleanser — what stands out when everything's screaming, making a lunge for your eyes? Rio de Janeiro-based Rafael Plaisant, that's what — or who, rather. I think it's the clean lines, boundaries, that make these mesmerizing abstractions so effective, especially in conversation with Elisa Soliven's archaeological ceramic talismans. I stood there and watched the work a while before noticing the gallery name and realizing it all made sense. I love High Noon's program.
Karo Kuchar at SUPPAN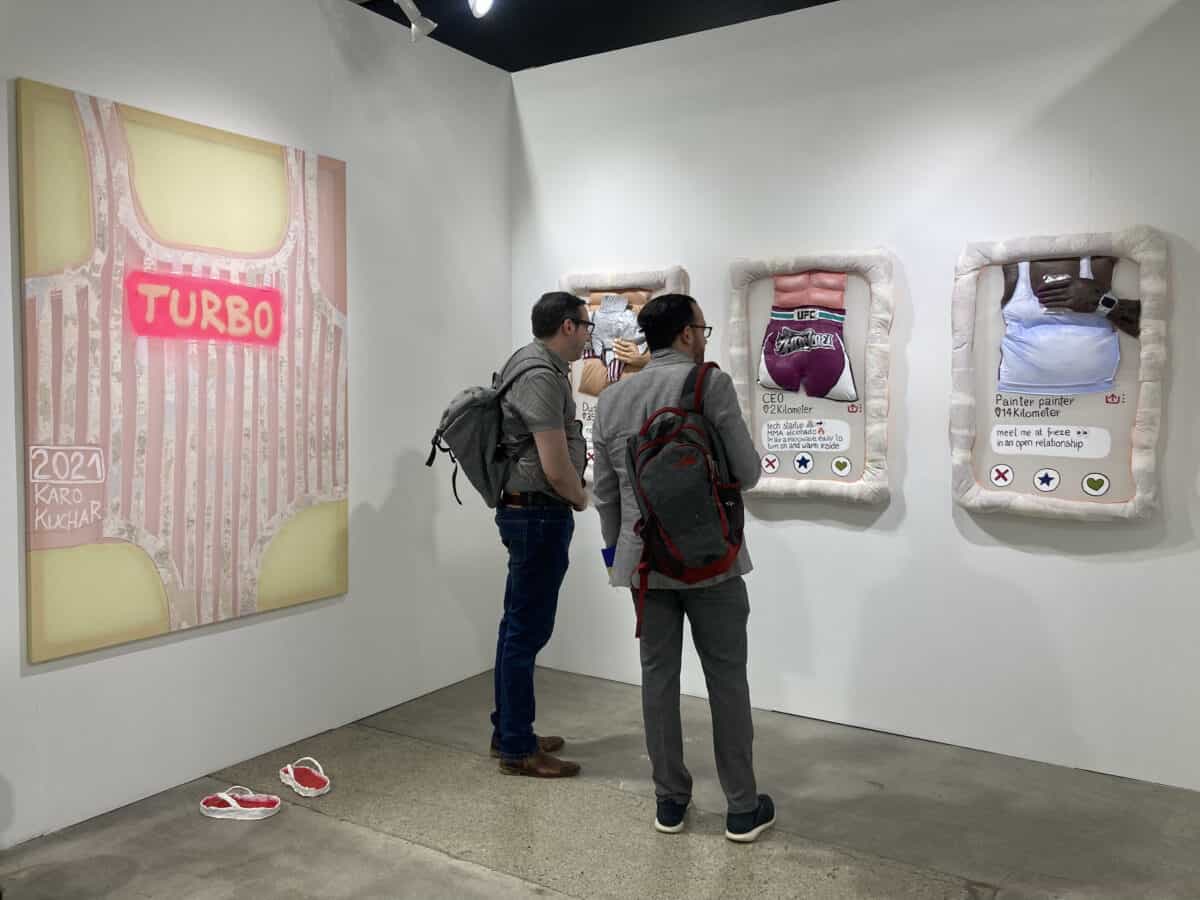 I can tell that an artwork is effective, personally, when I start running my mouth in response. Bonus points for jokes. Three Tinder profiles by Kuchar had me explaining to a full booth how to play 'Fuck, Marry, Kill.' This was a particularly challenging round. It all got quite real quite fast, though, as Kuchar explained her bikini series on view here. The work's about borders — the walls we put up, even if they're just the skimpiest attire. She made the profound point that putting a whisper of a bikini on a rectangule still gives the connotation it's a girl. Furthermore, Kuchar repurposes real walls from buildings about to be demolished in these works. Legally, of course. She's got a "wall dealer" who works in real estate.  www.suppan.art
Seven artists at Steve Turner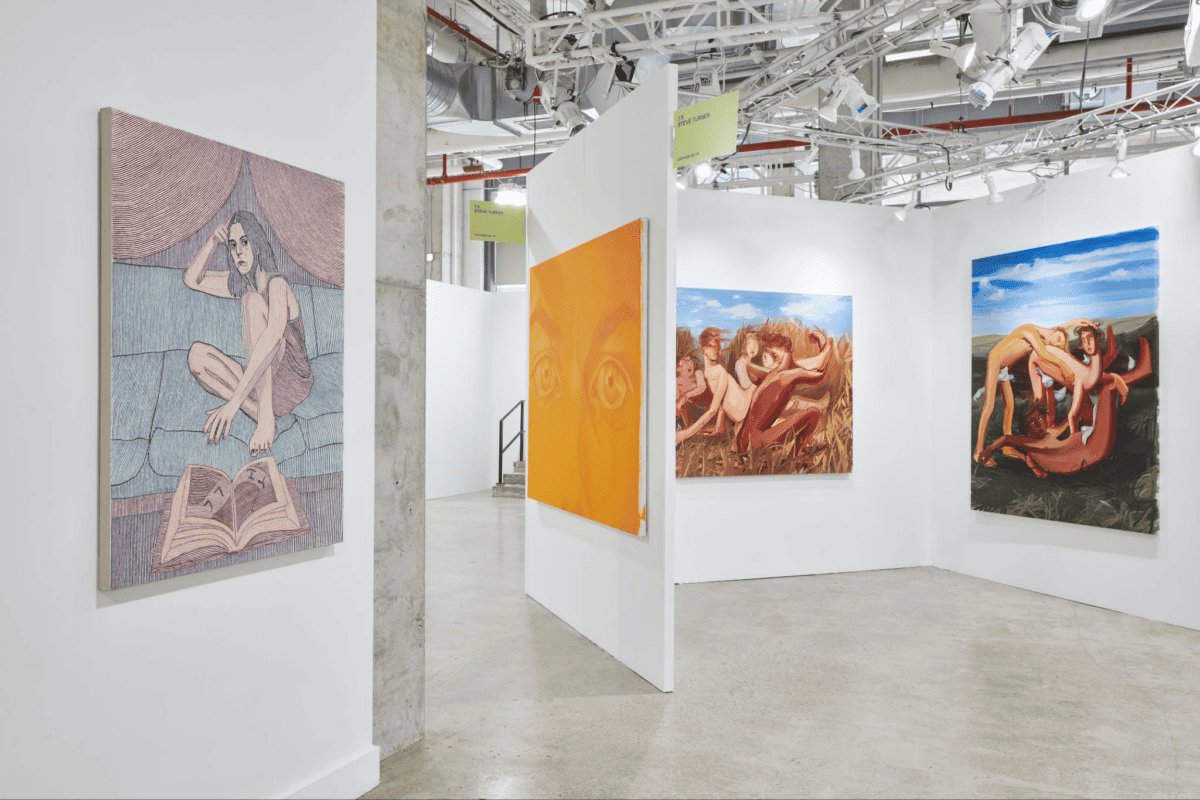 Maximalism at its finest. Los Angeles-based Steve Turner is showing up and showing out with a sprawling, labyrinthe booth right in the heart of Future Fair displaying 21 artworks (one to a wall, strictly, I was told) by seven artists emblematic of their program, many with solo shows on the horizon. The full lineup includes: Rose Barberat, Bianca Fields, Kate Klingbeil, Brittany Miller, Elsa Rouy, Luca Sára Rózsa and Shirley Villavicencio Pizango. What's more, the gallery just opened their first-ever NYC location — a three month stint amongst the High Line Nine in Chelsea. Sensitivity leering behind the colorful cacophonies of Bianca Fields and Kate Klingbeil proved my personal favorites, but the sum of this presentation balances itself out entirely, beautifully, powerfully. High energy proves the common thread.
Kevin Sabo at Kates-Ferri Projects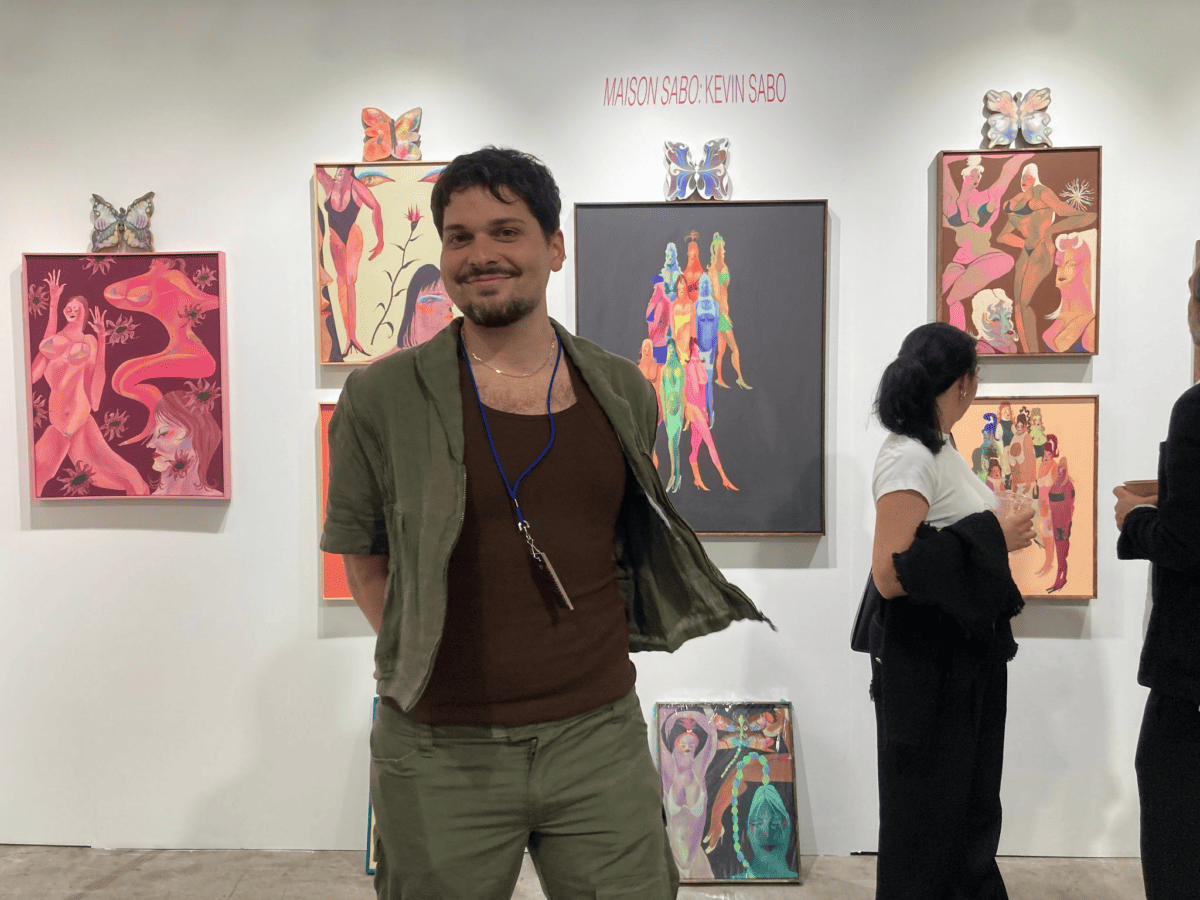 Kevin Sabo is already projected to pull ahead of this generation's pack. He's channeling that power for a good cause. The Richmond-based artist prides himself on keeping Virginia purple, portraying drag stars to invite a bit more gender fluidity into his life while honoring the precarious balance of tradition and play governing the ostentatious art form. As the political climate grows ever more dire for queer people of all stripes, Sabo opted to pair his latest flamboyances of acrylic, pencil, and oil pastel on canvas with colorful butterflies — cut out and painted in an afternoon-long collaboration between the artist and half a dozen close friends. Those small-scale sculptures sold out within an hour of the fair opening. All proceeds went towards a four-figure donation benefiting Richmond nonprofit He She Ze and We.
Emily Weiner at Red Arrow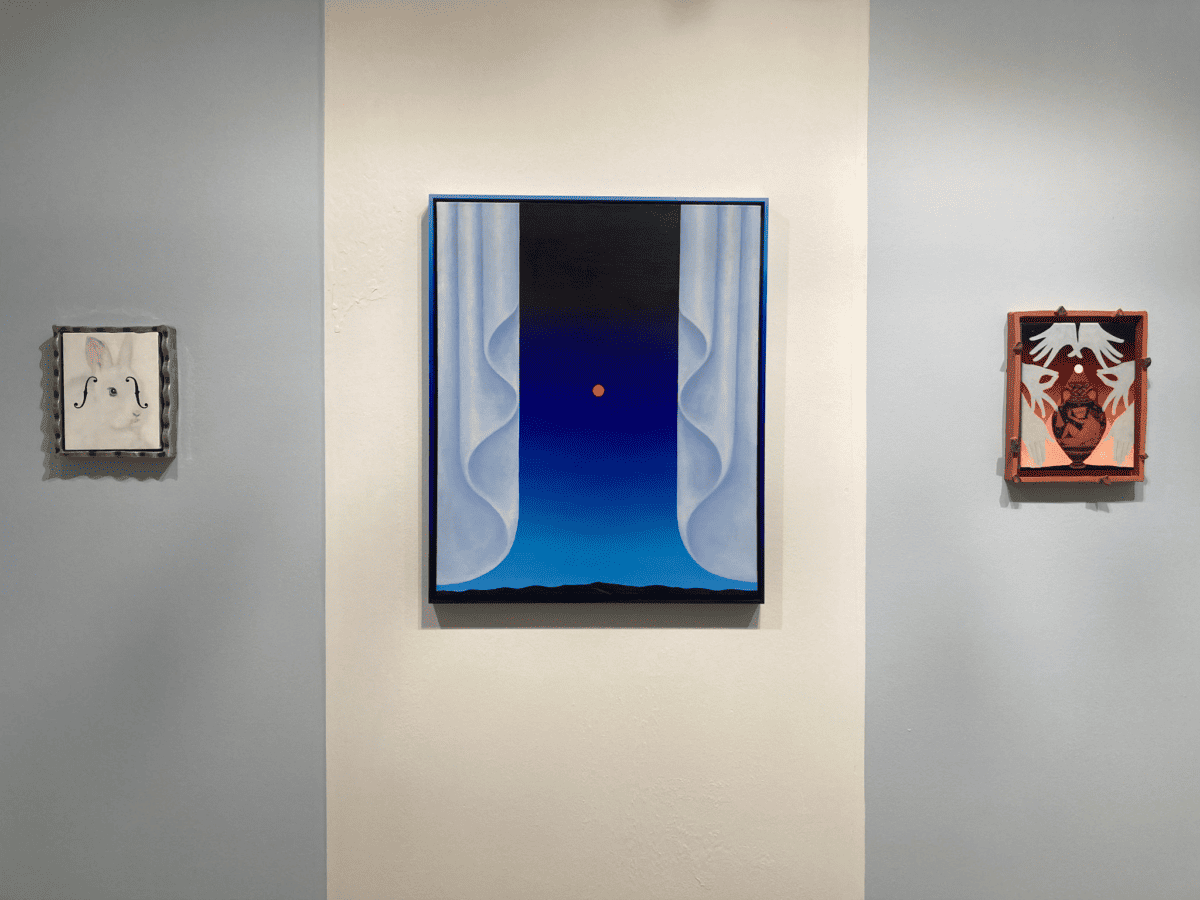 Forget those old adages about mullets. We're doing "transcendental in the front, dada in the back" from now on, with a dash of Hellenism to taste. At least that's what I got from this serene solo presentation by Emily Weiner with Nashville-based Red Arrow. That city itself seems to be trending too, or maybe it's just following me. "My work considers symbolic imagery through a feminist and nonhierarchical lens," Weiner says of her work here, "it opposes the idea of timeline toward a common visual language that overlaps, loops, omits, and dematerializes, and rematerializes." You don't always have to go crazy to get chaotic. It can happen from a calm place, too.
Future Fair, May 10th- 13th, Chelsea Industrial futurefairs.com
6 ART FAIRS TO SEE IN NEW YORK THIS MONTH
Categories
Tags