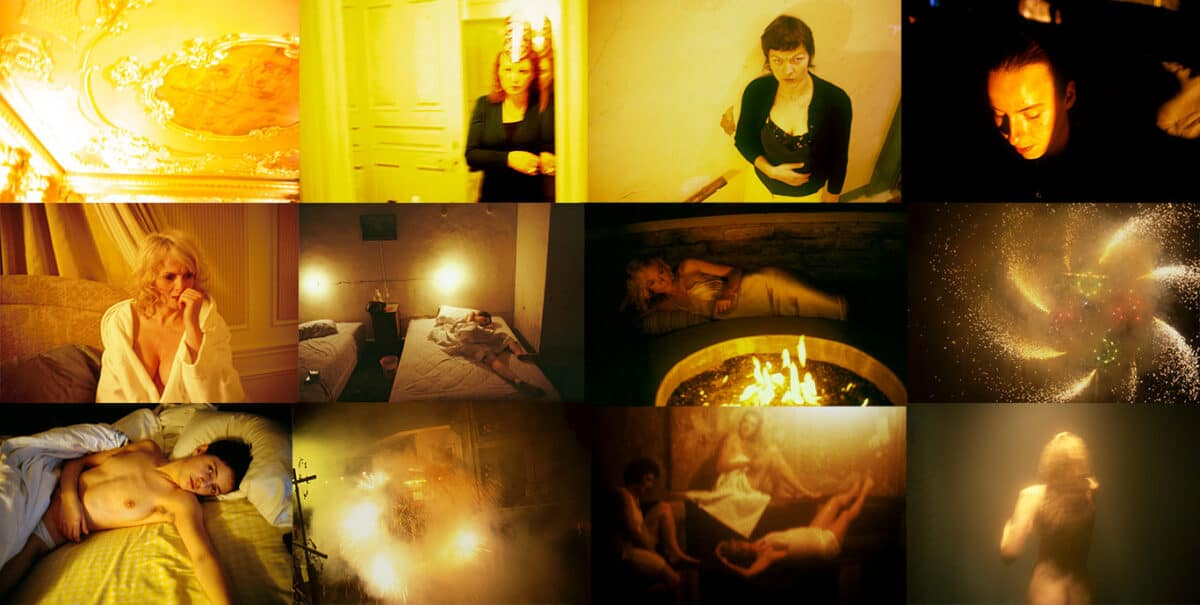 Gagosian will present Nan Goldin's debut presentation with the gallery at Frieze New York 2023, following its recent announcement of her representation. For the occasion, Goldin will be showing eight grid works made over the last fifteen years.
Goldin selects the photographs for her grids according to formal or psychological themes. The grid format, with which she has been working for over twenty years, emerged from the same associative impulse as her slide shows. As Elisabeth Sussman has written,
The grid, an echo of the slideshow, sums up her view that history and time exist as an aggregate of individual lives.
For a group of grids from 2014–2016, the unifying element is a physiological and emotional response to a specific color. Speaking of the series, Goldin said,
I consider my grids a chapter of the slideshows on the wall. . . . They are like storyboards. . . . In the 1990s, I was influenced by Color Field painting. It doesn't relate to my work, but I like art that's completely different from mine. And I started making grids as an homage to the Color Field painters.

NAN GOLDIN The Back, 2011–14 Chromogenic print 46 x 58 x 1 3/4 inches (116.8 x 147.3 x 4.4 cm) Edition of 3 © Nan Goldin Courtesy the artist and Gagosian
The Back (2011–14), Veiled (2011–14), and Island Seas (2014) are from Goldin's slideshow Scopophilia, commissioned by the Musée du Louvre, which consists of over four hundred photographs culled from Goldin's archive. Organized around Greek mythology and touching on themes of love and desire, the series pairs her own autobiographical images with photographs of paintings and sculpture from the collections of the Louvre and other international museums. Of the project, whose title means "the pleasure of looking," she explains, "It started from my desire to bring the subjects in the paintings and sculptures to life."
The triptych Kim in her dressing room at Le Carrousel de Paris, x3, 1991 (2019) unites three portraits of trans performer Kim Harlow. This work, like Showtime, Bangkok / New York, 1992–1995 (2019), emerges out of The Other Side, which exists as a book and slideshow. Both grids provide examples of how Goldin maintains the intimacy of her work through various mediums, expanding the context of the single image to exist without specific time and place.
Gagosian at Frieze New York The Shed, Booth B6, May 18–21, 2023 frieze.com/frieze-new-york
About the artist
Nan Goldin was born in Washington, DC, in 1953. She lives and works in New York, Berlin, and Paris. Her work is represented in major public and private collections worldwide. A current retrospective that focuses on Goldin's moving-image work, This Will Not End Well, includes six slideshows and video installations displayed in unique pavilions designed in collaboration with architect Hala Wardé. Recently debuted at the Moderna Museet, Stockholm, the exhibition will travel to Stedelijk Museum, Amsterdam; Neue Nationalgalerie, Berlin; and Pirelli HangarBicocca, Milan, over the next two years.
Other retrospectives include I'll Be Your Mirror, Whitney Museum of American Art, New York (1996–97, traveled to Kunstmuseum Wolfsburg, Germany, 1997; Stedelijk Museum Amsterdam, 1997; Fotomuseum Winterthur, Switzerland, 1997; Kunsthalle Wien, Vienna, 1998; and Národní galerie Praha, Prague, 1998); and Le Feu Follet, Centre Pompidou, Paris (2001, traveled as Devil's Playground to Whitechapel Gallery, London, 2002; Museo Nacional Centro de Arte Reina Sofía, Madrid, 2002; Fundação Serralves, Porto, Portugal, 2002; Castello di Rivoli Museo d'Arte Contemporanea, Turin, Italy, 2002–03; and Ujazdowski Castle Centre for Contemporary Art, Warsaw, 2003). Goldin was appointed Commandeur des Arts et des Lettres by the Republic of France (2006), and the recipient of numerous awards, including the Hasselblad Award (2007), the Edward MacDowell Medal (2012), the Centenary Medal from London's Royal Photographic Society (2018), and the Käthe Kollwitz Prize (2022).
The retrospective This Will Not End Well will be accompanied by a nine-volume box set published by Steidl. Each volume comprises the content of a single slideshow. One volume, the reader, will contain texts by thirty writers that contextualize the artist's work.
Categories
Tags