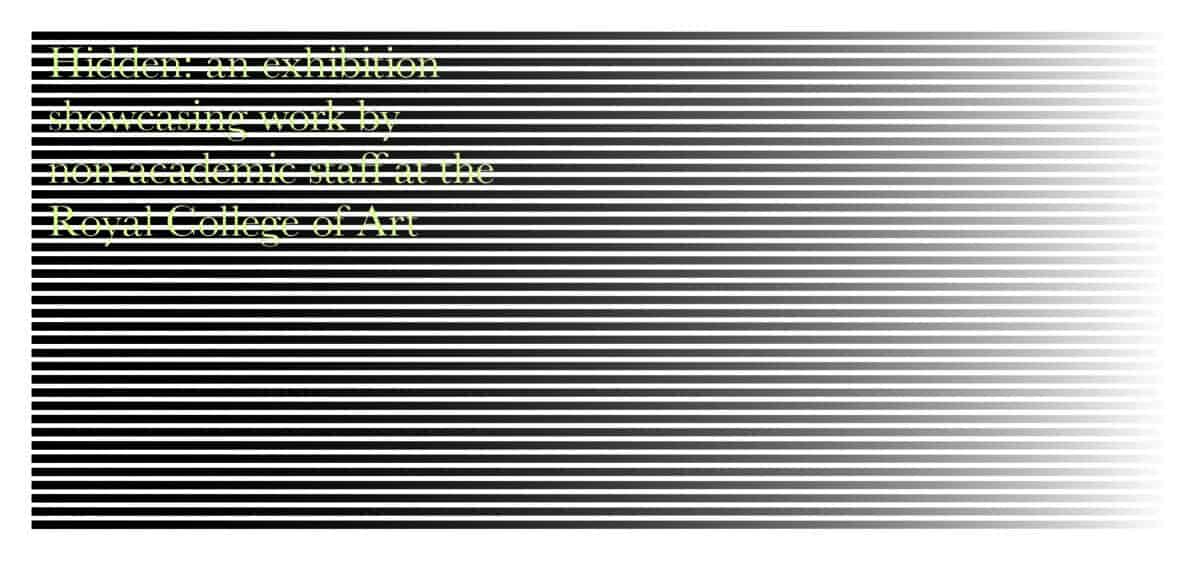 The Royal College of Art has announced the return of its annual public exhibition, HIDDEN, celebrating the creative work of its technical and non-academic staff. The exhibition will be held at the RCA's Battersea campus and will run from 12th – 17th May 2023.
HIDDEN 2023 will provide a platform to champion the passion and skill of over 70 non-academic staff members who are also practising artists and creatives. From workshop technicians to librarians, I.T support technologists to security staff, this exhibition highlights the often unseen skills and technical knowledge of the people who support the students at the RCA.
From a bespoke 1930s hot rod car to a fully immersive A/V installation, the exhibition will feature an eclectic mix of works in various media, including painting, animation, sculpture, photography, film, book design, theatrical backdrops, textiles, fashion, jewellery, drawing, print, ceramics, and glass. This is a unique opportunity to experience the creative output of staff who have been informed and shaped
by working in the vibrant and creative atmosphere of the RCA.
We're thrilled to bring HIDDEN back to the RCA once more, showcasing the incredible talent and
creative ingenuity of our technical and non-academic staff.

The show is always a wonderfully diverse mix, celebrating each and every participating creative equally, whether they are a professional artist or showing their work for the very first time. We are so excited to share a glimpse of this 'hidden' talent with the wider community.

said Sarah Mercer, Digitisation Officer at the RCA and Chair of the show's organising committee.
Gabriel Mansfield is a multidisciplinary artist who, for the past decade, has been committed to only using repurposed material to create artworks that spark a sense of innate curiosity. His current project 'Hunter, Gatherer, Sculptor' consists of a growing family of miniature sculptures made entirely from objects found whilst walking his dog – a selection of which is on display at HIDDEN. Gabriel graduated from the Sculpture programme at the RCA and now works on campus as a Multidisciplinary Technical Instructor.
Artist Charlotte Raymen paints oil paintings of compelling compositions. At HIDDEN she will be presenting a portrait she began painting in Lockdown 2020 of her flatmate Natasha Msanide reading in the garden. Charlotte teaches staff and students at the RCA to use digital virtual reality mediums as well as managing the motion capture studio and XR Spaces.
Cast glass artist Livvy Fink is an RCA alumna and Technical Instructor in Ceramics and Glass. For HIDDEN, Livvy will be presenting a glass work where the space inside the glass is created whilst molten and moving, forming an unfamiliar landscape that questions our sense of scale.
RCA photographer and filmmaker Chris Lee will be exhibiting Cyanotypes from a series created during the pandemic, which marks a time when he was able to slow down and connect with nature. Chris uses the medium of photography to dissect reality and create new stories.
Full list of exhibiting artists:
Alba Ceide, Amir Behbahani, Ana Camarero Fernandez, Annie Richardson, Ben Beanland, Benji Jeffrey, Bernadette Silva, Bethany Malcolm, Brigitte Lelievre, Charlotte Raymen, Chloe Valorso, Chris Lee, Constantina Riala, Corinne Noble, Eleanor Thompson, Elise Ruffell, Eloise O'Brian Scott, Etan Kinsella McLennan, Francesco de Manincor, Gabriel Mansfield, Guy Nesfield, Heidi Harrington, Hilary Laurence
Ian Whittaker, Izzie Kpobie-Mensah, Jake McCombe, Jane Landau, Jennifer Harding, Jessica Robinson, Josephine Kibuka, Kevin Cave, Kevin Koekkoek, Kristina Walsh, Kyle Ramsey, Laura Newton, Lewin St Cyr, Leyla Dincer, Livvy Fink, Lucy Gallwey, Lucy Whiting, Luke Paine, Lynda Lorraine, Maja Mehle, Mariam Abo-Hammad, Mary Pedicini, Melanie Issaka, Melanie Smith, Michaela Cullen, Michelle Gerke, Narges Pourshahrokhi, Neil Parkinson, Nelson Crespo, Oscar Eaton, Pam Su, Patricia Hilbert, Pietro Bardini, Rae Murphy, Richard Hopkinson, Richard power, Rosamund Hanny, Rosie Green, Sara Saleh, Sarah Mercer, Scott Freeland, Sotiris Gonis, Stacey Annoh-Antwi, Tom Mason, Tom Railton, Vivienne Wen Du, WARD, William Hart, Yi Dai.
HIDDEN, 12th -17th May 2023, (excluding Sunday 14th) 10.00am- 5.00pm, The Hangar space in the Studio Building RCA Battersea campus Howie Street, London SW11 4 Admission to the exhibition is free. Hidden2023.co.uk
Follow on socials @hidden.rca #Hiddenrca
About Hidden
HIDDEN is a unique annual exhibition celebrating the creativity and diversity of technical and
non-academic staff at the Royal College of Art. For over 15 years, this exhibition has been successfully showcasing the 'hidden" talent and expertise of the RCA's non-academic community. HIDDEN demonstrates and encourages the value of the often unseen skills, creativity, commitment, excellence and technical knowledge of its staff, who are the backbone and support for many of the students at the RCA.
Categories
Tags