Entering the space, an installation erected from multiple stacks of white plastic stools greets you. Commonly found across Southeast Asia, these plastic stools are often beloved by hawker centres for their lightweight, and for the little space they occupy, allowing for flexible seating arrangements when accommodating their customers. Communities are formed around these stools. When seen in bustling hawker centres, they are full of life, naturally affable and colloquially invitational; these stools are inseparable to the local patinas of Southeast Asia, and in the context of the exhibition, Vietnam. Here at the museum, the stools are stacked on top of each other, building from the ground up to form a foundational representation of what is to come, that is, an exhibition with emphases on belonging, community, conversation, and nostalgia. The atmosphere is warm, but an interesting contrast emerges when the entire design of the installation is considered, as an urban landscape begins to take shape through these stacks of stools. Now, the stools take up a lot more space, demanding audiences to walk around it. The stools' plastic material becomes accentuated, and the space feels a little colder. By design, the installation prompts audiences to consider how modern city planning impact smaller local communities.
The second instalment of 'No Place Like Home' has evidently evolved to be site specific. Situated in a museum dedicated to investigating 'home' are three meticulously crafted platforms painted in pristine white, each resting on their own brown straw mat. These platforms feel cellular, each carrying a distinct purpose in relation to each other. They vary in height but are all simultaneously short enough to serve as a table, and tall enough to act as a plinth. Their curved edges interrupt any rigid, conformist, administrative, and patriarchal architecture that might have come to define the 'authority' of museum and gallery spaces. As a result, it is easy for audiences to mingle with each other and the works on display. There is little distance in the space, it feels alive.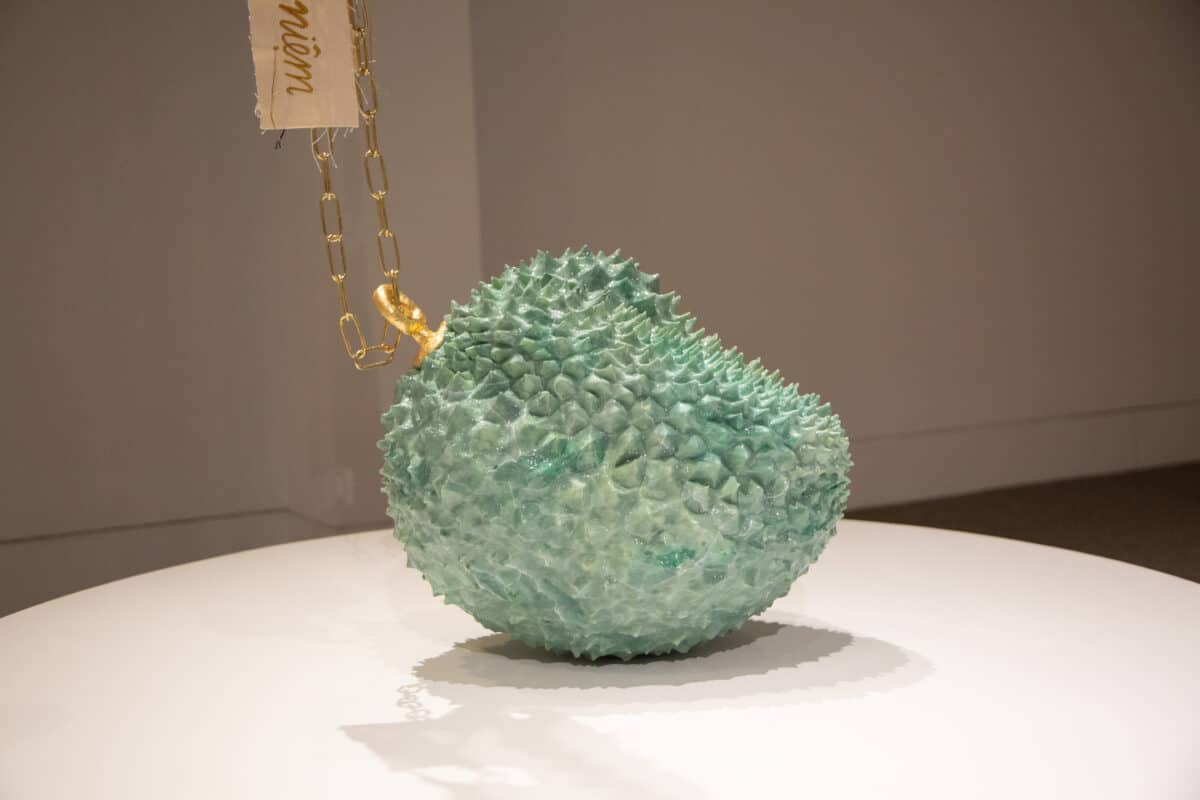 I am drawn to a vivid shade of green which cuts through the primarily earth-toned space. In Vietnam, and certainly the parts of Southeast Asia influenced by Buddhism, this shade of green is thought to bring prosperity. The colour originates from the gemstone jade and is synonymous with quasi-religious amulets commonly shaped after the statue of Buddha. A closer inspection of this vivid shade of green reveals a sculpture shaped after the durian fruit. Titled 'The Gift', this sculpture represents the friendship between artists Hoa Dung Clerget and Koa Pham.
Hoa's creative practice addresses the Western-European objectification of Vietnamese and wider Southeast Asian cultural narratives. Interestingly, the durian here also becomes an apt example of an object that is placed by Western-Europe as 'otherworldly', arguably defining the fruit's global notoriety in the process. In othering the durian fruit, Western Europe assumes itself as the 'central' locale. Subsequently, Hoa's second work on display, 'Untitled (The Mask)', criticises the intricate socio-political frameworks constructed by Western-Europe's colonial occupations in Southeast Asia. The mask is an overproduced concoction of different resins, radioactive in colour, visually toxic. A pair of legs lies provocatively in the mask, speaking directly to the behaviour of fetishizing Asian women.
During the development stages of the exhibition, the artists worked alongside the An Viet Foundation which now lives in the Hackney Archives in Dalston, carrying 30 years of British-Vietnamese history. Conversations between the artists and the An Viet Foundation inspire the manifold ways in which 'home' has been interpreted, as a point of return, departure, and limbo. In artist's 'Nuoc Nhà/Pickled Houses', a cityscape is seen submerged within the Vietnamese drink 'Sau'. In our accelerating times of unmediated changes, buildings come and go, communities are born one day and torn apart the next, cultures wax and wane unexpectedly. What then does 'home' mean?
Home can be conventionally understood as a point of return, but it is also fluid, constantly evolving in response to the mutable conditions which we subscribe to 'living'. In context of exploring 'home' through the Vietnamese diaspora, movement around the world has been historically instigated by the atrocities of war. Migration becomes necessary for many searching for more habitable residencies.
In context of exploring 'home' through the Vietnamese diaspora, migration around the world has been historically instigated by the atrocities of war. Travel becomes necessary for many searching for more habitable residencies. Catalysed by the engines of capitalism, we 'travel', brought up to always 'chase new experiences' and 'widen our horizons'. Diaspora is the word we use to describe communities formed by people who have migrated and settled elsewhere. New cultures are able to flourish in foreign soils. Through the traditional Vietnamese practice of recreating miniature landscapes, 'Hòn Non B?, artist AP Nguyen in her work 'Twin Whisperings' explores the story of a remote island sheltering a grove of palm trees which have migrated from faraway sands. How did an island void of any nutrients, house an entire grove of palm trees? Inside 'Twin Whisperings', a video shows the artist dressed in a traditional Vietnamese Áo dài dress, accompanied by Tr?nh Vinh Trinh's rendition of the late Vietnamese musician Tr?nh Cong S?n's song 'Khói Troi Mênh Mông'. 'Twin Whisperings' contemplates travel industries and the behaviours of tourism. There is little movement in the piece, the video is slow, and the sculpture is almost lacking in emotion. In the video, the artist's movement is docile, green screened in front of a tropical backdrop. Perhaps when seen in this light, 'Twin Whisperings' is in conversation with Hoa's sculptures, confrontational towards the fetishization of Asian women.
As many of the works have been in conversation with the archive, there is movement in the exhibition, restless in negotiating with the curatorial premise of 'home'. The exhibition acknowledges 'home' as belonging to the past, present, and future. There is an unfinished quality to the exhibition, 'home' never receives a strict definition. Minh Lan Tran's 'Ardour' is in tandem with the atmosphere of the exhibition, warm and lively. The artist's emphasis on 'process' complements the movement found in the exhibition, from the curved edges to the way audiences circulate the space, a continuum forms in 'No Place Like Home'. The same energy can be found in Cuong Minh Bá Ph?m's '(Re)generative Mediations', which sit on the lowest rising cell in the space. Inspired by the survival instincts of nature's own young corals, which rely on sound to migrate, '(Re)generative Mediations' confronts audiences with a soundscape which is speculative, in search for 'home'. Carô Gervay's photography carries the same 'found' quality present in archival practices, the same continuous energy persists in the artist's performative process. 'Unfinished Books' encompasses narratives that the artist encountered through working with archival materials.
The curatorial premise of the project extends itself to other relevant cultural practices born in London to paint a bigger picture, a reminder that discourse around diaspora and globalisation share a close relationship. Diaspora experience has long informed and cultivated the practices of many artists from Southeast Asia. 'No Place Like Home' carries on a legacy crafted in the past by similar art initiatives and practices. I think about the Thai Arts Initiative in London, creating the very same pockets of space for Thai artists, designers, curators, and art students who were in pursuit of a life and career in London. When Burmese artist Chaw Ei Thein moved to New York in 2009 for her residency at the International Studio and Curatorial Program, she met another artist, Thakhin Ngatoe, who she would go on to collaborate with on multiple projects, one of which includes 'art@apt'. The pair transformed their shared apartment in New York into a Burmese art centre, the two frequently invited other artists into the space to exhibit their work. 'art@apt' became a space available for anyone who had interests in mapping the complex constellations that orbit around the word 'diaspora'.
Present in these spaces are strong elements of the dialogic. Exchange occurs, and from exchange, new intricate webs of relations are woven and fostered. 'No Place Like Home', along with numerous other similar local initiatives growing in London (to think from the top of my head, 'Eastern Margins' and their developments of events and spaces for creatives of various diverse diasporas) belong to a continuum which considers myths and memories of home, that document and challenge present narratives surrounding identity, and most interestingly, speculates the futures of these topics. Collectivisation might serve as a keyword here, observed in the process of these projects, becomes integral for any chaos to occur, for new ideas and experiences to be produced, all of which mobilise the conversation of 'home' and 'identity'.
No Place Like Home (A Vietnamese Exhibition) Part II, Museum of the Home – Tuesday 11th July 2023
Categories
Tags